As far as fitspiration goes, there are a fair few female Instagram stars to follow, but not as many males.
With an impressive 166,000 followers (and counting), Simmonds shares his tips on strength training and innovative workouts on social media.
Simmonds is a fitness coach for the stars, including Premier League footballers John Terry and Theo Walcott. His career as a trainer began when his career as a footballer was cut short due to back injuries.
"Despite spending most of my time in the treatment room and gym, I grasped the opportunity to learn from the most qualified trainers and experts in both the fitness and nutrition world," he said.
For the latest instalment in our 'Fit Fix' series, we asked Simmonds about his workouts, training plan and what he eats in a week.
Training 💪
Talk us through your week in fitness.
"In the mornings I like to get up early and do an hour of cardio straight away. For me, this kickstarts the day on a good note and I'm then I'm raring to go.
"In the evenings, I tend to do a mixture of body weight training, weight training and core isolation. I make sure I target each muscle twice a week for maximum results all over."
What's your favourite type of workout and why?
"My favourite type of workout is boxing because it engages all of my muscles, improves my fitness levels, burns fat and most importantly, is how I de-stress and switch off from social media and work."
"Most Sundays I'll rest and enjoy time with family and friends.
"You can't beat a roast dinner on a Sunday whilst watching premier league football."
Food 🍳
What do you eat throughout the week to complement your training schedule?
"I eat a lot of lean protein, mainly chicken and fish, and always have a mountain of vegetables on the side.
"When I've worked out, I'll have some sort of complex carbohydrate with the protein and veg like sweet potato, quinoa or whole grain rice.
"It helps me to recover and gives me the necessary energy I've just used up."
What are your pre and post-workout snacks?
"I like to keep it very simple.
"I'll grab a banana and a handful of nuts before a workout if I feel I need it and then a protein shake after my session to get that protein inside me to help with recovery."
What's the best lesson you've learned about food?
"There's nothing wrong with treating yourself. I absolutely love Jack Daniel glazed ribs with an Oreo milkshake."
Motivation 🙌
Do you have a motivational mantra that keeps you going?
"My screensaver on my phone says: 'Train like an athlete, eat like a nutritionist, sleep like a baby and win like a champion'.
"I love a good motivational quote and this is one I try to live by."
Do you always have fitness goals you are aiming for?
"I always set myself goals as this is what keep me motivated. There is nothing more rewarding than bettering yourself and reaching the goals you set.
"My current aim is to reach 10% body fat percentage, so I'm getting super lean. I'm currently at 12% so I'm getting there."
What's your ultimate workout track and why?
"At the moment I'm loving 'Hate to Say I Told You So' by The Hives. It gives me a little fire in my belly before a gruelling workout.
"I guess it's a little bit about proving people wrong, even myself. I can always do better and I'm always striving to be better."
'Fit Fix' is a weekly dose of fitspiration from leading athletes and fitness fanatics. Each week, we chat to stars about their weekly workouts, the food they eat and what keeps them going.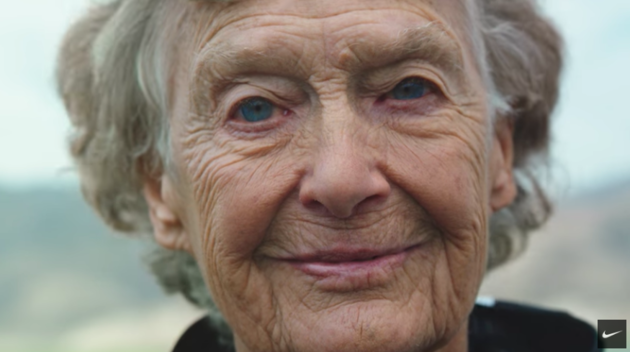 Six People Over 80 Giving Us Serious Fitness Goals