Nigel Farage has sparked outrage after hitting back at the husband of murdered MP Jo Cox, telling the widower that he would "know more about extremists than me".
The Ukip MEP's comments come after he said the Berlin terror attack, which left 12 people dead and 48 injured, was "no surprise" as he criticised German Chancellor Angela Merkel's "legacy".
Brendan Cox replied to Farage, saying: "Blaming politicians for the actions of extremists? That's a slippery slope Nigel."
When asked about Cox's comments during an interview on LBC this morning, Farage responded: "Yes well of course he would know more about extremists than me, Mr Cox.
"He backs organisations like Hope not Hate who masquerade as being lovely and peaceful but actually pursue violent and very undemocratic means.
"And I'm sorry Mr Cox but it is time people start taking responsibility for what happened. Mrs Merkel has directly caused a whole number of social and terrorist problems in Germany, it's about time we confronted that truth."
Forced to acknowledge that no-one has arguably been more on the receiving end of this sort of extremism than Cox, Farage said: "Yes and it's a terrible thing that happened to his family with the murder of his wife but he continues to be active in the political arena and as I say, given some of the organisations that he supports I can't just stand here and say 'I'm not going to respond'."
The orgnisation said in a statement: "We are aware of a serious and potentially libellous statement made about Hope not Hate by Nigel Farage on LBC radio this morning.
"We have no idea on what Mr Farage bases his outrageous comments. Hope not Hate has a proud history of campaigning against extremism and hatred.
"We will not be making any further comment until we have had the opportunity to consult with our lawyers."
Many were furious at Farage's comments.
Labour MP Jess Phillips said Farage, who she labelled a "monster" was "essentially sneering at the murder of my friend".
Others were equally disgusted at the Ukip politician's comments.
Farage was also accused on social media of political point-scoring in the wake of last night's attack, which police are treating as a "terror attack".
Some echoed Cox's sentiments and asked whether Farage should be held to account for the actions "of those who support your agenda".
Kenneth Roth, director of Human Rights Watch, said it was "important to remember" that the attack was the "work of a criminal, not an ethnicity or religion".
Cox also tweeted that far right and Islamist extremists "share (the) same hate driven psychology".
Ukip donor Arron Banks also weighed into the row, saying Merkel "may as well have" driven the lorry.
It is not the first time that Ukip has targeted Hope not Hate. In 2013 Ukip's national conference ruled that any supporter of Hope not Hate cannot be a member of Ukip.
Hope not Hate said at the time: "It's incredible that a party that's desperately denying claims that it is racist bans membership from Britain's largest anti-racist organisation.
"Ukip claim Hope not hate is an extremist organisation, putting us on par with the fascist BNP. This is clearly ridiculous."
The group added: "We have got under UKIP's skin and they don't like it. But rather than deal with their own racists they are trying to silence us."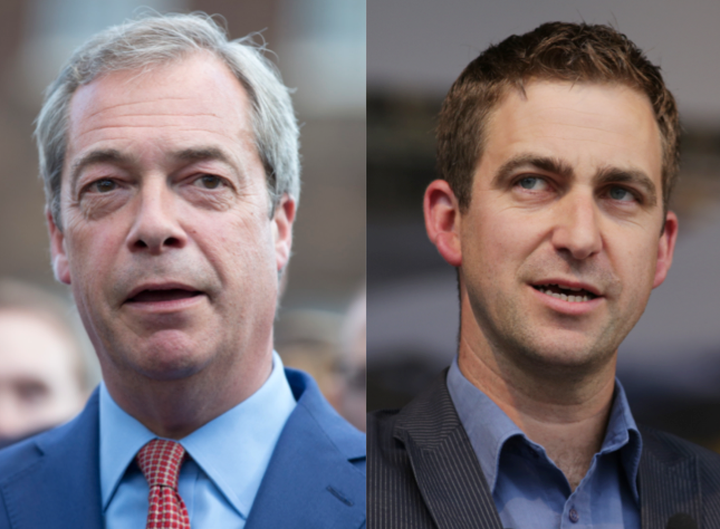 Last month Thomas Mair was jailed for the murder of mother-of-two Cox.
Mair, who had Nazi-related material in his home, shouted "Britain first" during the attack, which was described as an act of "terrorism" by the judge during sentencing.
Monday's attack in the German capital killed at least 12 people and injured 48.
Police said the truck was driven into the busy part of Berlin intentionally.
Far-right groups and a nationalist party seized on Monday's attack, blaming German Chancellor Angela Merkel for what had happened.
"Under the cloak of helping people Merkel has completely surrendered our domestic security," Frauke Petry, the co-chairwoman of the Alternative for Germany party wrote.
Manfred Weber, a member of Merkel's conservative party and leader of the European Parliament's biggest political grouping, cautioned against reaching sweeping verdicts following the attack. But he said it was important to ensure that extremists didn't enter the country among those seeking refuge in Europe.
"The state must be able to check every refugee who comes here," he told German public broadcaster ARD.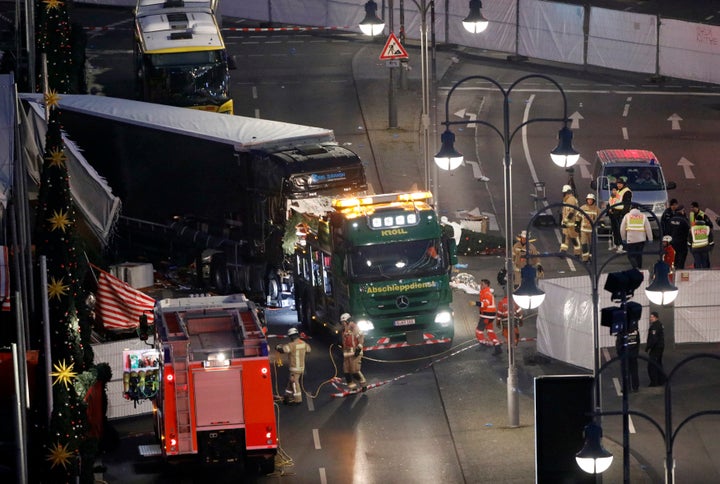 The lorry struck the popular Christmas market outside the Kaiser Wilhelm Memorial Church late Monday as tourists and locals were enjoying a traditional pre-Christmas evening out near Berlin's Zoo station.
The driver is reportedly a Pakistani asylum seeker, according to security sources cited by DPA news agency. There are conflicting reports whether he arrived in Germany this year or last year.
"Our investigators are working on the assumption that the truck was intentionally driven into the crowd at the Christmas market on Breitscheidplatz," Berlin police said on Twitter.
"All police measures concerning the suspected terror attack at Breitscheidplatz are being taken with great speed and the necessary care," they said.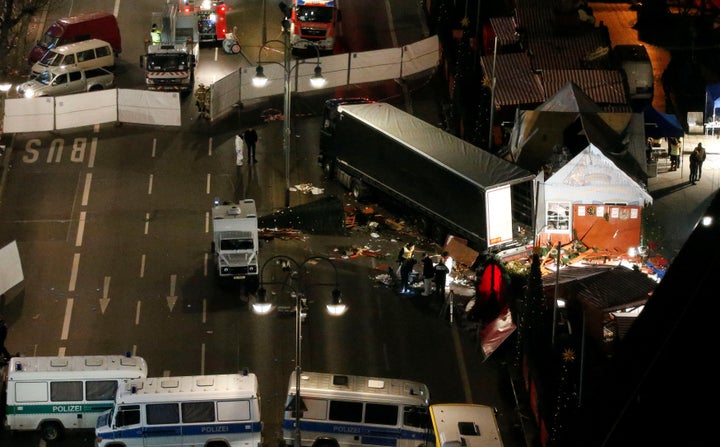 Police arrested a suspect nearby. A passenger in the vehicle, believed to be a Polish national, was found dead in the lorry.
Popular in the Community