The beer is a special edition of the traditionally blue Punk IPA and has been "satirically dubbed" 'beer for girls' by the brewer. BrewDog said the pink colour pokes fun at "lazy marketing efforts targeting the female market".
The beer, which is on sale in the UK, South Korea, Ireland, Germany, USA and The Netherlands, will be served 20% cheaper in BrewDog bars to those who identify as women.
In addition, for the next four weeks the company will be donating 20% of its proceeds from bottled Pink IPA and Punk IPA to causes that fight against gender inequality.
However, some have suggested the well-intentioned launch has missed the mark, saying "ironic sexist branding still looks like sexist branding".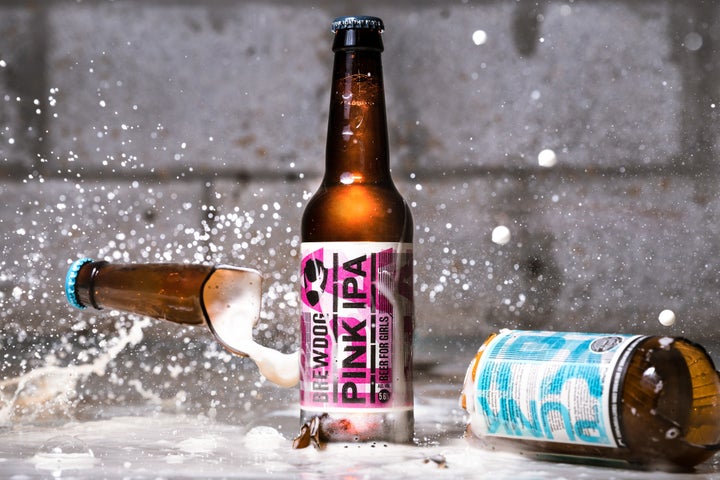 The beer maker's donations will go to causes that address current gender disparities and also seek to boost the number of young girls interested in a future in STEM industries.
Proceeds will be going to:
:: The Women's Engineering Society (WES) - a charity and a professional network of women engineers, scientists and technologists that inspire and support girls and women to achieve their potential.
:: 9to5 - a national membership organisation of working women in the US dedicated to putting working women's issues on the public agenda.
Commenting on the launch, Sarah Warman, BrewDog's global head of marketing, said "not enough action is being taken to tackle inequality".
"Sexism in the beer industry is rife. We can no longer ignore that its existence prevents plenty of incredible women joining our eclectic and exciting industry. There is a long history of products that pander and patronise through harmful, sexist stereotypes and vulgar imagery, and we're rallying to put an end to this nonsense. The love of beer is not gendered. Beer is universal. Beer is for everyone," she added.
"BrewDog is right to highlight the injustice in women being paid less than men, and we welcome campaigns that draw attention to this issue and the sexist marketing of products to women," they told HuffPost UK.
"BrewDog could, of course, make a further contribution to tackling this injustice by being more transparent about its own pay gap, setting out how it intends to close it, and lobbying for changes to policies like childcare and flexible working that can make a real difference to women's economic opportunities."
But many others on Twitter have said the campaign misses the mark, with some accusing BrewDog of perpetuating the very sexism it wished to highlight.
Whether the irony behind the pink packaging has come across or not, some have pointed out the launch has still got people talking about sexist marketing, which is what BrewDog wanted.
In response to the reaction the launch has received, BrewDog's Sarah Warman told HuffPost UK: "We always anticipated that some people might not immediately appreciate the irony of Pink IPA but that did not deter us in our mission to spark a conversation about the gender pay gap. Pink IPA is clearly an over-the-top ridiculing of the types of sexist marketing we often see from brands trying to engage a female audience."
BrewDog also disclosed its median pay gap is 2.8% in favour of men.
Allison Green, BrewDog's people director, added in a statement: "At BrewDog we are committed to a workplace free from inequality of any sort. We believe true parity can only come about through transparency and an unshakeable determination to resist and reject the status quo."