A student has torn into David Cameron over the EU - and accused him of "waffling".
In the first major TV event of the EU referendum campaign on Sky News, Soraya Bouazzaoui, an English Literature student at Southampton Solent University, said she had been put off by the "scaremongering" during his pro-EU campaign.
She was one of the audience members to give the PM a rough ride, with others also using the "scaremongering" jibe.
"I've strongly been wanting to vote to stay in the EU but to be honest the entire campaign has been a complete shambles for it. I've seen nothing but scaremongering, I've seen no valid fact at all, I've seen no pros and cons," she said before Cameron attempted to make the "positive" case for staying in the EU.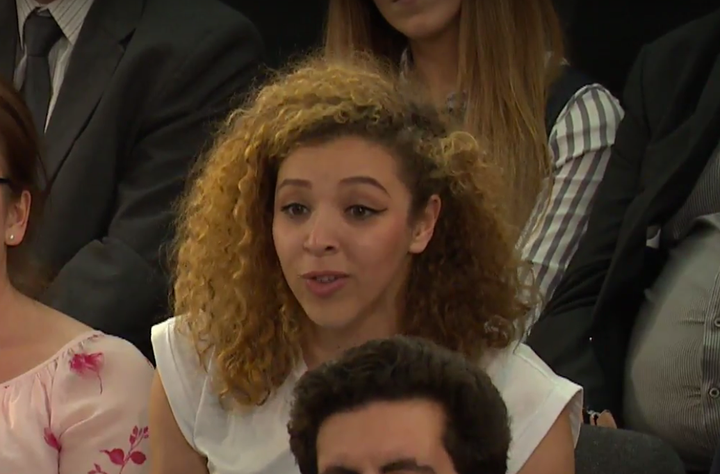 But the hammerblow in the event ahead of the June 23 referendum came when he began to answer her fears over Turkey joining the EU in the future.
Cutting across him, she shouted: "That's not answering my question. Let me finish now. I've seen you interrupt many people before hand. Let me finish. That is not answering the question. I'm an English literature student, I know waffling when I see it. I'm sorry."
He demanded Cameron give reassurances on Turkey's membership of the EU. Cameron, defending himself, said: "There is no prospect of Turkey joining the EU in decades; they applied in 1987, they have to complete 35 chapters, one has been completed so far, at this rate they'll join in the year 3,000.
"There are lots of reasons to vote one way or vote the other way; Turkey is not going to join the EU anytime soon, every country, every Parliament has a veto.
'I think there are lots of things to worry about in this referendum campaign; I absolutely don't think that's a prospect, it's not going to happen."
She later told Sky News Cameron was "getting a taste of his own medicine".
And seemed to be enjoying the attention.
But her takedown received mixed reviews.
Another audience member, James Dexter, accused Cameron of suffering "reputational damage" for deploying 'Project Fear' scare tactics, adding: "You're scaremongering Mr Cameron". The PM replied: "To me this is not about scaring anybody. I'm genuinely worried what would happen if we leave."
He added: "The job of the Prime Minister is to warn about the dangers as well as to talk about the upsides and opportunities.
"If I didn't listen to the IMF, the OECD, to the Trade Union Congress, the CBI the Governor of the Bank of England, if I didn't listen to any of these people I wouldn't be doing my job."
Earlier in the hour-long session, Cameron defended saying 'Brexit' would lead to renewed tensions in Europe as he dismissed critics of his remarks as "incredibly glib".
The Prime Minister was confronted by presenter Faisal Islam over claims leaving the EU would lead to a world war and recession.
In tough a half-hour where the PM was roughed up, Islam said: "What comes first? World War Three, or the global Brexit recession?"
Cameron argued the words 'World War Three' "never left my lips", but Islam argued he had referred to "serried rows of white headstones".
He went on: "Let me tell you exactly, on our continent, in the last century, twice we had an enormous bloodbath, between our nations.
"Can we be so confident that we have solved all of Europe's problems and all of Europe's tensions?"
Brexit campaigner Michael Gove gets the same treatment on Sky News tomorrow.