While members of parliament continue to thrash out the intricacies of Brexit –deal, no deal or delay – for medical and healthcare professionals across the UK, the prolonged lead up to the deadline has been, and continues to be, fraught.
However Shamir Patel, pharmacist and owner of online pharmacy Chemist 4 U, says this has already caused shortages of some items.
Patel reveals one of his customers has been stockpiling insulin over fears that, imminently, they might not be able to access it. "I'm angry that all the uncertainty around Brexit has worried people enough that they'd need to consider hoarding items that they've come to depend on," he says.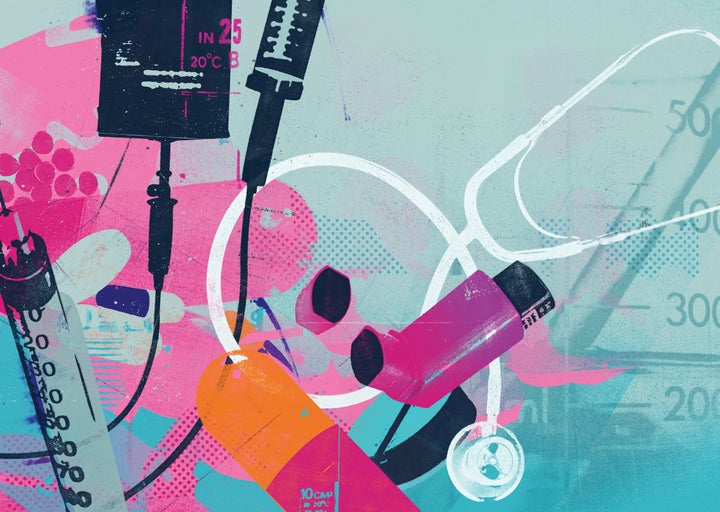 Dr Kenny Livingstone, a registered GP and chief medical officer for private doctor service ZoomDoc, tells HuffPost UK he has concerns for the near future. "Have a look at medication boxes. A large majority of medications are now made across Europe," he says. "What happens in [a few] weeks time? Are we actually prepared?"
Livingstone's patients are also trying to stockpile medications in advance of Brexit. "For some, it's a matter of life and death if there is no guarantee of a seamless supply of medications," he adds. One person who lives with debilitating anxiety previously told HuffPost UK: "I rely on medication, I have friends who rely on medication," she said at the time, "and none of us know what will happen."
Patel says he's been told the government is working to ensure there is sufficient capacity to enable medicines and medical products to continue to move freely into the UK after the deadline has passed, "but as of yet, there's no guarantee".
These concerns are shared by dentists too. Dimitri Mantazis, owner of Hove Dental Clinic, says in the short-term he is anxious about the interruption of dental supplies following Brexit. In the long-term, he questions the impact it could have on recruitment of staff and personnel.
"For some, it's a matter of life and death if there is no guarantee of a seamless supply of medications.""
The sector is already bracing itself – towards the end of last year, experts warned that the NHS could be short of a quarter of a million healthcare staff by 2030 unless urgent and sustained action is taken to improve recruitment and retention. But a report in November 2018 suggested there were 132,000 fewer citizens from EU countries working in Britain compared to 2017.
"What happens with medically trained EU nationals and their families?" asks Dr Livingstone. "Could they lose their jobs or be forced to leave if partners or loved ones are unable to stay? The long-term impact on the provision of primary care could be catastrophic."
Junior doctor Aishah Muhammad, who works in A&E, says this uncertainty is playing heavily on the minds of her European colleagues. "It's all so unclear and there isn't anything quite set in stone," she says. "While many promises are made, when Brexit comes into full effect will people want to come to work in the UK and will there be added difficulties to them coming over with visas?
"The NHS is forever struggling with staff shortages which directly impacts the service provided to patients. Will Brexit lead to an even bigger shortage?"
Professor Charles Davis, a leading neurosurgeon and chair of the Medical Advisory Committee at Greater Lancashire Hospital, says his field is highly dependent on overseas scientists and he worries that, when it comes to research, the UK won't be able to attract doctors and scientists as easily after Brexit.
"Some of them are leaving already," he says. "Visas are now more difficult for non-EU citizens to obtain and therefore this is creating a shortage in some areas of the country and making it more difficult for people to get an appointment."
Professor Davis cites rising runnings costs as another cause for concern. "When the Brexit vote came along the [pound] dropped which is costing the NHS significantly." The majority of NHS costs are employment costs, but roughly one quarter of the budget goes towards paying for drugs and machinery, he says, which come mainly from abroad – "therefore the bill to the NHS is increasing."
Private clinics also have questions unanswered. Dr Suvir Venkataraman, general manager for the private Harley Street Fertility Clinic, says: "We are concerned about the lack of guidance from the government and our regulator (HFEA) about what might happen next month. But we have taken precautionary measures and are prepared for Brexit with no expected disruption to our services."
Meanwhile, pharmacist Shamir Patel is worried for his business as well as his patients. "Many of the general pharmaceutical products like toothpaste and shampoo are imported from the EU and could be affected too, with prices likely to increase if supply falls," he says. "Will this happen? We don't know and that's the frustrating thing for businesses like ours.
"How can anyone plan ahead with any confidence when there are so many questions still to be answered?"