Britain hasn't even left the EU yet and already, people are grieving. "It's making me really anxious, but also so sad and hopeless," tweets Dr Amy Fuller. "It's like someone I know is dying and I really want to do something to help, but I can't. It's horrible."
The response to the ever-looming Brexit deadline is mixed: some welcome it, while others find the countdown reminiscent of a Doomsday clock – what will happen after the 29 March?
Sceptics might raise their eyebrows at the concept of Brexit grief, but Dr Chloe Paidoussis-Mitchell, a therapist and grief counsellor, tells HuffPost UK she believes it's a very real issue.
"It wouldn't necessarily fit the clinical diagnostic criteria of grief or complicated grief," she says. "But it is a loss. It's the loss of what we know, the country we felt we knew, and the loss of the community we thought we belonged to – which was the European community. I do think that it affects us in a really big way."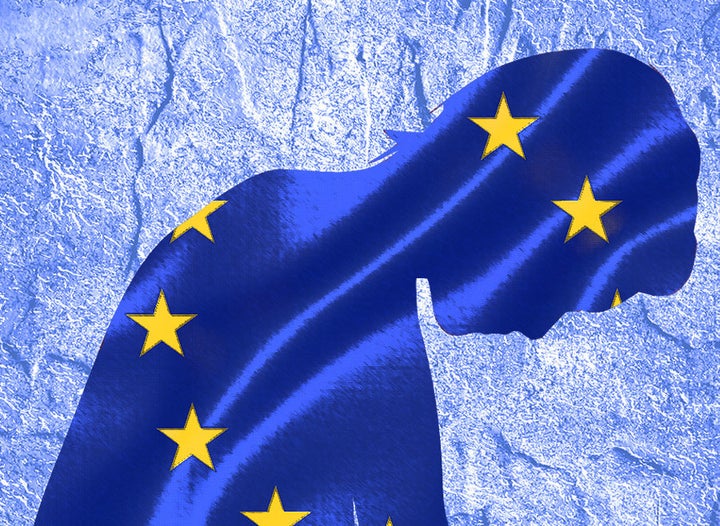 Most people grieve when they lose something or someone important to them, according to the NHS. By that definition, you could say the loss of Britain as we know it – and its connection to the EU – is a substantiated cause for grief.
People feel affected on a daily basis for a year to 18 months after a major loss. But with Brexit, it could be argued the period of grief started as early as the referendum vote in June 2016 – and might continue for some time after such time as we leave the EU.
Feeling anxious, helpless or angry are examples of the different ways people react to loss. Sadness often comes later. With Brexit, the British public has been "thrown into a really profound uncertainty", says Dr Paidoussis-Mitchell, which can feel shocking, frightening, and cause depression and anger – "all of those are symptoms of grief," she says.
Cruse Bereavement Care, a national charity supporting people through grief, tells HuffPost UK there have been no calls to its helpline about Brexit specifically. However Dr Paidoussis-Mitchell says she has a lot of international clients who have been impacted.
"I've seen people in my own private practice who say they're devastated," she explains. "They feel ashamed, and they feel that the decision to leave doesn't really represent them. They have a lot of fear about whether they'll be able to stay, or will have to leave.
"Because of the uncertainty, we don't know if it's going to affect our living conditions, our income, our employability, the standard of living – does it mean we're going to go into a recession? We don't know. To me, it is a lot like grief."
So what can we do about it? As a psychologist with 20 years clinical experience under her belt, Paidoussis-Mitchell says it's about letting go of the world we thought we knew.
She advises, apolitically, that people accept Brexit is going ahead, and adds there might even be a positive side to focus on. "Maybe there's a way of shifting it and looking at the opportunity it brings, finding new meaning, reconstructing our sense of who we are and where we belong more resiliently," she says.
"I think it's quite important what we tell ourselves about this, how we make sense of it and whether we fall into feeling victimised or take ownership and say: 'Ok this is what I'm presented with. How can I make it work for me?'"
And, just like with death, Paidoussis-Mitchell says we can learn from it: "You can look at the legacy of a person's life just like you can look at the legacy of the European relationship that we have. And you can think: 'What's a dignified way for me to carry on moving forward with my life?'"
It's very personal, she says, so take some time to think. What are your values? What's important to you? "Find your courage to keep going with it," she adds.
NHS Advice Around Loss:

:: Talk to someone about how you're feeling.
:: Allow yourself to feel sad.
:: Keep your routine up.
:: Stick to a regular sleep pattern.
:: Eat healthily.
:: Avoid things that "numb" the pain, such as alcohol and drugs.
:: Go to counselling if it feels right for you.
Useful websites and helplines:
Mind, open Monday to Friday, 9am-6pm on 0300 123 3393
Samaritans offers a listening service which is open 24 hours a day, on 116 123 (UK and ROI - this number is FREE to call and will not appear on your phone bill.)
The Mix is a free support service for people under 25. Call 0808 808 4994 or email: help@themix.org.uk
Rethink Mental Illness offers practical help through its advice line which can be reached on 0300 5000 927 (open Monday to Friday 10am-4pm). More info can be found on www.rethink.org.