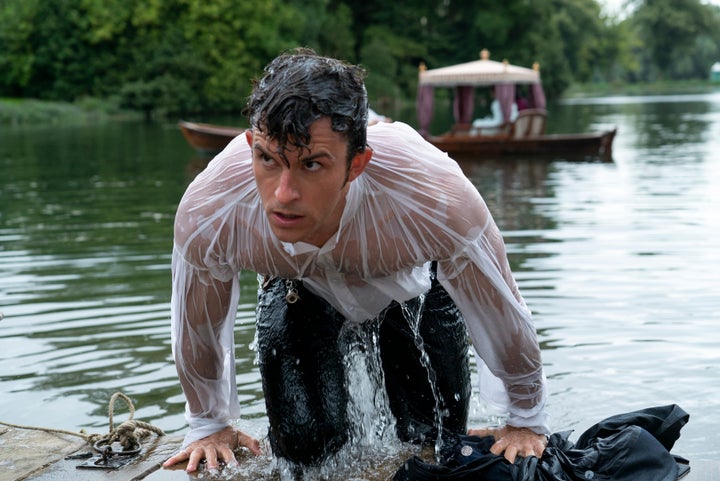 The actor, who's currently starring in Fellow Travelers opposite Matt Bomer, discussed his very busy schedule while speaking to Andy Cohen on SiriusXM's Radio Andy, and had a very exciting update on when fans of the period drama could start expecting season three news.
"[It] could happen any moment," he began, referencing the promotional trail blazed by actors in the weeks leading up to a Netflix release.
He then added that viewers should get "at least four weeks notice" in between promo starting and the series actually dropping.
Jonathan has starred as Anthony, Viscount Bridgerton in the romance drama series for the two seasons, the second of which explored a love triangle between him and sisters, Kate and Edwina Sharma (Simone Ashley and Charithra Chandran).
Although he's still around in season three, the next instalment of the surprisingly horny show is set to focus on the Colin Bridgerton and Penelope Featherington's romance.
Jonathon said that although he'll still be trotting around Regency era London's social season, he'll "hand over the baton" to actors Luke Newton and Nicola Coughlan.
You can listen to the full snippet in the video below:
Elsewhere in the interview, Jonathan discussed his hectic schedule, including a week spent between the sets of Fellow Travelers, Bridgerton – and the upcoming Wicked movie musical adaptation, in which he is set to play Fiyero.
At the end of 2022, the actor revealed that he had an "incredibly emotional" day which began "lying in the bed of an SF Aids ward" for Fellow Travelers.
He added: "I finished that day, went straight to the airport, slept for about four hours. Got picked up from Heathrow, went straight to a Regency ball, got my hair curled. And then I stayed there for two days.
"And then on the last day, I went to the Oz Dust ball and I danced with Ari [Ariana Grande] and then I flew back and I didn't have a day off."
Wicked, starring Cynthia Erivo and Ariana Grande is set to be released in two parts, with the first hitting screens on 27 November 2024, and the second a year later on 26 November 2025.
Until then, Jonathan's schedule is set to be fairly wild, but you know what they say; no rest for the wicked.
Bridgerton seasons one and two are streaming on Netflix now.