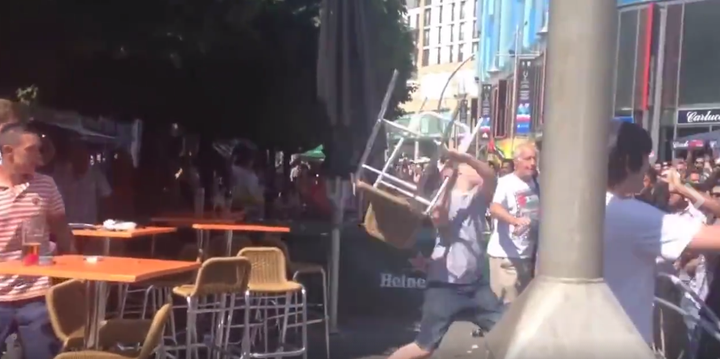 Britain First has been called out for posting a video purporting to show a group of Muslim men attacking Welsh pub-goers.
It titled the video: "Muslims attack Welsh pub goers" and comes at a time when tensions are running high over the bloody clashes between football fans across the Channel.
But as one commenter on the video noted, it in fact just showed a mob of white aggressors in a bar throwing chairs at a group of ethnic passers-by.
"I think there must be something wrong with my video player. I can't see any Muslims attacking Welsh pub goers," reads one of the top-rated comments.
Another Facebook user who said they were Welsh claimed the clip was "giving us a bad name".
The brawl resulted in seven men being jailed: Nicholas Carter, 32, John James Williams, 32, Ashan Malik, 57, Daniel Woods, 23, Barry Murphy, 34, Yussef Asad, 28, and Grant Ashcroft, 23.
Despite many commenters thinking that the video was recent, and was shot in France, one called Britain First out for posting it.
"Just because the English and Russians are fighting over in France why show something that has happened in Cardiff over two years ago?" they asked.
The feuds between England and Russian fans have escalated dramatically in recent days. On Saturday. pictures showed some Russian supporters jumping into an England stand to attack football-goers.
NOW READ: