British ambassador Matthew Rycroft accused the Syrian regime of president Bashar Assad and his Russian allies of war crimes during heated debates at the United Nations.
Rycroft joined his US and French counterparts in walking out of an emergency session of the UN Security Council on Sunday in a show of anger at the latest offensive by the Syrian regime to take the beleaguered city of Aleppo.
Rycroft told the security council meeting in New York that it was "difficult to deny" that the Syrian regime of Assad and his Russian allies were engaged in committing war crimes.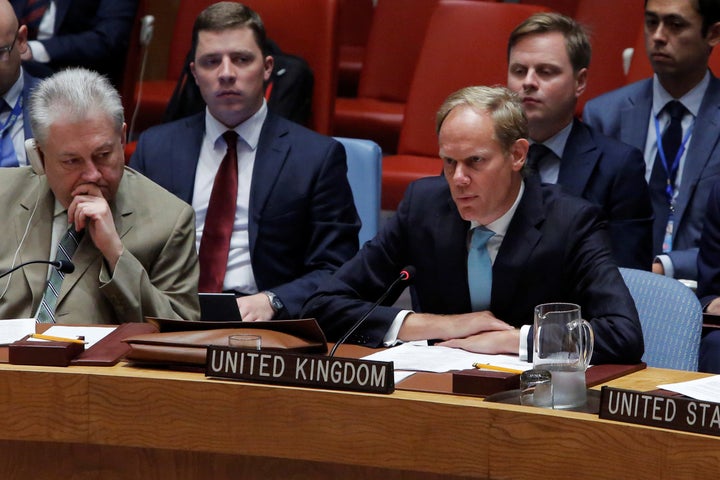 "After five years of conflict, you might think that the regime has had its fill of barbarity - that its sick bloodlust against its own people has finally run its course," he said.
"But this weekend, the regime and Russia have instead plunged to new depths and unleashed a new hell on Aleppo."
Earlier the Russian Foreign Ministry hit back at Foreign Secretary Boris Johnson after he warned Moscow would be guilty of committing war crimes if its warplanes were deliberating striking civilian targets.
The UN special envoy on Syria, Staffan de Mistura, said the offensive to take the city had unleashed "unprecedented military violence" on its inhabitants, killing at least 213 civilians, many of them women and children.
He said there had been reports of the use of bunker-busting bombs and incendiary weapons which created "fireballs of such intensity that they light up the pitch darkness in Aleppo as if it were daylight".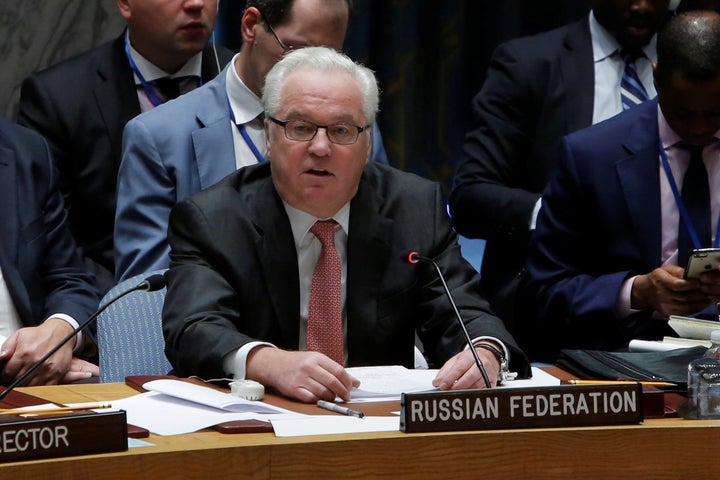 His intervention prompted fresh recriminations between Russia and the United States with US ambassador Samantha Power accusing Moscow of "barbarism".
She urged security council members to "have the courage to say who is responsible for this and in a single voice tell Russia to stop".
But Russian ambassador Vitaly Churkin insisted its air strikes were aimed at "terrorists" who were holding 200,000 people prisoner in the city.
"They are trying to use women and children as a human shield," he said.
Earlier, Johnson accused President Vladimir Putin of "protracting" and called for an investigation into whether Russian forces were committing war crimes.
"Putin's regime is not only as it were handing Assad the revolver, he is in some instances firing the revolver himself," he said.
Russian Foreign Ministry spokeswoman Maria Zakharova retorted that Britain should look to its own record before criticising Moscow.
"The foreign minister of Great Britain Boris Johnson said in a broadcast of the BBC that Russia is guilty of protracting civil war in Syria and, possibly, of committing war crimes in the form of air attacks on convoys with humanitarian aid," she said.
"All this is right except for two words: Instead of 'Russia' it needs to be 'Great Britain' and instead of 'Syria,' 'Iraq'."