Historically, men have been told to be strong and silent, but new research suggests men are finally beating these outdated stereotypes and sharing their feelings with one another.
In fact, the study found that straight men find relationships with their male friends more emotionally satisfying than the bonds they have with their girlfriends.
In light of the research, articles have appeared online stating that the modern day 'bromance' is threatening heterosexual partnerships, but this just isn't the case.
Mental health campaigners have called the reports "misleading", telling HuffPost UK encouraging male friendship is key to improving the population's mental health and reducing suicide rates.
What's more, relationship experts believe women should be encouraging their partners to develop close friendships, on the grounds that this could improve their own romantic relationship.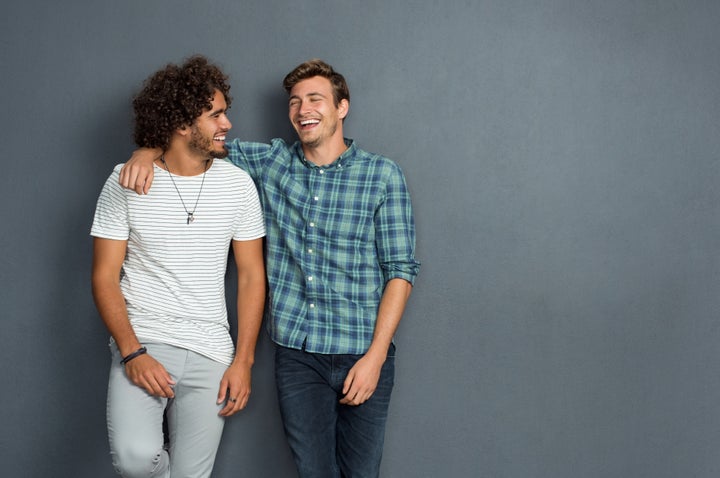 The study, published in the journal Men and Masculinities, found that "the increasingly intimate, emotive, and trusting nature of bromances offers young men a new social space for emotional disclosure, outside of traditional heterosexual relationships".
"Our participants mostly determined that a bromance offered them elevated emotional stability, enhanced emotional disclosure, social fulfilment, and better conflict resolution, compared to the emotional lives they shared with girlfriends," the researchers said.
In light of the study, some news outlets claimed bromances are "threatening" heterosexual relationships, but James Scroggs, chair of male suicide prevention charity CALM said "it can be misleading to start pitting bromance against romance".
"At CALM, we work to prevent male suicide by challenging a damaging and outdated culture that prevents men from opening up and seeking help when they need it," Scroggs told HuffPost UK.
"Whilst we note that the bromance research was conducted with a small number of participants and focused on men at university only, it does speak to the growing number of men who feel comfortable opening up to their friends."
He also pointed out that CALM's previous research, published with HuffPost UK in 2016, also showed that men are starting to talk to their partner or family about their feelings.
"It is clear there is a steady and positive shift in people's attitudes and behaviours which enable men to open up, not bottle up their emotion, and therefore avoid reaching crisis point," he said.
Cal Strode, a spokesperson for the Mental Health Foundation, agreed that strong male friendships should be portrayed as a positive thing.
"From our research we know that 28% of men living with a mental health problem had never sought medical help, compared to 19% of women. Men are also much less likely to talk openly with their friends about mental health problems," he told HuffPost UK.
"Men often feel isolated and unable to tell people how they are feeling – a culture of men shouldering pain alone has developed...we have a duty to question our culture and push for change."
He added that there's a danger we can confuse being surrounded by a big group of people with friends "that we can count on when we're really not doing okay".
"Men having more friendships where they feel able to speak openly about their emotions and mental health can only be a good thing," he said.
Instead of pitting friendships against romantic relationships, Relate counsellor, Gurpreet Singh said we should invest in both in order to improve our wellbeing.
"Friendships will often bring out a different side to us than a romantic relationship. Sometimes for example, there's an element of camaraderie that's more common in friendships," he told HuffPost UK.
"We'll also be friends with different people for different reasons, because they represent different parts of us. You can be friends with your partner but a 'couple relationship' is also about meeting one another's romantic and sexual needs, sharing your life together and perhaps starting a family together.
"Spending time with friends, doing things that our partners may not necessarily enjoy, gives us an opportunity to pursue our separate interests and also creates a healthy breathing space in the relationship."
He pointed out that previous research by Relate found one in eight people in the UK say they have no close friends, so "it's good that more men now feel able to confide in one another".
"However, if you're also in a couple relationship, it's important to maintain a balance and not neglect your partner in favour of your friendships and vice versa," he said.
Also commenting on the study, Kate Leaver, author of The Friendship Cure (out March 2018 in the UK), told HuffPost UK bromances can not only improve mental health, but release some of the strain on romantic relationships.
"In modern times, we place a dangerous level of expectation on our romantic partners and have a concerning fixation on romantic love as the most important form of love," she said.
"The more we can move away from that and distribute our emotional needs and resources across multiple relationships - bromances, female friendships - the better. For the sustainability and stability of our romantic relationships, for our mental health, for our constant development as people."
She added that she strongly believes people should retain their own independent friendships when they get into a relationship.
"Research shows that on average we lose three friendships when we enter a serious monogamous relationship and I'd like to see us deliberately change that stat," she said.
"We should really be diversifying our emotional investment as much as possible, including our chosen love person and the friends who lift us up and make life better."
All in all, bromances have the potential to seriously improve lives, for both men and women. Don't let the reporting of one study tell you otherwise.