It was previously thought that he and his brother Ibrahim were the two suicide bombers involved in the attack on the city's Zaventem airport.
But although Ibrahim is still believed to have been involved in that incident, Khalid is now thought to have been the bomber who killed 20 at Maalbeek Metro Station.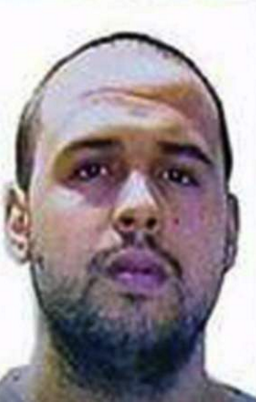 The prosecutor added that Ibrahim left a will on a computer found in a rubbish bin in a Brussels neighbourhood of Schaerbeek.
Investigators raided the area after the attacks and found the device, which also contained a note from el-Bakraoui saying he felt increasingly unsafe and feared landing in prison.
The prosecutor also said one person detained in one of the raids remains in custody Wednesday and is under questioning.
The second airport bomber has not been identified and a third, who has not been officially named but has been identified in reports as Najim Laachraoui, is on the run.
Belgian Federal police released CCTV of the three men at Brussels Zaventem airport shortly before two blasts rocked a terminal building on Tuesday morning.
In the footage, taken just moments before the explosions, two men could be seen wearing a single black glove, possibly to hide detonators.
Police raids were carried out across the capital following the initial attacks. Prosecutors revealed on Tuesday evening a new explosive device containing nails was found in the suburb of Schaerbeek, as were chemical products and an Islamic State group flag.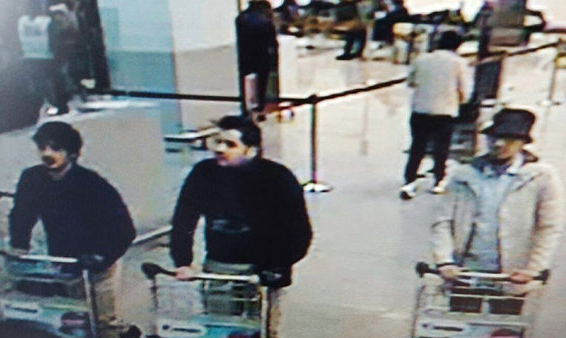 Belgian authorities say several people possibly linked to deadly attacks, which saw 34 killed and hundreds injured, are still on the loose.
According to the Associated Press, Paul Van Tigchelt, head of Belgium's terrorism threat body, told reporters on Wednesday that is why the country is keeping the terrorism threat level at its highest level, which means there is a danger of an imminent attack.
He spoke alongside prosecutors who say they are searching for at least one person directly involved in the attack on Brussels airport.