Another day of online dating, another unsolicited dick pic. But the frustratingly predictable pattern could finally be coming to an end.
Bumble is set to launch a feature designed to help users detect unwanted sexual images without having to open them.
The feature, named the 'Private Detector', uses AI to capture images in real time with 98% accuracy. Once a dick pic is shared, the detector will automatically blur the image and alert the user that they have been sent something believed to be inappropriate.
From there, the user can decide whether to view the image or block the image, and if compelled, easily report the image to the moderation team.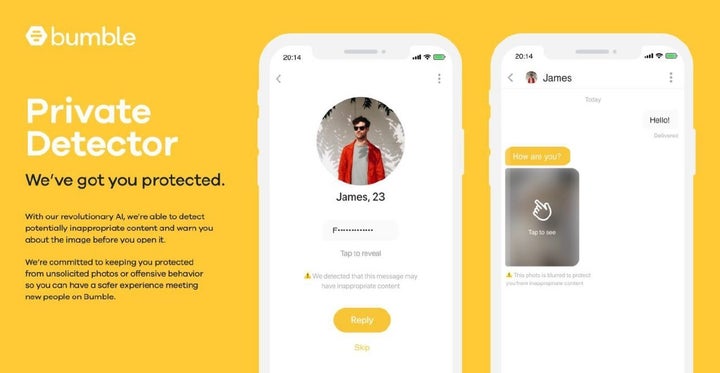 Bumble's Andrey Andreev and Whitney Wolfe Herd announced the feature will be integrated into the app by June 2019. It will also appear on other apps owned by Andreev, including social networking dating app Badoo, gay dating app Chappy and 50+ dating app Lumen.
HuffPost UK has been investigating the prevalence of cyberflashing – the digital equivalent of flashing on a street corner – and the impact it has on victims.
Cyberflashing occurs via a number of online mediums, from dating apps and social media to Apple's AirDrop function.
A YouGov poll conducted in 2018 found 41% of women had received unsolicited sexual images and 46% of these women said they were younger than 18 when it first happened.
Of course, this isn't just a problem faced by straight women, which is why the feature will be available across other dating apps owned by Andrey Andreev, for all users.
"The safety of our users is without question the number one priority in everything we do and the development of 'Private Detector' is another undeniable example of that commitment," he said.
"The sharing of lewd images is a global issue of critical importance and it falls upon all of us in the social media and social networking worlds to lead by example and to refuse to tolerate inappropriate behaviour on our platforms."