Laura Perrins said that the broadcaster should not be "encouraging" children to change their gender after new CBBC series Just a Girl faced criticism from the Mail on Sunday yesterday.
The Mail, which headlined its front page story with "Fury at BBC sex change show for six-year-olds", sparked a huge backlash at the weekend.
The BBC defended its series, releasing a statement yesterday which said the programmed dealt with "universal themes that many children relate to".
But the programme was attacked by Perrins for being "shocking" and an "unbelievable piece of propaganda targeted at children".
Perrins, who has three young children, told BBC Radio 4's Today programme: "The three issues were that it really did normalise, trivialise and glamourise what is a very serious, life-changing decision."
But Cat Lewis, CEO of Nine Lives production company, said there was a need to raise awareness and promote understanding amongst young people because LGBT children are much more likely to be bullied, to self harm and attempt suicide.
Lewis said: "I don't believe they (the BBC) have done any of these things [normalise, trivialise and glamourise].
"Just a Girl is essentially just a film about bullying and the reason why the character is being bullied is because she is an LGBT girl.
"She is a trans girl and unfortunately the reality is that 80% of LGBT children do experience bulling."
Lewis continued: "I have an adult son who works in a psychiatric unit for adolescents and I can tell you this is an issue and it's an issue for children around the country.
"And all CBBC is doing is raising awareness and understanding to prevent bullying."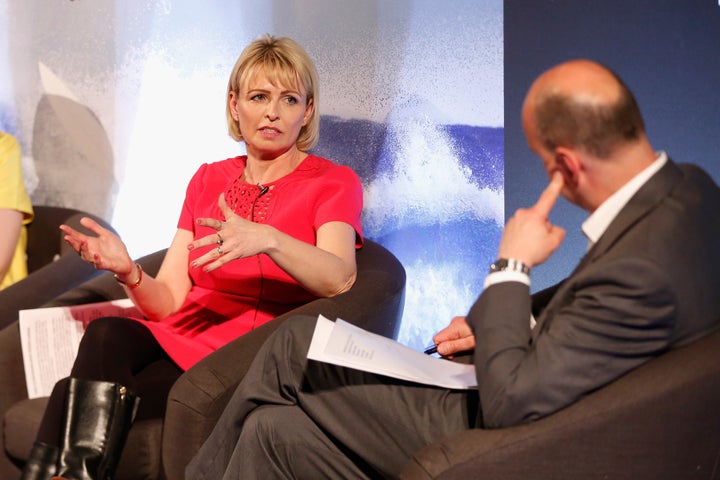 Perrins said: "It's certainly not the job of the BBC to be encouraging children to change their gender."
Yet Lewis said that it was not correct to claim that the BBC was "encouraging" children to change their gender and accused Perrins of "sensationalising" the issue.
The Mail on Sunday's story was slammed for being transphobic yesterday.
Susie Green, CEO of Mermaids, a charity which supports children and teenagers with gender identity issues, said the headline was "horrific".
She told The Huffington Post UK: "The writer for this series did a lot of work with Mermaids parents and young people to make sure that he represented the challenges that children and their families face.
"The horrific headline detracts from a wonderful series that has been well received as educational and empathic.
"No parent would choose this path for their child. And teaching children about trans issues is important. Education is key to understanding every aspect of life. It's not on mainstream television and only accessible through CBBC website, therefore it is not thrust upon those not wishing to see it.
"I would like to see more education around trans issues across the board. Maybe then we will see less hatred and prejudice, and can begin to celebrate the fact that everyone is different."
In the Mail on Sunday Comment, the paper said: "Girls who would previously be described as 'tomboys', because they enjoy climbing trees or kicking a football, have instead started questioning their gender.
"Parents fear the programme could stimulate demand for medical intervention which, as this paper has previously revealed, is already available for children as young as nine.
"As the nation's broadcaster, the BBC is right to broach difficult subjects – that is not in question.
"The issue is about age-appropriateness: six year-olds should not have to wrestle with such adult matters."
In response to the Mail on Sunday's front page, the BBC said in a statement: "Just a Girl is about a fictional transgender character trying to, make sense of the world, deal with bullying and work out how to keep her friends, which are universal themes that many children relate to, and which has had a positive response from our audience.
"CBBC aims to reflect true life to our audience, providing content that mirrors the lives of as many UK children as possible - you only have to look at programmes such as The Dumping Ground or our BAFTA winning and ground-breaking transgender story 'I am Leo' to see that is the case."
Popular in the Community