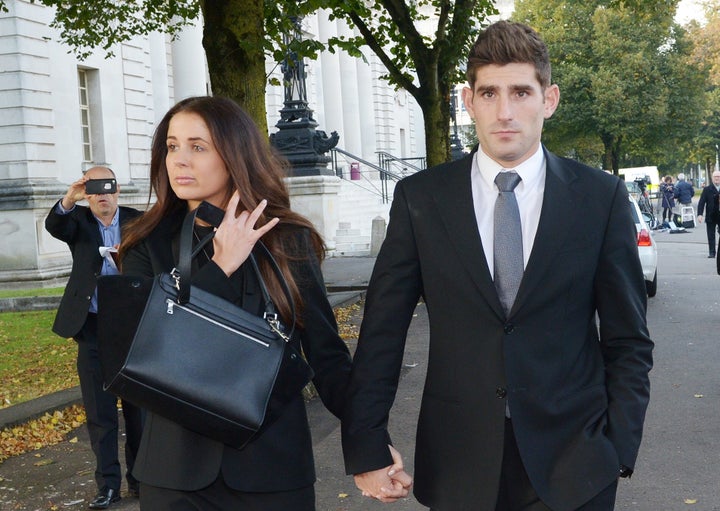 Police have "reminded" people not to illegally name the woman who accused Ched Evans of rape, as the footballer's acquittal prompted a fresh torrent of abuse.
Evans, 27, was acquitted on Friday, after a two-week retrial that followed his original 2012 conviction being quashed.
He admitted to having sex with the teenager in a hotel in Rhyl, north Wales, and cheating on his girlfriend in the process but insisted it had been consensual.
The new verdict triggered death threats against Evans' accuser on social media.
The woman, who cannot be named for legal reasons, had to change her name and move house five times after being identified on social media before.
The latest abuse included people saying she should be "strung up" or "shot".
Everyday Sexism tweeted some of the abuse and noted that the woman suffered similar abuse after Evans was first convicted.
North Wales Police said they "acknowledged" the retrial verdict.
Supterintendent Jo Williams said: "We are aware that once again the victim has been named on social media.
"We would remind people that it is a criminal offence under Section 5 of the Sexual Offences Amendments Act to do so, and that the victim has the right to life long anonymity. An investigation is ongoing into the naming.
"People need to be aware that they could find themselves being arrested and prosecuted. This was done previously, people were prosecuted and heavily fined."
It took the retrial jury three hours to reach their not guilty verdict.
Evans denied the woman was too drunk to consent when she was having sex with him.
He had maintained his innocence - saying the woman had invited him to "join in" at 4am with her and a fellow footballer - Clayton McDonald, 27 - who was cleared of rape at the original trial.
Chief Crown Prosecutor for CPS Wales Ed Beltrami said: "We respect the decision of the jury today.
"This case hinged on the issue of sexual consent – that someone consents if they agree by choice and have the freedom and capacity to make that choice.
"Being drunk does not mean a person relinquishes their right to consent, that they are to blame for being attacked or that they were 'fair game'."
In December, 2014, Evans' accuser's father claimed his daughter worked over Christmas to take her mind off those who were tormenting her.
The father told The Mail On Sunday: "It's the fifth time she's had to move in under three years, she is just living her life on the run.
"I couldn't even see her over Christmas because it's too risky for her to visit me. I don't even know where she is living at the moment, so I haven't been able to give her the Christmas presents I bought her.
"The last time I saw her was almost a year ago, and it's been hard not having her at home over Christmas. I just want her near me so I can protect her."