As schools prepare to close for the Christmas holidays and the level of excitement in classrooms reaches fever pitch, many parents face the very real dilemma of how to afford to feed their families for the next two weeks.
According to the Department for Education 1.08 million children in the UK are registered for free school meals and over the holidays their parents need to cover the cost of that extra meal every day.
And that's just the tip of the iceberg: according to the Child Action Poverty Group there are 3.9 million children living in poverty in the UK - that's nine in every class of 30.
"Children are going hungry and that's utterly heartbreaking for their parents, who we know go without food themselves in holidays to make sure their children get something to eat," Linda Cregan, CEO of the Children's Food Trust, told The Huffington Post UK.
"Whenever schools are on holiday, children who rely on free school meals during term time – and by rely, I mean their free school meal is often their only proper, hot meal of the day - miss out."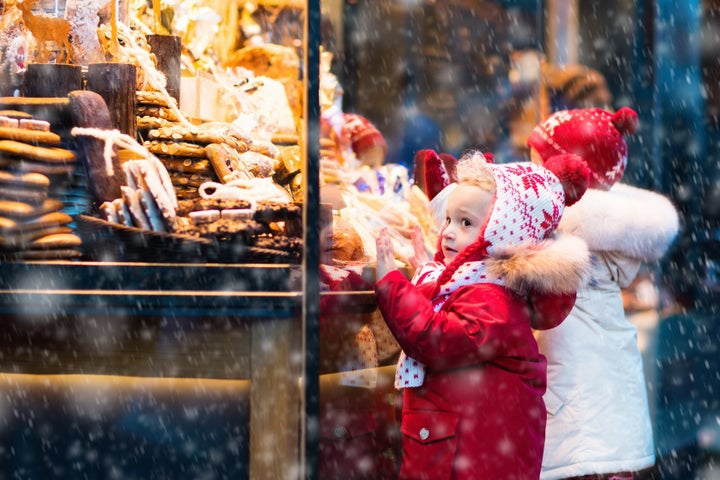 "While Christmas is one of the shorter school breaks, it's still a time when there's particular financial pressure on parents with a very low food budget: having to find ways to provide at least one extra meal per day can be a real struggle," Cregan continued.
"And while some children won't be getting enough to eat, others might be getting by on budget junk food offers, which give them nothing but empty calories and that feeling of hunger again very quickly.
"Most importantly, it means they won't be getting the nutrition they need at a time like no other for their body's growth and development; malnutrition in all its forms, including obesity, sets children up for a lifetime of poor health."
Child food poverty policy advisor Lindsay Graham explains statutory services provide "very little" holiday support for families affected by poverty.
"There is no government policy or support in place to help families for the 13 weeks of the year that schools are closed," she said.
"There is no national help line. There is no national website. Zilch! Which is why many of us are campaigning for policy, research and funding to support holiday provision.
"It's not just about food it's about so much more."
Thankfully, many in the voluntary sector have stepped up to help fill this gap in provision, providing families with much-needed food parcels and support.
In December 2014, the All-Party Parliamentary Group (APPG) for School Food's Holiday Hunger Task Group was set up to map holiday provision projects across the UK.
Their report flagged up 428 projects working to provide food for children across the UK.
One of the organisations highlighted was The Trussell Trust, whose network of foodbanks saw a significant increase in the number of emergency food supplies provided in December last year.
"The busiest week of December was the week directly leading up to Christmas," explained Adrian Curtis, the Trussell Trust's foodbank network director.
"In that one week alone, over 25,000 three day food supplies went to children across the UK."
This December many of the Trusts' foodbanks will be offering Christmas hampers and festive food alongside the standard food parcel, some provide Christmas meals, and others give Christmas presents to children.
"Last Christmas Eve, one mum burst into tears when the volunteers gave her a teddy bear to give to her young son, alongside the emergency food. She had thought she wouldn't be able to give him anything from Christmas," said Curtis.
"The foodbank were able to give her family hope, as well as emergency food."
The Trust relies on donations of money, time and food.
"We would really value any support people can give in the lead up to Christmas," said Curtis.
The trust's website provides information about ways people can donate as well as a map of local foodbanks, who will be able to tell you how best you can help in your community.
Another organisation highlighted in the report was Feeding Birkenhead, which launched in 2014 following an All-Party Parliamentary Inquiry into Hunger.
It was created by MP Frank Field as a 'Food Bank Plus' model to continue the provision of free school meals for poor children during the school holidays, using donations from local supermarkets and the charity HisChurch. At Christmas they run a home delivery service sending food deliveries and hampers.
Similar programmes were also launched in Devon and Cornwall, Salisbury, South Shields, Bristol, Derbyshire, Liverpool and Brighton and Hove.
The founders have now created the organisation Feeding Britain and plan to provide services across the country.
"Feeding Britain is working with local partners around the UK to support the expansion of initiatives like holiday food and fun programmes," said Rosie Oglesby, Feeding Britain's new national director.
"In the same way that we've done with Feeding Birkenhead, we are now rolling out local Feeding Britain pilots in different parts of the country, which bring together the fantastic local organisations and community groups looking to address hunger in their communities, with local authorities, businesses and other stakeholders.
"With these partners, we will be establishing holiday food and fun programmes, and piloting other models for ensuring children have access to food all year round. What we're looking for are innovative local solutions to make sure that all children, and their parents, can enjoy the holidays without having to worry about where the next meal is coming from.
"At the same time we'll be working with these coalitions to understand the real underlying causes of hunger in their communities, and what can be done locally and nationally to address these, so that together we can work towards eliminating hunger for good in the UK."
Feeding Birkenhead's holiday provision also involves getting families involved in preparing healthy food - an aspect of support that Cregan believes is key to ending holiday hunger for children in the UK for good.
"Ultimately, as well as community support we need to help families with the skills they need to cook from scratch on a very low food budget," she explained.
"We've seen the results in our own pilot schemes: give families a few basic cooking skills and recipes, even if they've only got a kettle or microwave to cook with, and they will eat more healthily.
"The APPG on Food Poverty and Hunger agreed with us in its report last year that giving community groups and food banks the means to spread the skills to cook from scratch on a very low food budget to families is a crucial part of this challenge.
"Emergency food aid can only go so far. But the skills to cook from scratch for pence rather than pounds can make a huge difference to how children eat."
HuffPost UK is running a fortnight-long focus around helping others this Christmas. Giving Back will shine a light on the organisations and individuals making a difference in their community, tackling issues such as loneliness, homelessness, food waste and financial struggle. We'd also love to hear your stories. To blog for Giving Back, email ukblogteam@huffingtonpost.com. To keep up to date with our features and find tips on how you can make a difference this Christmas, follow the hashtag #GivingBack.