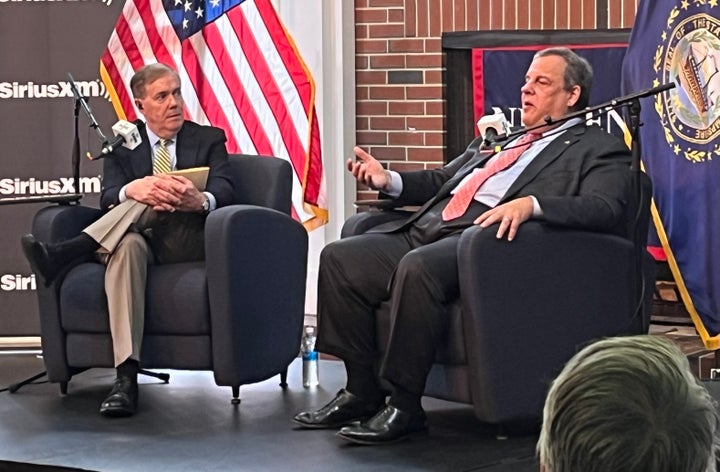 Donald Trump can skip debates all he wants, but he won't be able to avoid a face-to-face confrontation with Chris Christie, the former New Jersey governor and one-time U.S. attorney warned Tuesday.
"You think I'm going to have a hard time finding Donald Trump? You think that over the course of the next couple of months, I'm not going to find him and confront him someplace?" Christie told reporters following a "town hall" style campaign stop in New Hampshire. "I was a prosecutor for seven years. It was my job to find people and confront them. Don't worry about it. I'll find him."
In a Fox News appearance on Sunday, Christie had brought up the idea of berating Trump in person by simply going to his public campaign events as the two vie for the Republican presidential nomination. Christie expanded on the challenges of doing so while speaking to an audience of about 50 at New England College.
"This is a guy who's taking advantage of the fact that he lives behind the walls of private clubs and he has Secret Service protection," Christie said, noting why he couldn't just show up in front of Trump's house and hold a press conference. "Look, he's pretty much hiding in the basement."
Trump skipped the first Republican primary debate in Milwaukee last month, and appears unlikely to attend the second one set for Sept. 27 in Simi Valley, California. Members of his campaign staff who attended the Milwaukee debate said Trump maintained such a large lead that he had no need to participate.
The New England College event was part of Christie's latest swing to the traditional site of the country's first presidential primary, as he pursues a New Hampshire-centric strategy for getting past the coup-attempting former president in the polls.
Also on Tuesday morning, Trump's campaign released a letter signed by dozens of New Hampshire state lawmakers demanding that Secretary of State David Scanlan not exclude Trump's name from the primary ballot.
Scanlan and New Hampshire Attorney General John Formella are studying whether Trump's actions leading up to and during the January 6, 2021, assault on the U.S. Capitol by his followers prohibit him from holding office under the 14th Amendment.
Christie, in his exchange with reporters, said he would not engage with that question.
"As a candidate, I want to go beat him. I don't want him kicked off the ballot through some legal manoeuvre. I want to go and beat him," Christie said. "The better way for our country to go is to have him clearly defeated rather than kicked off a ballot because of a legal argument."
Trump is under four separate criminal indictments — two of them related to his coup attempt — and faces 91 felony counts that could send him to prison for decades.
The former president, who has pleaded not guilty in all cases, nevertheless is the favourite to win the 2024 Republican nomination.
Related