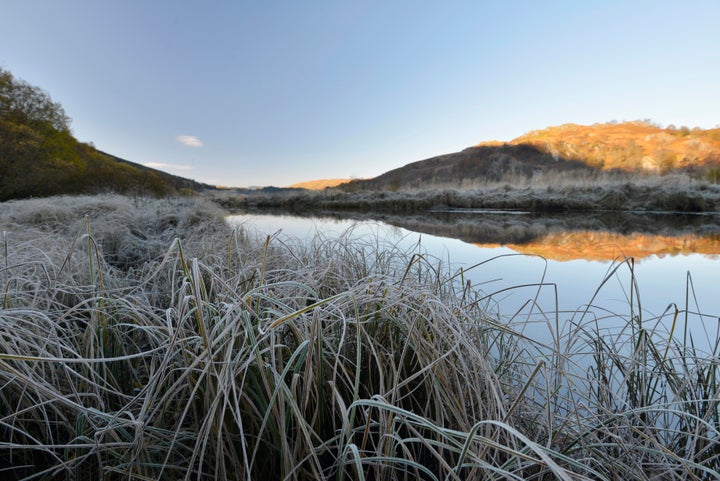 It could be time to get the blankets out and whack on the heating, as frost and freezing temperatures are set to hit parts of the UK as a spell of colder weather takes hold.
Wednesday night will feel particularly cold due to the unseasonably warm spell of weather. The drop in temperature could see patches of frost, and by the end of the month the first snowfall could hit higher ground in Scotland.
Rachael West, meteorologist for the Met Office, said: "We have got cooler air spreading its way south eastwards throughout the day so things are turning a bit cooler. It's still quite mild across southern or south eastern areas but elsewhere that cooler air is making itself known today.
"I think many of us will notice that tonight is a chillier night than nights we have just had. Quite a few rural places from the midlands northwards are at risk of seeing patchy frost so there will be chilly nights for the week to come."
It could reach -3 degrees in rural areas of Northern Ireland, northern Scotland and the far north of England.
"It's nothing usual for the time of year," West said. "But relative to recent temperatures it will feel really cold and people will notice it more."
She added that London and other areas in the south east are getting the "rough end of the deal" on Wednesday as the weather is grey and wet while most areas of the country are enjoying sunshine.
However for those who are already fed up of the rain, most areas of the UK will see light winds and plenty of sunshine on Thursday.
"There is a pretty good day to come after that chilly start. I think although we will see cooler temperatures tomorrow and it will feel cooler across the board, we will still see temperatures above average for the time of year so we'll probably see highs of 16 degrees so we're still not fairing too badly."
West said there was no sign of any particularly cold arctic air just yet, and it's too early to know whether this winter will be as cold as last year's.
Into next week, she said there will be cooler air again similar to this week. As the month draws to an end, she says we may see some snow on the higher grounds of Scotland.
Bookmaker Ladbrokes has adjusted its odds for snow and expects there will be a "bitter end" to the month.
The forecast comes after UK was battered by Storm Callum over the weekend, causing severe flooding in Wales and leaving at least three people dead.