The parents in nearly 1.5 million families* in the UK have never cooked with their children, according to a new study commissioned by The Huffington Post UK.
Cooking may now be a mandatory part of the National Curriculum, but we begin teaching our children other vital life skills - such as reading and counting - long before they ever step foot in the classroom. So why are we not also equipping them with the ability to feed themselves?
There are plenty of reasons parents might not want kids involved in the kitchen - mess, stress, lack of time, the hazard of knives and hot ovens, - but those who do, often find the benefits outweigh any issues, as it helps improve their child's relationship with food and puts an end to mealtime tantrums.
Suzy Pelta, founder of cookery business Suzy Pelta Bakes, from London, credits cooking with helping to "completely cure" her 10-year-old son Louis' extreme fussy eating.
"My son was starving himself," explained the 36-year-old mum.
"He would rather go hungry than eat something he didn't feel was a safe food. It was really scary."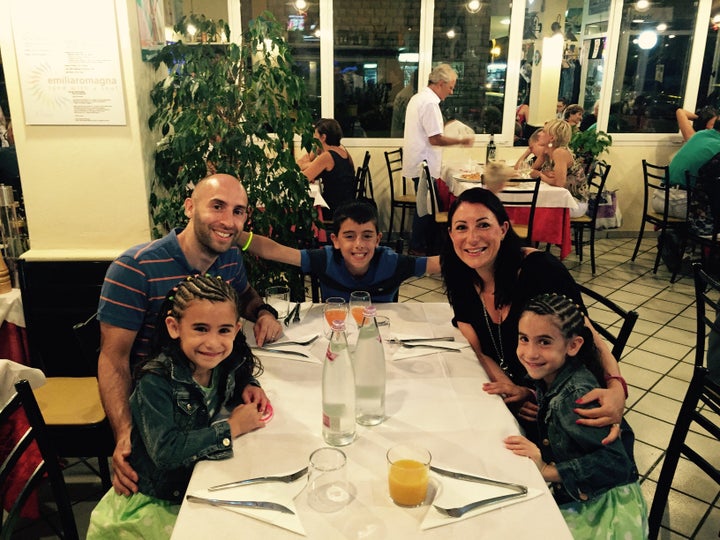 Pelta, who is also mum to seven-year-old twin daughters, Amelie and Gracie, continued: "When Louis turned one-and-a-half he became wary of different textures.
"He started to cut everything out of his diet and by the time he was five, he was only eating plain cereal and breads.
"But now he enjoys food and getting him involved in cooking was a big part of bringing that change about."
Fear of new foods affects up to one in every five children, typically when they're aged between 18 months and two years old, according to The Children's Food Trust.
Maggie Sims, Children's Food Trust, says getting kids involved with making their meal can help increase the likelihood they'll try what's on their plate.
"Our advice to parents is to stick with it," she said. "It can take up to fifteen tries of a new food before children accept it and their tastes will often change.
"Home is where eating well starts. Children learn from watching us prepare and eat meals together, and the more we can involve them in that process, the greater their interest in what they eat and how it makes them feel.
"Learning to cook opens children's eyes to food: how it tastes, feels, smells and looks.
"In a society which has become increasingly dependent on convenience foods and takeaways, some children have never seen their families prepare meals from scratch.
"If you don't know what a particular ingredient is, how do you know what to do with it?"
When Louis was five, Pelta took him to see a specialist at Great Ormond Street Hospital, who suggested they introduce him to "freckle-sized" amounts of new foods.
Once Pelta had coaxed Louis through this major hurdle, she hit on the idea of making pizzas with her son.
"I realised because he likes bread, maybe he'd like something on the bread," she explained. "So we started making pizza together.
"It was a journey of discovery. Once he would eat that, then we tried making a schnitzel together. I let him bread it, so he could feel how it was made. I think it helped that he could understand what his food was made of."
Sarah Coe, nutrition scientist at the British Nutrition Foundation advises: "Increasing the familiarity of foods may increase a child's willingness to try them, eventually leading to them liking them. Cooking may be one way of helping with this."
Now every Friday the Peltas cook together as a family.
"It's our family time," explained Pelta. "Before Louis was eating, - before cooking was such a big part of our lives, - we didn't have that time.
"Louis' fussiness made me realise the importance of letting kids experience making food, and that made me bring experimenting with food into the girls' lives earlier.
"As soon as they could grab, they were holding food and trying new flavours."
According to Sam Montel, nutritionist at Public Health England, even toddlers are capable of helping with cooking.
"Even children as young as two years, can help with washing fruits and vegetables, and incorporating ingredients when supervised," she said.
"This helps families try different foods together and children can experience new tastes and textures."
How To Cook With Kids Of Different Ages

The Children's Food Trust advises:

One- to five-year-olds: Kids this age have a limited attention span – so have another activity on-hand, like colouring, to keep them busy if their attention wanders. But with your supervision, they'll love to pour, wash, mix (cool ingredients), sift, rub-in, mash, touch, taste and smell.

Six- to eleven-year-olds: Children can now start to learn how to chop and peel safely. They'll love to try weighing and measuring, peeling, chopping, crushing, mixing, whisking, squeezing, sifting, grating, rolling, rubbing-in and mashing.

Twelve and above: Your teenager might want to take more of a leading role in cooking now – which is great, as long as you're still on hand to supervise. If their friends are coming over, get them cooking the meal.
Toni Cosson, 38, from Porthcawl, Wales, believes she had underestimated how much her daughter Amelie, seven, was capable of in the kitchen, before she enrolled on a Children's Food Trust cookery course in 2015.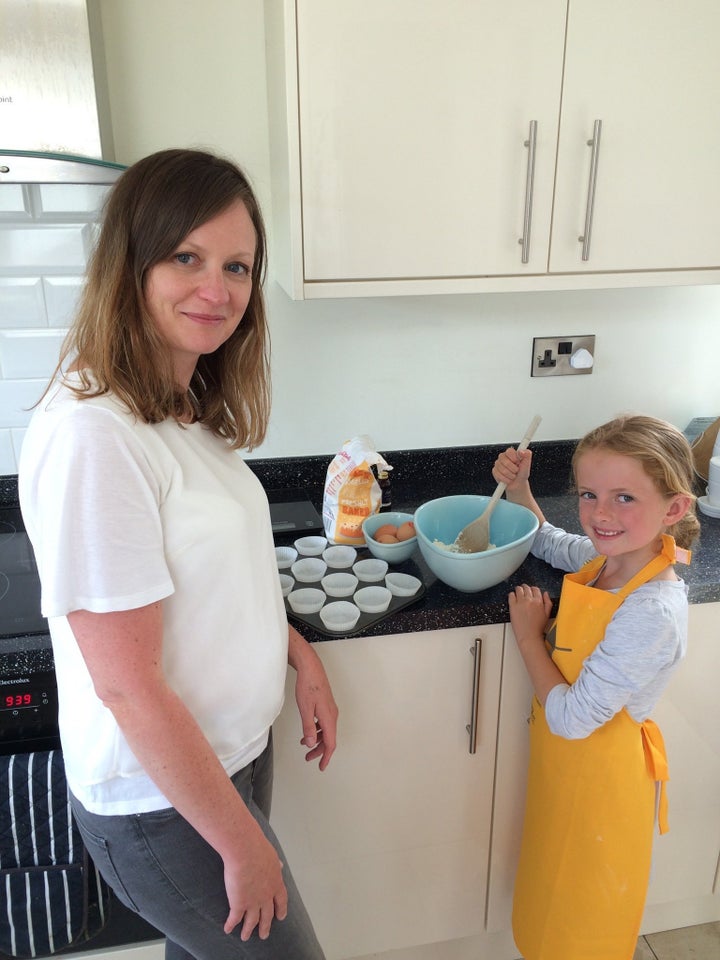 At first Cosson faced a lot of resistance from Amelie.
"When I told Amelie I'd booked her on the course, to be honest she was horrified," said Cosson, who works for a cultural trust in Bridge End and is also mum to Elis, four, and two-year-old Ottilie.
"She had developed quite an aversion to food.
"Amelie is allergic to lots of foods - dairy, strawberries, fish and tomatoes.
"I don't know whether as a baby she felt unwell or was in pain because of her allergies, as she couldn't communicate it, but I think that made her a very fussy eater and she has always been reluctant to try new foods.
"I think it's really important that children eat healthily, because otherwise we're going to end up with an even bigger obesity problem than we've got.
"So I was worried about the impact Amelie's restricted diet would have on her health, which is why I snapped up the opportunity to get her on the cookery course.
"I didn't know what to expect, but as a result of the course she has tried food she never would have tried before.
"We made a Thai noodle salad - which if I'd suggested she eat that at home, she would have refused because she didn't like noodles, or spice, but she loved cutting the vegetables, she couldn't get enough of it, and now she has more of an interest in food."
Montel explained: "Encouraging children to be more involved with food preparation, and cooking will help them develop a greater understanding about diet – all positive steps to healthier and longer lives."
Cosson said not only has the course given Amelie more confidence to help in the kitchen, it has also increased her confidence in her daughter's abilities.
"Before the course I wouldn't have allowed her near sharp knives," she said. "But now she knows how to cut veg better than I do."
Cosson admits that cooking with kids can take longer than whipping up a meal yourself, so it is not a nightly occurrence for her family. However, on the weekends making pancakes and sandwiches has become an activity she and her children enjoy.
According to Coe it's important parents set realistic expectations about when they will be able to cook with their kids:
"If you're pressed for time during the week, try cooking breakfast or lunch together at the weekend, or try out some recipes during the school holidays," she said.
"You can always involve your children in planning what meals you are going to eat over the week, or ask them to help write a shopping list to get them interested in food and cooking. "
Montel added that it's a good idea to "let children choose a new fruit or vegetable they'd like to try in each weekly shop and allow them to help prepare it for the family".
For recipes to cook with children check out:
This summer The Huffington Post UK is spearheading an initiative helping families thrive, with a focus on parent wellbeing, the challenges facing stay-at-home and working parents, friendships and navigating the landscape of modern parenting beyond the 2.4. To kickstart the campaign, Jamie Oliver will be guest editor on 15 July 2016, bringing a focus on feeding healthy families.
We'll be sharing stories and blogs with the hashtag #ThrivingFamilies and we'd like you to do the same. If you'd like to use our blogging platform to share your story, email ukblogteam@huffingtonpost.com to get involved. Jamie's new cookbook Super Food Family Classics, published by Penguin, is on sale at £26.
*According to a YouGov Plc survey comissioned by HuffPost UK, 8% of parents never cook with their children. According to ONS data in 2015 there were 18.7 million families in the UK.