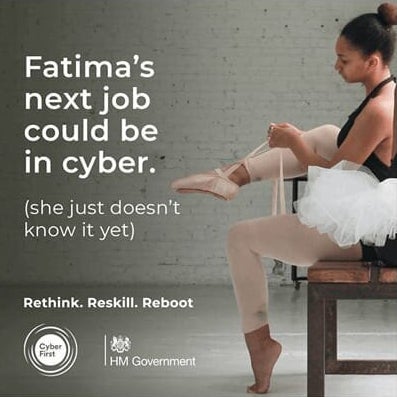 A controversial advert suggesting a ballet dancer retrain and work in cyber security has been pulled by the government after causing widespread outrage.
Critics said the ad showed a "total lack of respect for the arts" which is under heavy pressure due to coronavirus restrictions.
Boris Johnson's official spokesperson said the ad was being withdrawn from circulation following a backlash.
The spokesperson told reporters: "This is part of a campaign encouraging people from all walks of life to think about a career in cyber security but this particular piece of content was not appropriate and has been removed from the campaign."
The ad, which appears to be part of the government-backed "Rethink. Reskill. Reboot" initiative, shows a ballet dancer tying her shoes, next to the text: "Fatima's next job could be in cyber (she just doesn't know it yet)."
Author Nick Pettigrew has suggested the advert appeared to be from a 2019 campaign. However, the ballet dancer advert started to gain criticism online this week, after it was shared by theatre casting director Anne Vosser on Sunday.
Culture secretary Oliver Dowden said earlier he agreed that the ad was "crass" as he again highlighted the £1.5bn government programme designed to save jobs in the arts in England.
Dowden also on Monday announced a £257m tranche of funding from the programme to support 1,385 theatres, art venues, museums and cultural organisations.
Downing Street said the ad, despite being part of a long-running campaign, was removed because of the current situation facing arts and culture.
"It is a long-running campaign," the PM's spokesperson said.
"The timing today is what's considered to be not acceptable."