British Transport Police tonight ordered 500 officers to patrol the rail network and warn passengers they should only use trains or the Tube for essential journeys.
It comes after images of packed London Underground carriages emerged on Monday stoked fears coronavirus could easily spread on public transport.
The decision by BTP's assistant chief constable Sean O'Callaghan represents the first high-profile policing of Brits' behaviour since Boris Johnson declared a a lockdown could be enforced.
The PM told people to work from home unless "absolutely necessary" on Monday night as part of a strict new rules to slow the contagion.
Johnson stressed the country faced a "moment of national emergency" and banned all gatherings of more than two people.
People were also told to stop visiting friends and to only leave the house to travel to work, get "basic necessities", for a medical need or, once a day, to exercise.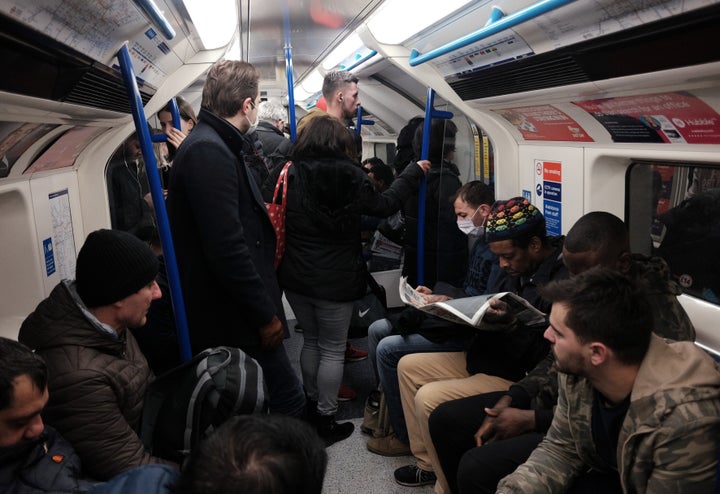 He also ordered a string of business closures, including shops selling non-essential goods, all leisure facilities, hotels and outdoor gyms.
BTP will now step up efforts to stop people using public transport by underlining the new rules.
"The measures announced yesterday by the prime minister are there to save lives which is part of the work our officers do every day," O'Callaghan said in a statement.
"We are supporting rail operators and those key workers making their journeys home tonight by deploying 500 officers across the rail network nationally.
"They will be patrolling stations, supporting railway staff and reminding the public of the urgent need to follow the government advice – only those making essential journeys for work should be using the Tube and rail network.
"We strongly urge the rest of the public to do the right thing and help us save lives by staying at home and slowing the spread of the virus."
It comes the same day health secretary Matt Hancock announced the Excel conference centre, in London, would be transformed into a temporary military hospital, with space for 4,000 beds.
The Department of Health and Social Care confirmed on Tuesday that the UK death toll had reached 422 and there were 8,077 confirmed cases.
Despite the new restrictions, confusion reigned with scores of construction workers and some retail staff still working.
Public figures, including London Mayor Sadiq Khan, have urged the PM to clarify whose work was seen as "absolutely necessary".