The government has announced an astonishing £330bn bailout to help businesses and people cope with the coronavirus crisis.
Chancellor Rishi Sunak said the government must be "bold" as he unveiled the "unprecedented package" of government-backed loans and support.
Speaking alongside Boris Johnson at a Downing Street press conference, Sunak said the government would stand behind businesses "small and large", adding: "This is not a time for ideology and orthodoxy, this is a time to be bold, a time for courage.
"I want to reassure every British citizen this government will give you all the tools you need to get through this."
For people facing financial difficulty due to sickness or redundancy, Sunak announced lenders will be able to offer people a three-month mortgage holiday.
For small businesses in the retail, hospitality and leisure sectors with a rateable value less than £51,000, cash grants of up to £25,000 will be made available.
The chancellor also said he would extend a business rates holiday to all businesses in those three sectors, regardless of their rateable value.
Describing the outbreak as an "emergency", Sunak added "never in peacetime have we faced an economic fight like this one", adding: "And if demand is greater than the initial £330 billion I'm making available today, I will go further and provide as much capacity as required.
"I said whatever it takes, and I meant it."
It comes just one week after Sunak used the budget to unveil a £30bn package of support, which included business rates relief, NHS cash and refunding sick pay by the government for small firms.
Labour MP Jess Phillips tweeted: "Need protection for renters, how will mortgage payment holidays be passed on? Need a break on eviction surely."
Speaking alongside the chancellor, Johnson said government will do "whatever it takes" to support the economy through the coronavirus outbreak.
"We must act like a wartime government and do whatever it takes to support our economy, he said.
Sunak also made clear he did not rule out further measures to "support people's financial security" in the coming days.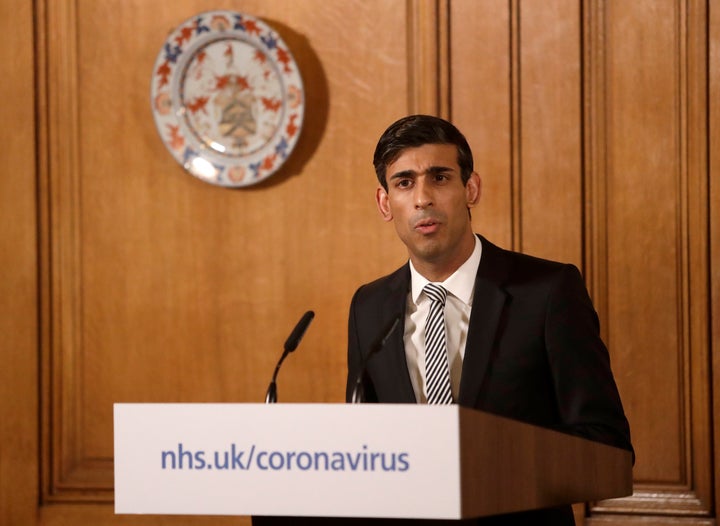 Johnson, meanwhile, said Covid-19 was so dangerous that without drastic action it will "overwhelm the NHS", as he warned that more "extreme measures" may be needed to protect lives in the future.
Referring to Sunak's announcement, the PM said ministers must go "further and faster" to protect both economy and citizens' health.
"This government will do whatever it takes," he said.
He added: "Be in no doubt that the state is asking people to do something, to make very considerable changes to their lives, and it is only right therefore that the state should stand behind people as they make those changes.
"And that's what a government, that's what a society is there to do.
"It's there to look after people through thick and thin and to make sure that we get through this together and that's what we're going to do."
Despite some parents choosing to take their children out of school, the PM did not use Tuesday's press conference on coronavirus to announce school closures.
Asked if supermarket shelves would remain stocked, Johnson said: "We're absolutely confident that our supply chains are working and will work ,and that we will get farm to fork food supplies for this country.
"Therefore, people should have no need to stockpile or to panic-buy."
Asked if the UK is heading for a recession, Sunak said: "This will have a significant impact on our economy – that's what I said last week, I stand by that.
"But I also stand by what else I said is – you know, this will be temporary, we will get through this and we will get through it together, and the steps that we're taking mean that we will emerge together on the other side able to rebound back to confidence and economic activity."