Parents have been advised to make themselves aware of the risks associated with sharing a bed with their baby, after it was revealed 141 babies died after co-sleeping over the last year.
The figures on infant mortality kept by the Department of Education, were revealed to the Mirror after a freedom of information request. They stated that over the past five years 665 bay deaths "had co-sleeping as a factor".
"The cause of SIDS remains unknown and therefore it cannot be said that in the case of those babies who sadly died that co-sleeping was the cause," explained Francine Bates, chief executive of The Lullaby Trust.
"All that is known is that co-sleeping was identified as a risk factor that was present."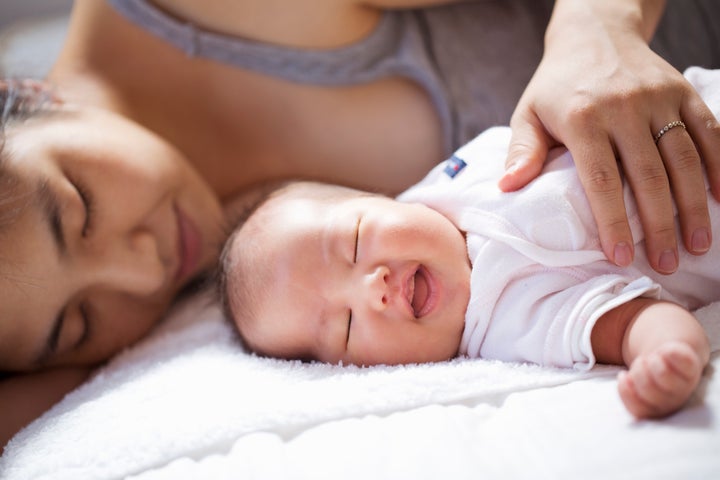 Bates continued: "What this does demonstrate is the importance of reaching all parents with safer sleep advice, which includes guidance on when it is not safe to share a bed with a baby."
According to the NCT, although most parents don't plan to sleep with their baby, around half of all mums in the UK do so at some time in the first few months after birth.
The National Institute for Health and Care Excellence (NICE) updated its recommendations about co-sleeping in December 2014 and confirmed that although SIDS is rare, it does happen more often when parents or carers sleep with a baby (on a bed, sofa or chair).
The Lullaby Trust and the NHS agree that the safest place for a baby to sleep is in their own cot or Moses basket in their parents' bedroom until they are at least six months old.
However, the charity states it does not tell parents to never bed share and if it is something parents choose to do, they need to be made aware of how to minimise the risks.
"There are some circumstances in which we know that sharing a bed with your baby is particularly risky," explained Bates.
"Our research-based advice states that parents should not co-sleep if they have drunk alcohol, smoked or taken drugs that make them drowsy, or if baby was premature or of low birth weight.
"Also that parents ensure there are no pillows, duvets or items in the bed that could obstruct baby's breathing or cause them to overheat."
"If you think you might accidentally fall asleep with your baby on the sofa, put the baby down in a safe place to sleep, for example in a separate Moses basket or cot using a firm, flat waterproof mattress," the charity advised.
"If you are breastfeeding on the sofa, it can help to have someone else stay up with you, breastfeed in a different position where you are confident you will not fall asleep, or feed the baby somewhere else."
You can find more information on co-sleeping from The Lullaby Trust and Unicef here.