Provide your cat with choice during interactions, says Lauren Finka, a postdoctoral research associate at Nottingham Trent University. Finka shared a list of signs a cat is enjoying being petted – tail upright and relaxed posture –versus signs they're having a crap time – turning their head away from you.
Now you're up to speed on the ways of kitty whispering, here are some lovely animal stories and photos to warm the cockles of your heart.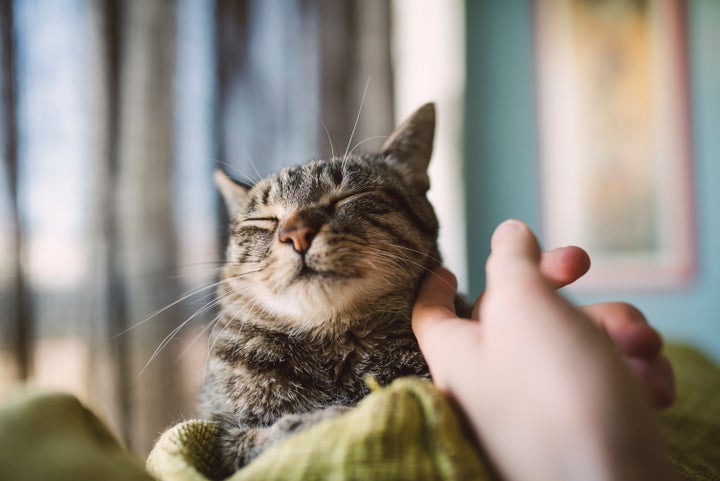 1. Clive, A Hero Of Our Time.
A cocker spaniel who alerts his owner when she needs to take medication has been crowned Pet Hero of the Year.
The precious pooch, called Clive, helps Michelle Rust, 32, from Thorngumbald, East Riding, manage a condition known as Addison's disease, which leaves her lacking energy and appetite, and experiencing muscle weakness. The illness disrupts the production of steroid hormones, aldosterone and cortisol.
Seven-year-old Clive pipped more than 200 cats, dogs and rabbits to the post – all thanks to his ability to detect when Rust's blood pressure or steroid levels drop. He does this through smell and alerts her by jumping up and down, and then fetching her lifesaving medication. Legend.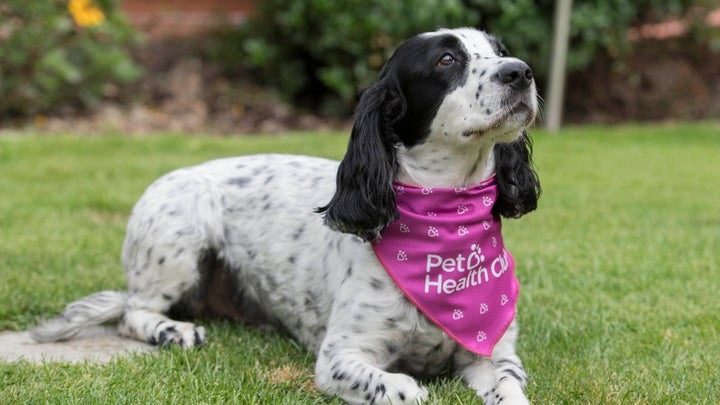 2. Incredible Photo Shows Dolphin With Adopted Baby Whale.
This stunning image captured by scientists shows something which is relatively rare in the wild: a bottlenose dolphin with her biological calf and an adopted baby whale calf. It's apparently the "first known case" of a wild dolphin adopting a calf from another species.
Yes, that was the sound of my heart bursting.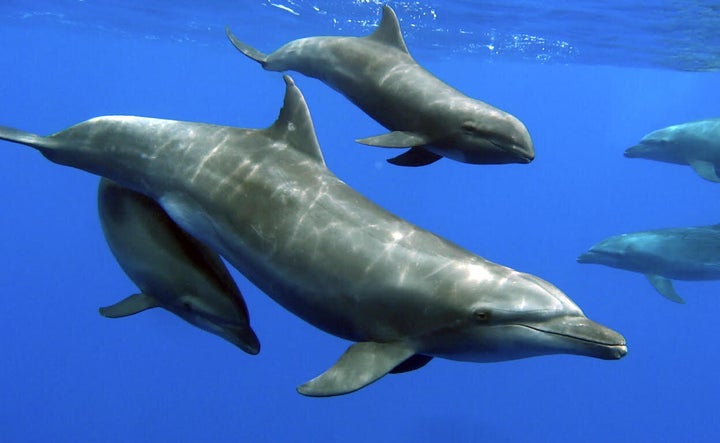 3. Big-Bonce Turtles Make Themselves At Home.
Four rescue turtles with huge heads have been given a home at ZSL London Zoo, with one of them – named Lady Triệu after a famous Vietnamese warrioress – moving into a new exhibit in the Zoo's Reptile House.
The turtles' heads are so large that they can't actually pull them into their shells, apparently. Aptly named "big-headed turtles", they arrived at the zoo at the end of 2018 after being rescued from smugglers trying to illegally import them into Canada. The fabulous foursome have since been settling in behind the scenes.
Sadly big-headed turtles, which hail from the upper mountainous regions of Central China to mainland Southeast Asia, are classified as endangered on the IUCN's Red List of threatened species.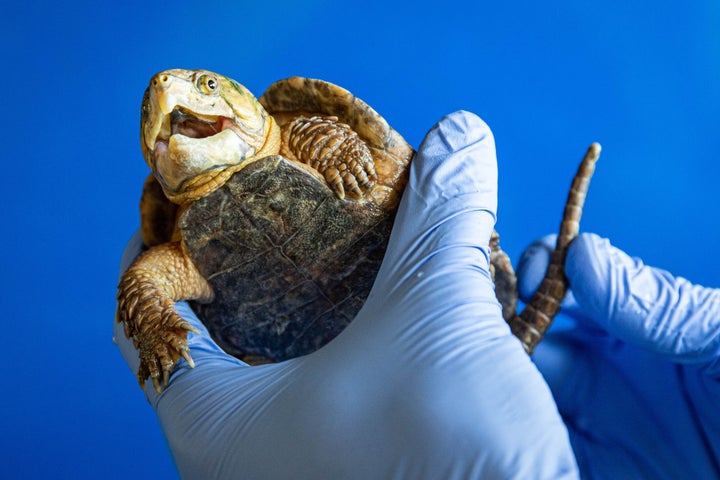 4. Elephant Sets A Shining Example Of Binning Litter.
One conscientious elephant has been caught on camera putting litter into a bin. If only the rest of humankind would follow suit...
5. Cat Honoured With Award For Helping Grieving Teen With Aspergers.
A cat called Jeffree has been named National Cat of the Year 2019 after helping a teen with Asperger syndrome cope following the death of his father.
The eight-year-old moggy was recognised for the life-changing effect he had on Finn Hackeson, 14, from Coventry, who became depressed and withdrawn following the sudden death of his dad in June 2018.
Finn finds it hard to communicate, yet mum Gayle Atkins said he has been able to cope much better thanks to Jeffree, who she called "an absolute star in our household".
"I hope that through his story more people will see what an incredible support cats can be for both children and adults with autism," Gayle said. "Cats don't judge, they don't rush you to talk about your feelings and they accept people the way they are – and that really is priceless."