A family has faced criticism for crowdfunding money for their kids' Christmas, after the dad was forced to take time off work to support his pregnant partner.
Ben Buckley, 32, from Hull, explained that he and his partner, Kirsty Wickings, 35 were struggling to save due to his loss of earnings while supporting Kirsty when she was hospitalised during pregnancy. The time off left them with only enough money to cover their rent and bills in the lead up to the festive season.
Writing on the GoFundMe page, Buckley said he understood their predicament did not compare to other causes on the fundraising site, and he felt "awful" having to ask for help.
But within three days, the couple raised £2,075, exceeding their £2,000 goal, thanks to the kind donations of 132 people on the site.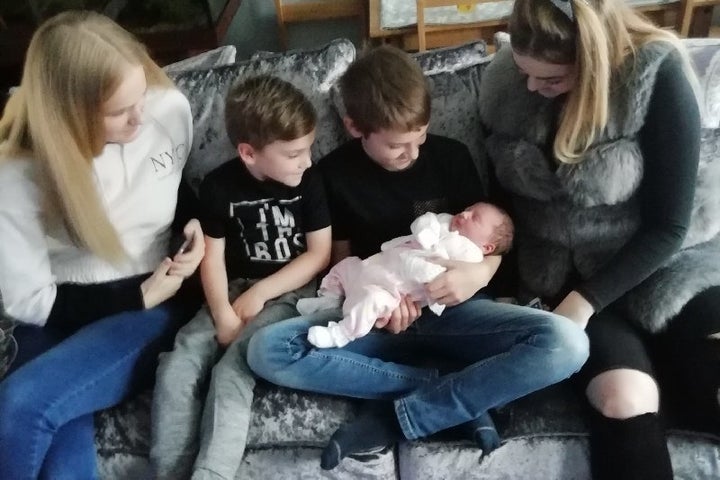 Buckley and Wickings have five children together and his 45-60 hours a week job in a warehouse is usually enough for his family to get by, he wrote. However, when Kirsty was pregnant with their youngest daughter Jessica – born on 4 November – things weren't easy. "It wasn't a very smooth pregnancy and we had all sorts of troubles and ups and downs because Kirsty grew quicker than what's normal," Buckley wrote on the GoFundMe page. "We were told [Jessica] may be Down's syndrome and told she'd have issues when she was born."
Wickings was hospitalised several times and Buckley had to take a lot of time off work to look after the children. "I thought I would be supported by my work so I didn't worry too much about money," he said. "It turns out my main boss had a problem with it and I'm not going to be getting paid like I expected to be."
Buckley and his partner were left in a huge panic about Christmas and had "no clue" how they were going to provide for their kids. "This should be a happy time for us all but under the surface it's nothing but anxiety and worry about what's to come and what we are to tell the kids," he said.
While their fundraising page quickly gathered donations, many people were unimpressed with the idea. One woman wrote: "I have a friend who is dying, I can't get people to help her family but this man is asking for £2,000 to give his kids a good Christmas and gets it."
"I'm all for charity and helping people, but maybe reduce how much to spend on the kids this year instead of doing this?""
Another wrote: "I'm all for charity and helping people, but maybe reduce how much to spend on the kids this year instead of doing this?!"
Others suggested it showed how the true meaning of Christmas has changed. "It's actually really sad that Christmas has become what it has. It's completely lost any meaning that it might have had and become ridiculously materialistic. Parents are so pressured by it that they have to beg other people for money."
After reading the negative comments, Buckley posted an update on the page to thank everyone for the donations and added: "We are sorry if we caused any offence or upset anyone, this was never our intention. We never expected this amount of kindness or media attention."
He said in the new year his family is going to make it one of their priorities to make monthly donations to other GoFundMe accounts: "We wish everyone a very merry Christmas and thank you again to all you kind hearted souls."