The Daily Express has been forced to remove a list of "amazing things" it claimed the UK would "get back" if we left the European Union.
"On 20 May 2016 we published a gallery headlined 'Amazing things we get back if we leave EU'.
"The gallery was formed of 11 images. Each image carried a caption. The captions for images 3 (eggs), 5 (jam), 6 (water) & 9 (swedes) were inaccurate.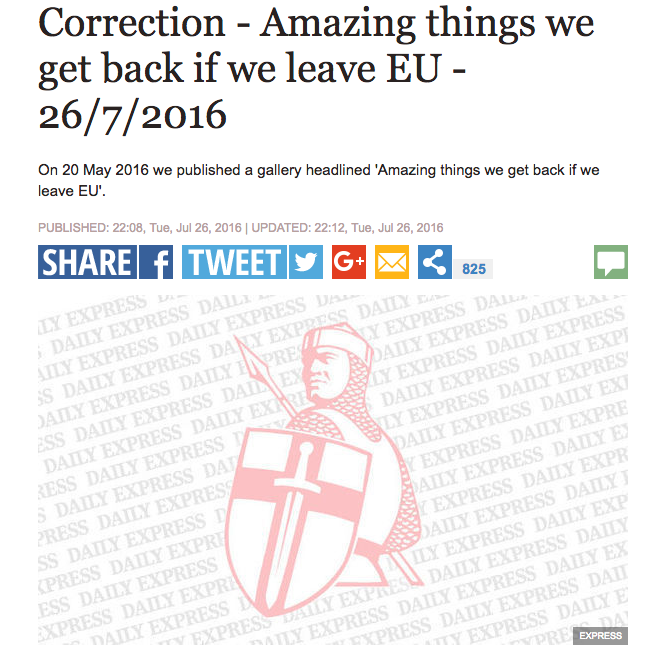 "In the case of caption 3 (eggs), the caption claimed that "A dozen eggs: In 2010 the EU said that food could not be sold by number but by weight". In 2010 the European Union was considering legislation governing food labelling. In June 2010 Renata Sommer the MEP responsible for steering the legislation confirmed 'There will be no changes to selling food by numbers".
"In fact a consumer who purchased eggs in the UK would be able to do so by number. Caption 3 (eggs) was therefore incorrect."
It added that four of the captions in the gallery were actually wrong.
It ended: "Given that 4 of the 11 captions were incorrect this gallery has been deleted."
Reaction the embarrassing correction has been gleeful...
This is not the first time the Express has got in trouble for its coverage of the EU.
This concluded: "Our honest intent was to accurately find the number of people who were genuinely likely to move to Britain. However the number remains unknown."
The Richard Desmond-owned paper declared it was a "shock result" that "92% want to quit the EU."
But the chief executive of one of Britain's biggest polling companies, Ben Page, derided it as a "marvellous example of voodoo polling of self-selecting sample".
Even Ukip, the eurosceptic party backed in last year's general election by the Express, were seemingly so keen to distance themselves from the findings they derided them for tarnishing the 'Leave' movement's reputation.
Related