A senior Labour frontbencher has derided a double-page spread in the Daily Mail, which showcased 11 female MPs' cleavages and accused them of "parading" their curves around the Commons, as "pathetic".
Heidi Alexander, shadow health secretary, was pictured in today's paper from a speech she delivered in 2011, captioned saying she had donned a "plunging black top" to distract from her address.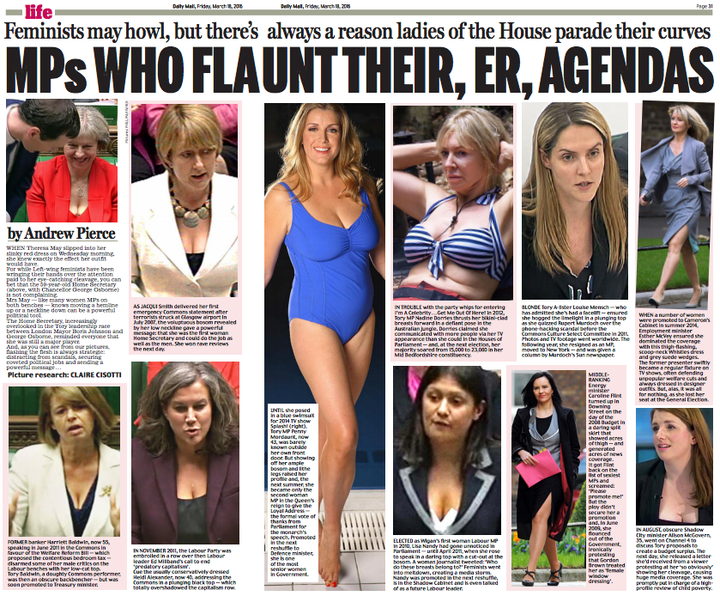 It read: "In November 2011, the Labour Party was embroiled in a row over then Labour leader Ed Miliband's call to end 'predatory capitalism'.
"Cue the usually conservatively dressed Heidi Alexander, now 40, addressing the Commons in a plunging black top - which totally overshadowed the capitalism row."
The Mail's story came after a screen grab of George Osborne appearing to lurch towards Theresa May's cleavage during Wednesday's Budget reading sent Twitter and half of Fleet Street into meltdown.
But Alexander told The Huffington Post UK the coverage on Friday was "pathetic, ridiculous and irrelevant".
Her colleague in the Commons Wes Streeting also posted a message on Twitter in support, saying he wondered why fewer women chose to enter politics.
Leader of the Scottish Conservatives Ruth Davidson piled in too, calling the feature "utterly and predictably lame".
Others were angered by the Mail's Friday spread too.
The Daily Mail was contacted for comment but did not respond at the time this piece went live.