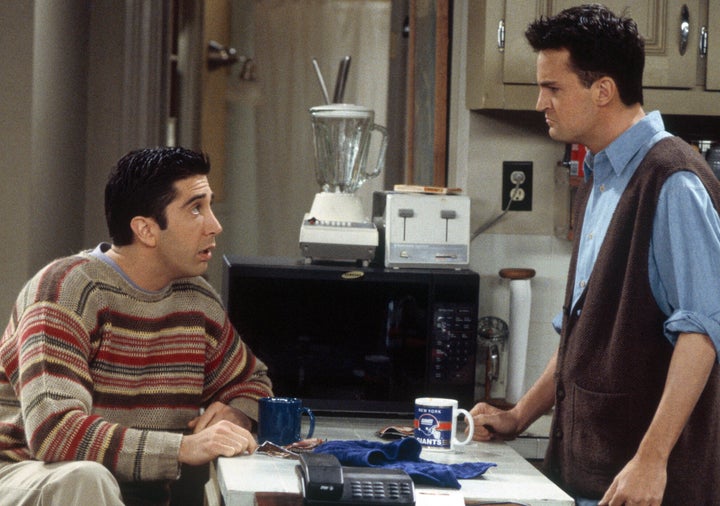 The Ross Geller actor thanked Matthew for "ten incredible years of laughter and creativity" while working together on the hit US sitcom in a post he shared on Instagram on Wednesday.
He reflected on one particular episode – season five's The One with the Thanksgiving Flashbacks – which featured Ross and Matthew's character Chandler depicted as college roommates in the 80s.
Posting a picture of them dressed up in their flashback attire, David wrote: "Thank you for ten incredible years of laughter and creativity.
"I will never forget your impeccable comic timing and delivery. You could take a straight line of dialogue and bend it to your will, resulting in something so entirely original and unexpectedly funny it still astonishes.
"And you had heart. Which you were generous with, and shared with us, so we could create a family out of six strangers.
"This photo is from one of my favourite moments with you. Now it makes me smile and grieve at the same time."
Quoting Chandler Bing's most famous catchphrase, David added: "I imagine you up there, somewhere, in the same white suit, hands in your pockets, looking around— 'Could there BE any more clouds?"
In her post, Jennifer also included a clip from Friends of the poignant moment Chandler and Rachel say goodbye to one another in the final episodes of the show, as Rachel prepares to move to Paris.
Matt, who played Chandler's best friend Joey Tribbiani, said working with him had been "honestly among the favourite times of my life."
The six co-stars were propelled to worldwide fame when they were cast as a group of 20-somethings navigating life and love in New York in Friends back in 1994.
The group formed an unbreakable friendship during their 10 years working on the US sitcom, even coming together to collectively negotiate their salaries after they found out they were being paid different amounts in the show's early years.