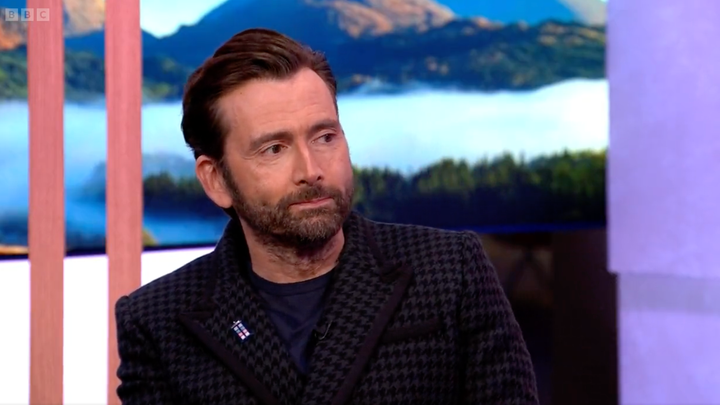 David Tennant won the thumbs up from viewers following his appearance on The One Show, when he made a subtle display of solidarity with the transgender community.
The Emmy-winning actor joined Doctor Who showrunner Russell T Davies Monday's edition of the BBC interview show, where they discussed the sci-fi show's much-hyped 60th anniversary celebrations.
While he spoke to the presenting team, a pin David was wearing on his lapel caught viewers' attention, showing Doctor Who's iconic Tardis reimagined with the colours of the transgender flag, on what coincided with Transgender Day of Remembrance.
And the public show of solidarity certainly didn't go unnoticed – or unappreciated – on social media…
Last week, David received similar praise on social media when he was seen wearing the same pin during an appearance on Friday's edition of The Last Leg.
If you wanted to nab the same pin for yourself, it was designed by Dr Jamie Gallagher, with funds going towards the LGBTQ+ youth charity, AKT.
In recent history, David has been seen showing his support for the trans and gender non-conforming communities multiple times.
Fans loved it when he was seen sporting a pin with the message "you are safe with me", accompanied by the Pride flag colours, over the summer.
Meanwhile, he had a much more direct message during a press day for the second season of Good Omens, during which he sported a t-shirt emblazoned with the slogan: "Leave trans kids alone, you absolute freaks."
Help and support: