Sussex Police detained the girl four times in 2012, over a total of 60 hours, including once under the Mental Health Act, and failed to ensure she had an appropriate adult, as all youths in custody are entitled to, despite her mother trying to see her. She was twice held in police cells overnight.
The use of the spit guard - a fabric that goes over the head to protect people from someone spitting - was particularly controversial and 11 police officers have a case to answer for misconduct, the Independent Police Complaints Commission (IPCC) concluded.
The girl, identified only as Girl H, has a neurological disability that can cause "challenging behaviour, with the potential to harm herself and others". Police often failed to record any rationale for their use of force, the IPCC said.
The girl's mother told the BBC: "My daughter's contact with the police in 2012 was nothing short of a nightmare for both of us.
"At the time her disability meant that she could behave in very challenging ways, but what she needed was patience, respect and the support of her mother."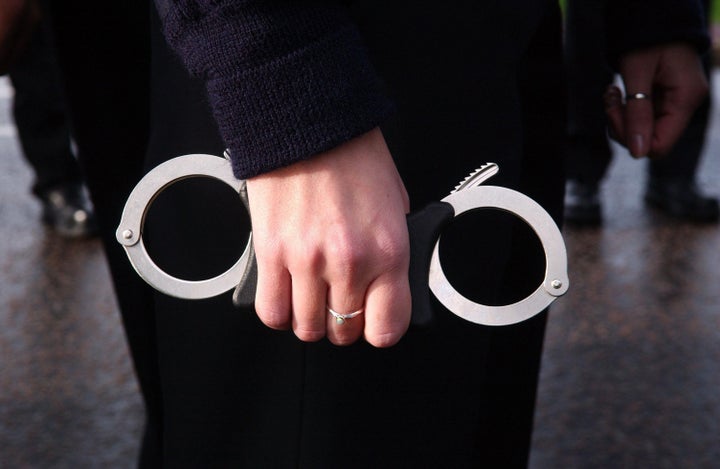 Gus Silverman, the lawyer who represented the girl, said the experience placed her at risk of "serious psychological trauma".
He told BBC Radio 4's Today programme that facilities such as special schools, which looked after children with complex needs, would "never have dreamed" of using a spit guard on a child.
He added: "No one would suggest being spat at is a pleasant experience but what needs to be taken into account is the very serious risk of serious psychological trauma to a child when they are hooded.
"We also need to take into account the message that's being sent to police officers they are being told it is permissible to hood a child".
He said the girl's mother was "constantly" contacting police but they refused to let her see her daughter.
The girl's mother told The Guardian: "I know that some of the officers were doing their best, but I cannot understand why others thought it was appropriate to put an 11-year-old girl in handcuffs and leg restraints.
"I can't accept that it will ever be appropriate for the police to hood a disabled child, regardless of how they behave. I call on Sussex police to stop doing this to children immediately."
IPCC Commissioner Jennifer Izekor said: "While it is clear Child H had significant behavioural problems arising from her disability, Sussex Police and, indeed other agencies which were – or should have been - involved, did not appear to have the skills and capacity to respond to her effectively.
"The situation was exacerbated by the lack of understanding of Child H's complex needs.
"The IPCC understands it is not possible to train each and every frontline officer to recognise and understand the complexities of all emotional or behavioural issues.
"But it is important that officers responding to young people with mental health, emotional and behavioural difficulties have a basic understanding of their needs and how best to deal them."
The force said it had made "major improvements" to its understanding of mental health since the girl's detention in February and March 2012.
Two officers - a sergeant and inspector - have retired since the incident and cannot therefore be subject to any disciplinary.
Deputy Chief Constable Robin Smith said: "As a direct result of the investigation into this case, personal safety and first aid training, which all officers have to undertake, has been updated.
"This means officers have learned communication skills to help them be more effective when helping people with mental illness. In addition all officers have refreshed their knowledge in the use of spit guards."