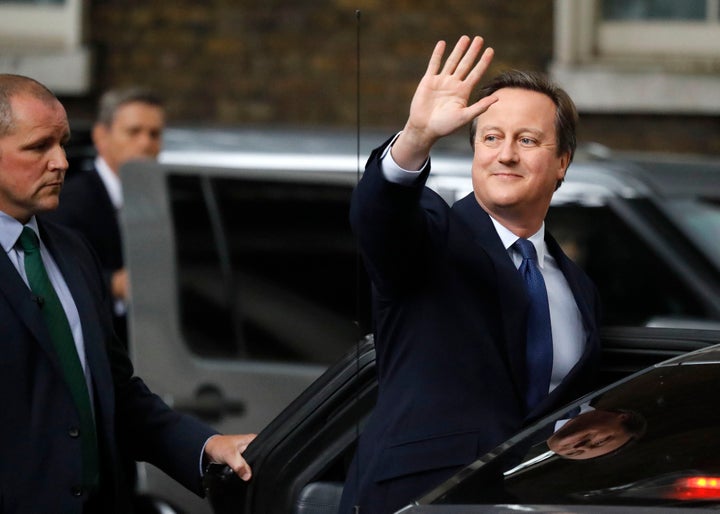 David Cameron was twice as likely to turn voters towards Brexit as to get them to vote Remain, new research suggests.
In a fresh trashing of the former Prime Minister's reputation, the study by the Electoral Reform Society (ERS) found that 29% of people said his contribution made them more likely to vote Leave.
Just 14% of those surveyed by pollsters BMG said that Cameron was more likely to make them vote for the UK to stay in the EU in the June referendum.
The new study, published on Thursday, is also scathing about the 'misleading' claims' made on both sides in the bitter campaign, which were allowed to be peddled 'with total impunity'.
It calls for a new official body to 'intervene' to call out bogus claims quickly in future referenda to avoid voters being left "ill-informed" and disengaged as they were in 2016.
The Electoral Reform Society (ERS) said its findings show there is a need for a "root and branch review" of how future referendums are carried out.
The study highlights the Remain camp's 'Project Fear' claims about lost household income under Brexit and Vote Leave's NHS spending boost preduction and UKIP's 'Breaking Point' immigration poster.
Boris Johnson, Nigel Farage and Donald Trump were the only political "personalities" who "had the desired effect on their audience", the report found.
"Above all, what these numbers tell us is that people had by and large lost faith in established political figures as opinion-leaders –except where those figures might be said to be kicking against the establishment.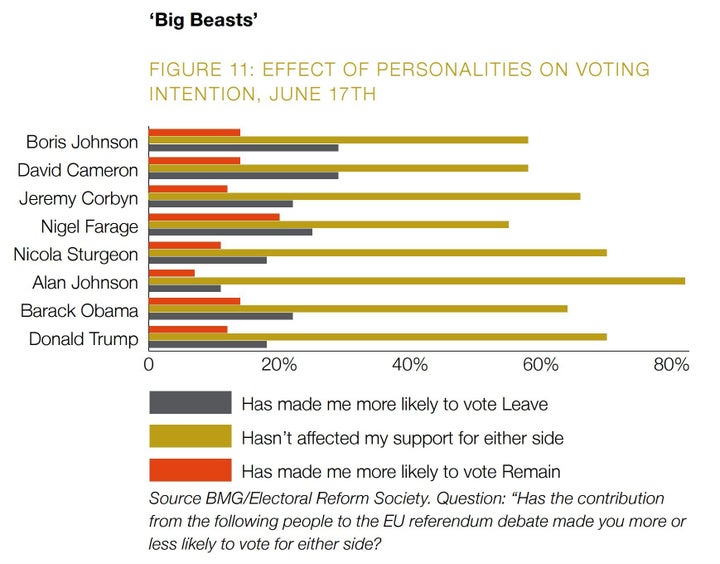 "Traditional theory on campaigning in referendums is that such figures can command considerable allegiance owing to voters' tendency to follow political party cues.
"But such was the culture of mistrust in the EU referendum that the 'big beast' approach appeared to have, for the Remain side at least, the opposite of the desired effect."
As well as deep mistrust of politicians such as Cameron, the report found that negative campaigning was a turn-off.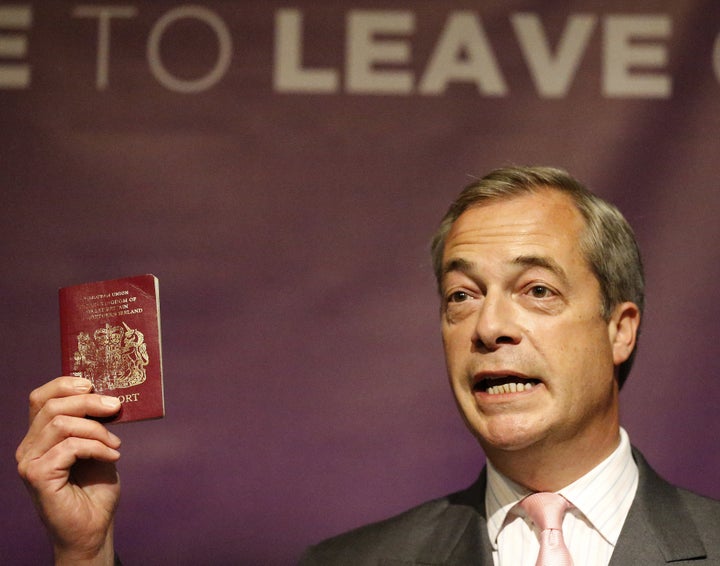 The ERS, one of Britain's biggest electoral reform campaign bodies, also called for votes at 16, compulsory citizenship education in all primary and secondary schools and a minimum six-month regulated campaign period to more time for 'proper public discussion'.
Its report found that voters were turned off by the scare stories on all sides of the debate.
"As the race wore on, the public viewed both sides as increasingly negative. It is not clear that either side gained from this approach," it concludes.
The report points out that the Remain camp predicted "a cost of £4,300 a year for every household, a wage drop of £38 a week, the loss of 100,000 manufacturing jobs, a 10-18% drop in house prices and higher mortgage rates,two more years of austerity, an increase of £230 on the averagefamily holiday, loss of women's rights, an 'instant DIY recession' and 500,000 more unemployed, amongst others".
But Vote Leave were criticised for their claims about potential mass immigration from Turkey and divisive comments from Nigel Farage (on sex attacks)and Boris Johnson (making insinuating comparisons about the EU's goals and Nazism).
Many voters felt under-informed about many of the issues, the survey found, with Google searched on the day of the June 23 referendum for questions such as 'what is the EU?'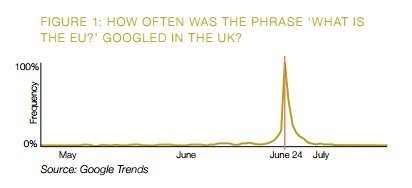 Katie Ghose, chief executive of the ERS, said: "This report shows without a shadow of a doubt just how dire the EU referendum debate really was.
"There were glaring democratic deficiencies in the run-up to the vote, with the public feeling totally ill-informed.
"Both sides were viewed as highly negative by voters, while the top-down, personality-based nature of the debate failed to address major policies and issues, leaving the public in the dark.
"It offered a stark contrast to the vibrant, well-informed, grass roots conversation of the Scottish independence vote - a referendum that left a lasting legacy of ongoing public participation in politics and public life."