Donald Trump has said a Brexit would not put Britain at the "back of the queue" to secure a US trade deal if he become president, in an attack on Barack Obama's comments.
Trump, who was the subject of a petition to ban him from Britain for his suggestion Muslims be barred from entering the US, is now the presumptive Republican nominee for president and set out how post-Brexit Britain would fare with President Trump.
In an interview with Piers Morgan, he said it would make no difference to him whether Britain decides to stay with the European Union or chooses to leave next month, The Press Association reports.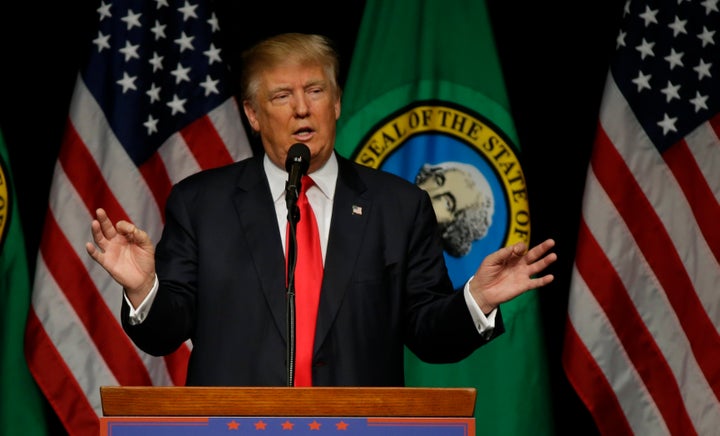 Trump has previously predicted Britain would vote to leave the EU on June 23.
Trump, in an interview with Piers Morgan due to be aired in full on ITV on Monday, said: "I think if I were from Britain I would probably want to go back to a different system."
Asked if the UK would be at the front of the queue for a trade deal under a Trump presidency, he replied: "I don't want to say front or anything else.
"I mean, I'm going to treat everybody fairly but it wouldn't make any difference to me whether they were in the EU or not."
He added: "You'd certainly not be back of the queue, that I can tell you."
Ukip leader Nigel Farage, responding to the clip aired on ITV's Peston On Sunday, joked: "It just goes to show Donald Trump is measured, neutral, doesn't want to get stuck into the punch-up."
Farage added: "He's given a very diplomatic answer."
The Euro MP said investors believe it makes no difference whether Britain chooses to stay or leave the EU.
Asked if he would back Mr Trump for US president, Farage said: "I have difficulty with that.
"Let's put it like this, I couldn't vote for (Hillary Clinton) even if you paid me."
He added: "If you put me up against a wall it would be (Mr Trump), not Hillary, but I have reservations. Encouraging people to beat up protesters, one or two things like that bother me, but look, I tell you what, I think he's going to win."
Popular in the Community