Ken Frazier, the head of Merck pharmaceuticals, said in a statement he was stepping down "as a matter of personal conscience" and "to take a stand against intolerance and extremism."
Trump responded to his resignation by attacking Frazier on Twitter.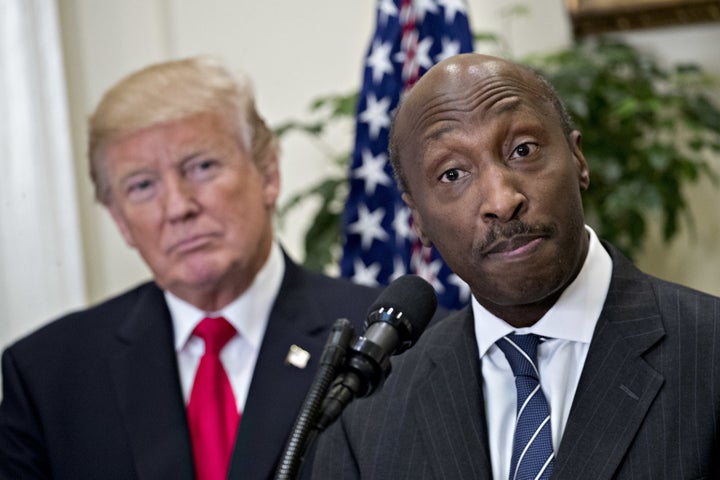 A 'Unite The Right' rally in Charlottesville, Virginia turned violent on Saturday, with one woman killed and 19 injured when a man drove his car into a group of anti-fascist counter-demonstrators.
But Trump caused outrage when he condemned the violence "on both sides".
He has yet to denounce any of the Far Right groups involved.
Merck tweeted their chief executive's resignation on Monday.
"Our country's strength stems from its diversity and the contributions made by men and women of different faiths, races, sexual orientations and political beliefs," Merck said.
"America's leaders must honour our fundamental values by clearly rejecting expressions of hatred, bigotry and group supremacy, which run counter to the American ideal that all people are created equal."
Despite his reluctance to condemn the white nationalists, Trump condemned Frazier just 54 minutes after his resignation was announced.
Trump tweeted it meant Frazier would "have more time to LOWER RIPOFF DRUG PRICES!"
None of the tweets he sent on Monday addressed the weekend's violence.
But he did tweet about how much work he had to do, endorse a candidate for Senate and berate "Obstructionist Democrats".
After Trump on Saturday had blamed "many sides" for the hatred that led to the violence in Charlottesville, the White House on Sunday said in a statement that "of course" that included "white supremacists, KKK Neo-Nazi and all extremist groups."
Still, the statement was attributed to an unnamed spokesperson, not to Trump himself.