First he took over America, now Donald Trump and his 'Make America Great Again' mantra is coming for our Christmas trees.
The 'red cap collectable', made of brass and finished in 14 karat gold - possibly to replicate the Republican's infamous carrot top - promises to "make any tree stand out".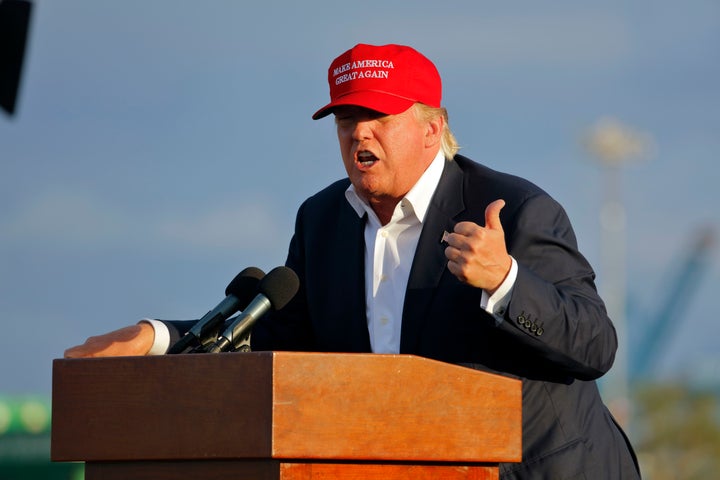 The ornament, a steal at $250 (£200), was available on Amazon, but sold out shortly before midday Thursday.
The decoration currently has 1.3 stars out of a possible five and has been reviewed more than 850 times.
One reviewer, who gave the decoration just one star, said: "The angel on top of my tree just hired a lawyer."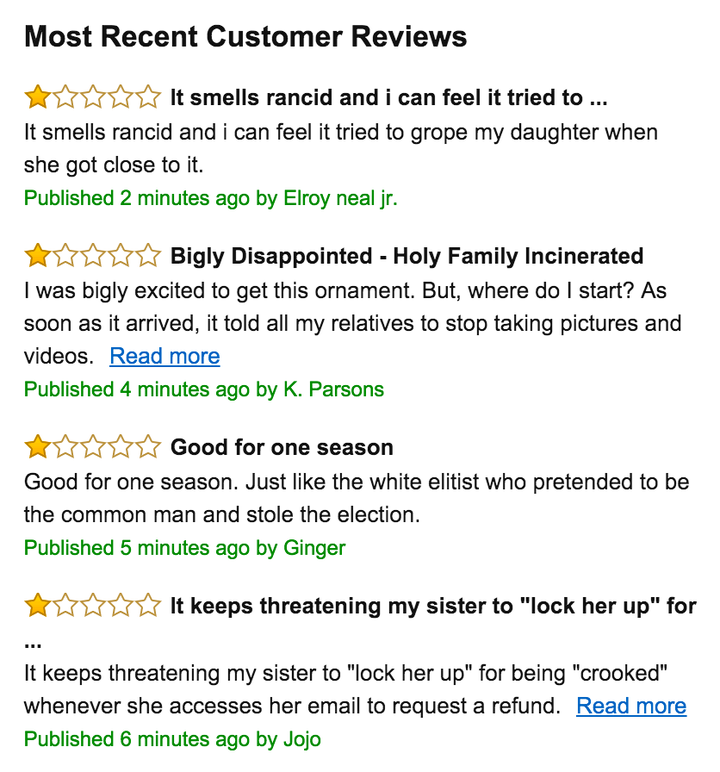 Another said of the ornament: "It called Mary a nasty woman, told Joseph to go back where he came from, built a wall around the manger, and then when you press it it sings "I'm Dreaming Of A Totally White Christmas."
Another criticisim claimed: "It tried to put my nativity figures into an internment camp. Would not buy again."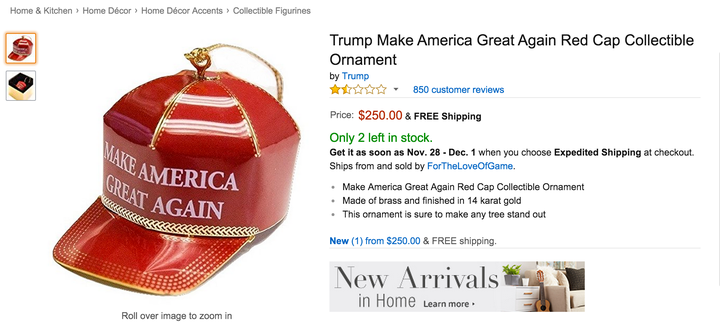 According to the reviews and questions section, like Trump, the decoration is likely to be a divisive. The section provides a thorough breakdown of the ornaments shortfalls.
In a response to a question about whether the decoration would keep all it's pre-holiday promises, one user replied:
"Only the promise to imprison all blue ornaments.

"The tree will be protected at all times by a gingerbread wall. The Lollipop Guild will pay for that wall. The wall will be decorated with white icing only."
When the size was queried, one user couldn't help but refer to Trump's support from the KKK.
"Unfortunately, not large enough to fit over one's pointy, white sheet head covering."
Another question, on why anyone would want the decoration, led to an answer not too dissimilar to the apocalyptic predictions offered by some commentators in the wake of Trump's shock win.
"Sometimes trees stand up too straight and balanced, and this is useful in leaning your tree far enough to the right that it falls into the fireplace."
The durability of the decoration also prompted a political comparison.
"Per the box insert, "Your Trump MAGA ornament is expected to last a minimum of 8 years and may have a lifetime guarantee if it's allowed to operate with minimal resistance."

"However, preliminary testing in real-world scenarios indicates this item may have a melt-down and fall apart prior to January 20th 2017 if exposed to persistent ridicule."
The end of the world then came up again.
Question: Can this item be used past Christmas?
"It can only be used for the next 4 years, or until civilization ends, whichever comes first."
Trump's sexual assault scandal also featured after one shopper mentioned he was looking for a special gift for his wife.
"Is this something that will grab her," he asked.
"It will not only grab her, it will also deny doing so."
Trump's "baby hands" also got a mention.
Question: I have oddly small hands, would this be too difficult for my tiny little prehensile grip to lynch, I mean hang on my tree?

Answer: "You should be okay with it. It's the perfect size for little baby hands."
Question: Is it rigged? It looks rigged.
"This is a difficult question to answer. You see, it swears it's rigged when it thought it wouldn't be purchased. But once it WAS purchased it claims the purchase was fair and will gladly sit on your tree, even though it doesn't understand how trees work. Now that the other ornament's supporters say the purchase was rigged, this ornament calls them whiny liars."
And of course, Trump's hair* also got a mention.
Question: Will it mess up my toupee?
"Probably not. It will undoubtedly mess up your sense of decency, though."
Related