Dodson said: "Trump was strutting up and down, talking to his new members about how they were part of the greatest club in North Carolina.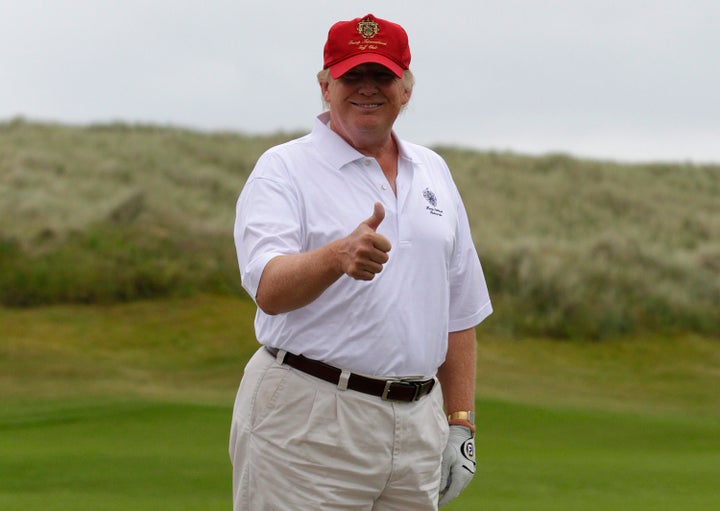 "And when I first met him, I asked him … you know, this is the journalist in me … I said, 'What are you using to pay for these courses?' And he just sort of tossed off that he had access to $100m."
With his interest piqued, Dodson pursued the matter with Eric. He added: "So when I got in the cart with Eric, as we were setting off [to play], I said, 'Eric, who's funding?
"I know no banks – because of the recession, the great recession – have touched a golf course. You know, no one's funding any kind of golf construction. It's dead in the water the last four or five years.
"And this is what he said. He said, 'Well, we don't rely on American banks. We have all the funding we need out of Russia.' I said, 'Really?' And he said, 'Oh, yeah. We've got some guys that really, really love golf, and they're really invested in our programs. We just go there all the time.'
"Now that was three years ago, so it was pretty interesting."
Trump has repeatedly and categorically denied any links to Russia, a country that stands accused of interfering in the US Presidential election to his benefit.
Whether or not Trump or his associates knowingly colluded in this is currently the subject of an FBI investigation as well as Congressional committee hearings.
The President has gone to great lengths to insist the accusations are simply a ploy to distract from Clinton's defeat and the leaking of information to the press by intelligence agencies.
He even went so far as to accuse Barack Obama of wiretapping Trump Tower and accusing China of the cyber attacks.
But previous comments by the Trumps along with the President's repeated refusals to disclose his tax returns have meant suspicions of a link between him and Russia have not gone away, much to his chagrin.
He said: "The Russian market is attracted to me. I have a great relationship with many Russians, and almost all of the oligarchs were in the room."
Eric has also previously had a keen interest in developing property in Russia. Speaking at a conference in 2008, he said: "The emerging world in general attributes such brand premium to real estate that we are looking all over the place, primarily Russia.
"And in terms of high-end product influx into the US, Russians make up a pretty disproportionate cross-section of a lot of our assets; say in Dubai, and certainly with our project in SoHo and anywhere in New York.
"We see a lot of money pouring in from Russia."
Allegations of links between Trump and Russia reached fever-pitch in January with the publishing of a dossier compiled in part by a former British spy, detailing compromising personal and financial information allegedly held by Russia
So incensed was Trump that he went FULL CAPS LOCK on Twitter.
On Monday two officials in Obama's administration will testify in a Senate investigation into allegations of Russian meddling in the 2016 US election and possible collusion between Trump's campaign and Moscow.
James Clapper, the Director of National Intelligence under Obama, and Sally Yates, who was Deputy Attorney General, will testify to the Senate Judiciary subcommittee on crime and terrorism, the first such public testimony by former officials from the Democratic administration in one of congressional probes on Russia, reports Reuters.
The public hearing will be the first featuring testimony by Obama administration officials who have left government. Trump fired Yates from the Department of Justice in January, and Clapper retired on January 20, when Trump was inaugurated.
Senator Lindsey Graham, the subcommittee's chairman who called the hearing is a Russia hawk and sometime critic of Trump who has been one of the leading Republican voices calling for a thorough investigation of Russia and the election.
Yates is expected to tell the senators that on January 26, when she was acting Attorney General, she had warned White House Counsel Don McGahn that then-National Security Adviser Michael Flynn had not told the truth about conversations he had with Sergei Kislyak, Moscow's Ambassador to Washington, about US economic sanctions on Russia.
Flynn resigned after less than a month in office.