As if that wasn't enough head-spinning entertainment for one day, Trump's deputy assistant, Sebastian Gorka (more on him below), later appeared on Newsnight and claimed it was "a fabulous press conference".
What ensued was 11 minutes of back-and-forth between Gorka and an increasingly-exasperated Evan Davies that contained many words, few if any answers and multiple accusations of fake news.
Watch the full clip here - or read the entire transcript below.
Reaction to the segment was one of stunned bewilderment.
Gorka defended himself by saying he wears it to commemorate his father's anti-Communist efforts in mid-20th century Hungary.
He said: "In 1979, my father was awarded a decoration for his resistance to dictatorship, and although he passed away 14 years ago I wear that medal in remembrance of what my family went through and what it represents to me as an American."
The medal was given to Gorka's father by Vitezi Rend, a group composed of supporters of Miklos Horthy, the former ruler of Hungary.
The White House has not commented on the historical links of the medal.
He stresses his Ph.D in Political Science, even using it in his Twitter bio.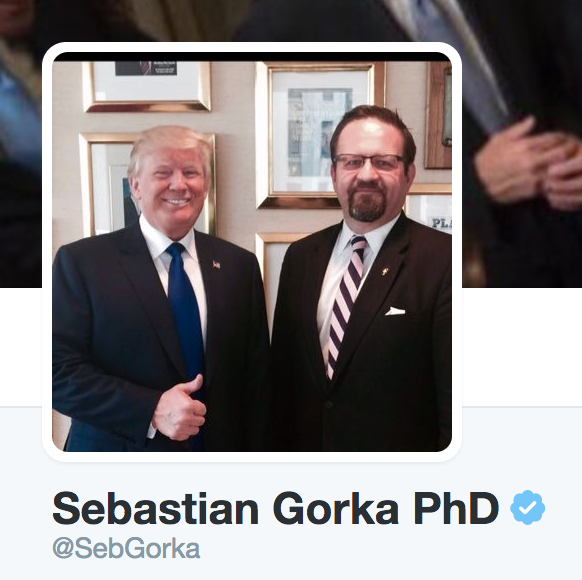 Several experts interviewed by POLITICO puzzled over the gap between the numerous military academic credentials listed by Gorka — a political science Ph.D. who unfailingly uses the title "Dr." — and their unfamiliarity with his work and views.

When I first encountered his name during the transition, I did a triple-take. I've been in counterterrorism since 1998, and I thought I knew everyone. But I'd never heard his name and couldn't recall anything he'd written or said," said Daniel Benjamin, who served as counterterrorism coordinator under Secretary of State Hillary Clinton.

Retired Col. Peter Mansoor, a former top aide to Gen. David Petraeus in Iraq who helped rewrite the Army's counterinsurgency manual, also said he's never crossed paths with Gorka. "What I've heard has not been complimentary," added Mansoor, who now teaches at Ohio State University and remains active in military circles.
He was National Security Affairs Editor for Breitbart before Trump called him into his team.