The World Health Organisation says the deadly Ebola outbreak in the Democratic Republic of Congo is now an international health emergency.
The declaration came after an expert committee previously declined to advise the United Nations health organisation to issue a global alert.
More than 1,600 people have died since August in the second-deadliest Ebola outbreak in history, which is unfolding in a region described as a war zone.
The outbreak crossed the border from Congo to Uganda for the first time when a family carried the virus after attending the burial of an infected relative.
The virus's arrival in Goma, a large city in Congo with an international airport, was, however, a scenario experts feared most and which prompted the worldwide alert.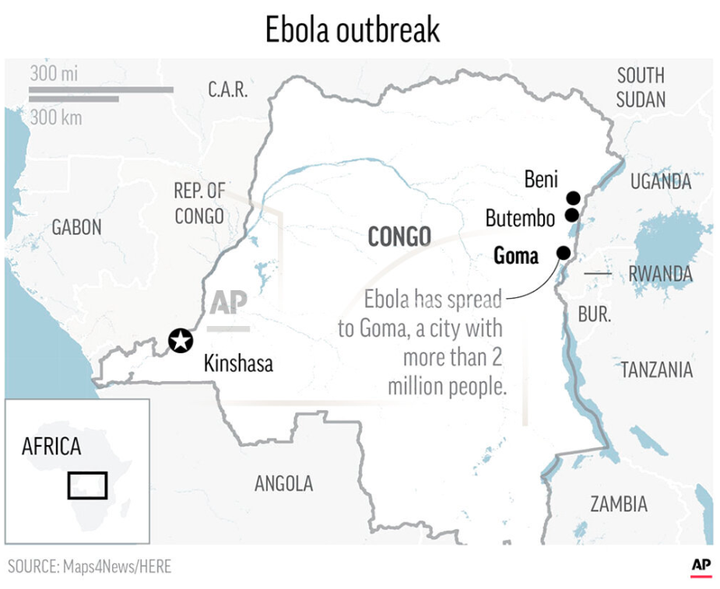 What is a global health emergency?
The WHO defines a global health emergency as an "extraordinary event" which constitutes a risk to other countries and requires a coordinated international response.
"This essentially serves as a call to the international community that they have to step up appropriate financial and technical support," Alexandra Phelan, a global health expert at Georgetown University Law Center, explained.
However, such a declaration carries the risk of onerous restrictions on travel and goods.
"Those restrictions would actually restrict the flow of goods and health care workers into affected countries so they are counter-productive," Phelan said.
Future emergency declarations might be perceived as punishment and "might result in other countries not reporting outbreaks in the future, which puts us all at greater risk".
Has a global health emergency been declared before?
This is the fifth such declaration in history. Previous emergencies were declared for the devastating 2014-16 Ebola outbreak in West Africa that killed more than 11,000 people, the emergence of Zika in the Americas, the swine flu pandemic and polio eradication.
Will Ebola spread beyond central Africa?
The risk of regional spread remains high, but the risk outside central Africa remains low, WHO chief Tedros Adhanom Ghebreyesus said after the announcement in Geneva.
"The [international emergency] should not be used to stigmatise or penalise the very people who are most in need of our help," he said.