Barely a day has passed in this election campaign without a candidate being accused of making or supporting racist comments.
Many of the candidates have apologised, some have been suspended, while others have faced no action at all.
In the meantime, Labour and the Conservatives have spent the entire campaign dealing with allegations of wider anti-Semitism and Islamophobia.
Social media has undoubtedly played a huge role in unearthing questionable views, but what does the comparative deluge of racism in this election tell us about politics and Britain?
HuffPost UK spoke to experts on race, minorities and diversity to try and find out.
A symptom of social media or a divided Britain?
It's worth pointing out that almost all of the candidates mentioned in this article have been caught out on social media.
"There have always been MPs and candidates with bad opinions but they were said over pints at party conference, not written online for everyone to see," Matthew McGregor, campaigns director at anti-racism charity Hope Not Hate, says.

"It was unacceptable then, but now it's all written down and easier to find and expose.
"Online, just one stupid thing can come back to haunt you."
But McGregor feels candidates are now reflecting wider shifts in British society, with a spike in hate crime following the Brexit vote and the increasingly toxic debate around it.
"There is an element here that we are a more divided country than we have been in the past, and that is manifesting itself in the political parties in the way it is in the country at large," he says.
"The example I would use is Karl McCartney, the Tory candidate for Lincoln. Hope Not Hate caught him promoting the views of far-right activists like Katie Hopkins, Paul Joseph Watson, Tommy Robinson on Twitter.
"The stark reality of it is - many people in the Conservative party now reflect the right in this country and the right in this country has moved to the right."
McCartney apologised "unreservedly" for sharing the posts, and said he did not endorse the tweets or the accounts behind them.
Sunder Katwala, from think tank British Future, says parties need to do more to stamp out racism, but suggests it is actually becoming less acceptable in politics.
He identifies a "generation shift" since the 2010 intake of MPs, with more ethnic minority and female politicians entering parliament, who put on "more internal pressure to ditch people who need to be ditched".
"I think the gender balance and the ethnic balance of the parties is a driver of standards going up - through being called out on your own side."
The response to a candidate being ditched for racist comments has also changed, with even modernising ex-Tory leader David Cameron facing criticism for axing a politician who praised Enoch Powell and his anti-immigrant views.
"There isn't much of that 'political correctness gone mad, it's all a bit of banter' in the response nowadays," Katwala says.
"That was very prevalent in 1997-2010."
'Race to the bottom'
But Lord Simon Woolley, the founder of Operation Black Vote, has concerns about what may superficially feel like a more "woke" world of politics.
He criticises Labour and the Tories especially for slinging mud at each other on anti-Semitism and Islamophobia respectively, describing it as a "race to the bottom" that distracts from the real issues, such as the disproportionately high numbers of black young people in jail.
"The broader narrative of who is the most racist loses the question of which party can better deliver on race equality, and that is around policy.
"The danger is we get caught in this race to the bottom on who's the most racist and we lose sight of which party can deliver better for multicultural society.
"I want to know who is the most proactive on the big issues - they all have a potentially good story to tell."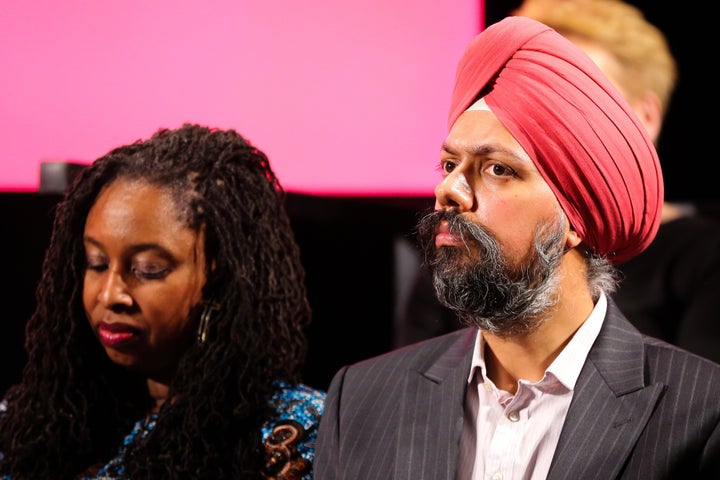 Woolley praises both Labour's race and faith manifesto and the Tories' efforts under Theresa May to set up the world-leading race disparity unit in the government.
But he urges the parties not to lose sight of those broader goals by simply ensuring there are no openly racist people in their parties.
He bemoaned the fact that both the issue of structural racism and the power of the ethnic minority vote was "barely being talked about" compared to the "white noise that ticks the bigoted box by expelling the bigots but doesn't even begin to address the more systemic concerns".
"Yes, it's necessary but what it does - by kicking out bigotry, which is necessary, it still gives them a front to not deal with the main issue," he adds.
"It shows 'we're on point, we've done enough', meanwhile the structural inequality stays in place."


Parties must do more
Matthew McGregor and Sunder Katwala agree that all parties could put more into vetting, and not be left in a position like the Tories in Leeds North East, where Amjad Bashir was suspended over allegedly anti-Semitic comments after the nominations deadline, leaving the party without a candidate.
"The parties just haven't done enough to prioritise vetting," McGregor says.
"It's a really laborious to do, it's expensive, it's hard, it takes a lot of time and effort. There's a lot of competition for resources inside the party machine - checking your own members has been under-resourced."
"There's an obvious sense that parties haven't gone and done the checks," Katwala adds, pointing out that it is more difficult in a snap election.
""One racist in a party is a scandal, 50 and you don't know where to start."
"Local parties who have known the candidate for years or are even friends with them don't have any incentive to take action even when something abhorrent comes to light," says McGregor. "The same problem arises when the national party isn't just looking at the merits of the case but is also factoring in not wanting the upset the candidate's political backers."
Katwala adds: "New candidates are being ditched very, very quickly and very instrumentally by parties who would defend MPs doing the same thing.
"If you are an existing MP you will get away with an apology.
"But there is a very rapid ditching of new candidates in whom parties aren't as invested.
"And there might be some candidates who get a bit of protection because they are kind of in the group, they are known to the spads or whoever."
Ultimately, while social media may make it easier for parties to disown genuine racists, the sheer volume of allegations can drown out the impact of the wrongdoing.
"When there are loads of people saying racist things it's harder to hold them to account.
"One racist in a party is a scandal, 50 and you don't know where to start.
"It's not helped so many politicians are only willing to take a stand when it's politically convenient to - because the person is question is a political opponent.
"That is just a disaster for politics."


Some of the candidates caught up in race rows since the election was called:


Conservative

Amjad Bashir, Leeds North East, claimed British Jews returning from Israel were "brainwashed extremists" - suspended

Flora Scarabello, Glasgow Central, alleged anti-Muslim language - suspended

Ryan Houghton, Aberdeen North, alleged anti-Semitic, Islamophobic and homophobic comments - suspended

Anthony Calvert, Wakefield, past Facebook posts suggesting Colonel Gaddafi would have "fled to Bradford" if he wanted to walk around unrecognised and criticised the appearance of Labour rival Mary Creagh - quit

Philip Dunne, Ludlow, told a Sikh rival he was "talking through his turban" - apologised and no action taken

Anthony Browne, South Cambridgeshire, past comments blaming immigrants for bringing germs and HIV to the UK and accused Muslims of having divided loyalties - apologised and no action taken

Karl McCartney, Lincoln, sharing far-right views about Muslims from the likes of Tommy Robinson and Katie Hopkins - apologised and no action taken

Richard Short, St Helens South & Whiston, used an anti-Semitic trope against prominent Jewish journalist Melanie Phillips, apologised and no action taken





Labour

Safia Ali, Falkirk, alleged anti-Semitic Facebook posts (not publicised) - dropped as candidate and suspended

Bill Curran, Caithness, expressing support for

Chris Williamson

- dropped as prospective candidate and replaced

Kate Ramsden, Gordon, compared Israel to an abused child who becomes an abused adult - quit as prospective candidate amid row, replaced

Gideon Bull, Clacton, used the word Shylock in a council meeting in an alleged anti-Semitic remark - quit as prospective candidate and replaced

Matthew Collings, South West Norfolk, dismissed allegations of anti-Semitism in Labour as a "witch hunt" - dropped as prospective candidate and replaced

Kate Hollern, Blackburn, retweeted a claim that Labour's anti-Semitism crisis is about Israel - RT deleted, no action taken

Rebecca Jenkins, Redditch, accused of defending an infamous anti-Semitic mural but denied anti-Semitism - investigated by NEC, no action taken

Jim Malone, Dundee, drew parallels between the treatment of Palestinants and Nazi concentration camps - released a statement explaining his comments, no action taken

Liberal Democrat

Waheed Rafiq, Birmingham Hodge Hill, allegedly anti-Semitic Facebook posts questioning how the Israeli government could call itself Jewish given actions in Palestine, conspiracy theories about "Zionist-backed" social media - deselected then suspended

Kevin McNamara, Thurrock, used the n-word repeatedly on Twitter - deselected then quit as a candidate, facing disciplinary action

Wera Hobhouse, Bath, compared Gaza to "Nazi ghettos in which Jews were trapped" - apologised and went on training organised by the party with the Holocaust Educational Trust, remains a candidate

Brexit Party

Graham Cushway, Brighton Kemptown, plays bass in a "Nazi vampire"-inspired metal band called Stuka Squadron - no action taken

David Ballantine, Edinburgh South West, Islamophobic comments about a "child rapist death cult" - no action taken

Rosamund Beattie, Ealing Southall, posted online messages from Islamophobes and highlighted calls for a ban on Muslim immigration - no action taken

Marc Stanton, West Lancashire, proudly stated he was anti-Semitic and posted Islamophobic and sexist remarks - apologised and no action taken

Dionne Cocozza, Glasgow North, sharing Islamophobic posts - no action taken

Daniel Rudd, Stoke North, anti-immigrant online posts - deselected

SNP

Neale Hanvy, Kirkcaldy and Cowdenbeath, claims of anti-Semitism after he circulated an article depicting George Soros as a puppet master controlling world leaders - dropped as a candidate




A Conservative spokesperson said: "Our manifesto has committed to ensuring everyone's rights are respected and everyone is treated with fairness and dignity.
"Discrimination or abuse of any kind is wrong, and the Conservative party takes decisive action to deal with incidents of hatred, abuse or intimidation.
"Our complaints process is rightly a confidential one but there are a wide range of sanctions to challenge and change behaviour, including conditions to undertake training, periods of suspension and expulsion, and these are applied on a case-by-case basis."
A Labour source said: "The Labour party has conducted extensive due diligence checks on candidates and we have taken swift and robust action. In a snap general election hundreds of candidates have to be immediately selected and staff have worked incredibly hard to conduct due diligence in time."
A Liberal Democrat spokesperson said: "The Liberal Democrats firmly believe discrimination has no place in our society. The Liberal Democrats have processes in place to deal appropriately with all cases of racism within the party."
An SNP spokesperson said: "There is no place for racism of any form in Scotland or in the SNP, and we will work relentlessly to root it out wherever it rears its ugly head.
"All political parties have a duty to show leadership, and we will always take tough action in order to reassure our communities that these matters are taken seriously and are tackled.
"We are proud to live in a diverse country, and multiculturalism is something we proudly celebrate."
The Brexit Party has been contacted for comment.