It wasn't the end to her Wimbledon debut that Emma Raducanu imagined.
The 18-year-old withdrew from her fourth-round clash with Ajla Tomljanovic after suffering breathing difficulties. In a statement, the player – who's only just finished her A Levels – reassured fans that she's feeling much better now, saying: "I think the whole experience caught up with me."
But the teen has been inundated with support from fans and fellow sports stars alike, including Manchester United and England footballer Marcus Rashford.
The Three Lions star tweeted: "It happened to me playing for the national team in U16s against Wales. I remember it to this day. No explanation for it and it never happened again. You should be very proud of yourself."
While most of us are not doing our day job in front of live spectators and to a global audience of millions like Raducanu and Rashford, overwhelm is a feeling you can probably relate to. Yet we definitely don't talk about it enough.
All-consuming overwhelm is common and can strike when our minds and bodies have been subjected to a prolonged period of stress, says psychologist Dr Tara Quinn-Cirillo. The trigger can be anything, from work to financial worries or relationship problems.
While our bodies are primed to deal with short term stress, overwhelm can have an impact on the mind and body if left unchecked.
Physical effects can include headaches, insomnia, fatigue, issues with the digestive system and reproductive system, increased blood pressure and a weakened immune system, Dr Quinn-Cirillo explains.
The impact on the mind can also be significant. Overwhelm has the potential to lead to other mental health issues, such as low mood, anxiety and depression, plus problems with cognition, including attention, memory and learning.
Because of this, Dr Quinn-Cirillo thinks it's a great thing that people like Raducanu and Rashford are sharing their experiences.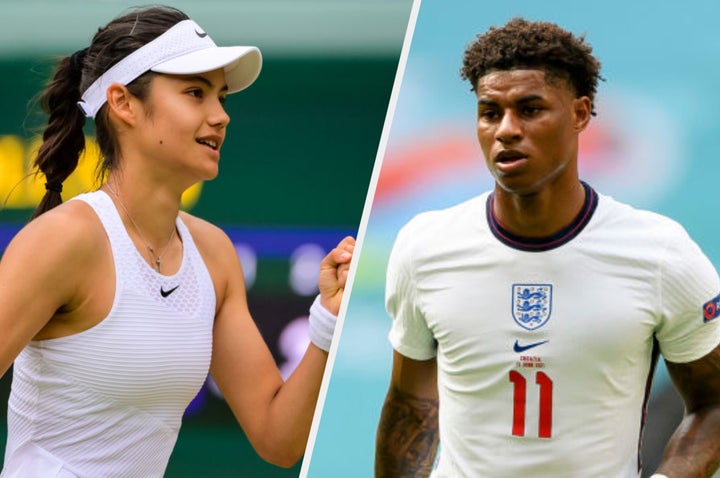 "It is important to have conversations about overwhelm in order to facilitate people being able to recognise it in themselves and and others in their lives," she says. "We have a culture of keep calm and carry on, but actually, this is not helpful for your physical or emotional wellbeing.
"If we see people setting examples of carrying on when overwhelmed or unwell, what does this say to others about how we look after ourselves?"
So, how can we deal with overwhelm when it strikes?
The first step is learning to recognise it, says Dr Quinn-Cirillo. "How does stress show up for you in your body, the thoughts you have and the way you behave?" she says. "What physical symptoms do you notice, what thoughts race through your mind, do you avoid things or let things build up?"
To combat immediate symptoms, Dr Quinn-Cirillo recommends grounding exercises; push your feet into the floor and name things you see and hear around you.
Then, you can adopt some healthy wellbeing habits to prevent stress bubbling into overwhelm in the first place.
Self-care should not be underestimated, says Dr Quinn-Cirillo, and this includes staying hydrated, moving your body regularly and saying no to things when you need to. Helping others, even a small act of kindness, can also boost your own wellbeing.
You should also plan "targeted time out" for yourself, away from media, social media and demands. "Try a soothing exercise such as bath or walk, or read a book or watch something you enjoy, such as old movie or series," she says.
It can also be beneficial to put boundaries in place at work, within relationships or wherever we're feeling demands placed most acutely.
Finally, Dr Quinn-Cirillo recommends reconnecting with your values.
"Emma Raducanu pulled out with her health as priority, but this does not mean she no longer values tennis," says Dr Quinn-Cirillo. "She values her wellbeing, health and future. Values are important when we are experiencing overwhelm. We may feel guilt or be in receipt of criticism of our actions, such as Emma, but it is important to know what you value and what you need to do at times to move towards these values."
Useful websites and helplines
Mind, open Monday to Friday, 9am-6pm on 0300 123 3393.
Samaritans offers a listening service which is open 24 hours a day, on 116 123 (UK and ROI - this number is FREE to call and will not appear on your phone bill).
CALM (the Campaign Against Living Miserably) offer a helpline open 5pm-midnight, 365 days a year, on 0800 58 58 58, and a webchat service.
Rethink Mental Illness offers practical help through its advice line which can be reached on 0808 801 0525 (Monday to Friday 10am-4pm). More info can be found on rethink.org.