Warning: Contains images of a skin condition, which some readers may find graphic.
A mum has been forced to defend her parenting skills against repeated verbal attacks from strangers who mistake her toddler's severe skin condition for sunburn.
Danni Latham's daughter Isla was diagnosed at eight weeks old with Epidermolysis bullosa (EB) - a rare condition that leaves blisters all over the body.
"People have stopped me in the street and asked 'what have you done to her? Has she not worn suncream? She looks burnt?' it's so hurtful," said the 21-year-old, from Walsall, West Midlands.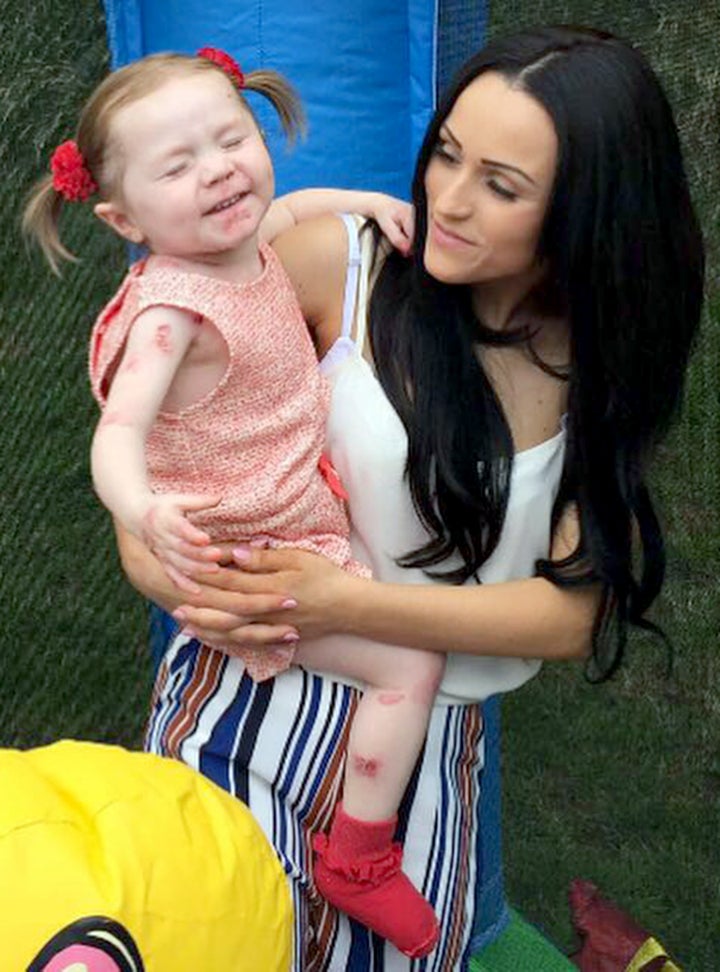 "When I was told there was no cure for my daughter's skin condition, I was beyond devastated," Latham continued.
"Children with the condition are also known as 'butterfly children' as they are very delicate to touch.
"I once had a massive panic attack in the Bullring and from then on I spent a lot of time in the house with Isla as I was scared of anyone touching her or making her even worse."
When Isla was born in 2014 midwives explained to Latham that she had no skin on her hands or feet.
"I was heartbroken," Latham said. "Her skin went from bad to worse.
"Just hours after she was born her body was turning into one big blister.
"She was given just weeks to live and no one knew what was wrong with my baby."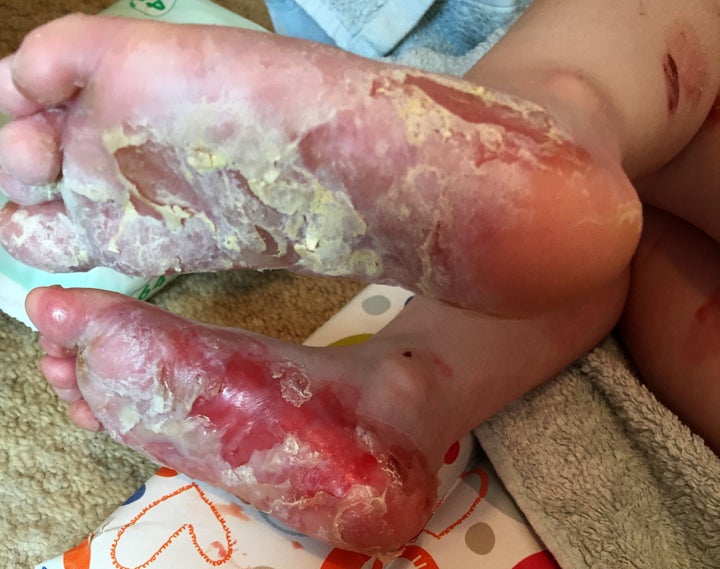 "Doctors warned Isla was missing a layer from her skin that protects it, causing any movement to blister the skin from head to toe," Latham continued.
"I cried and begged them to help her, but I soon found out there are three types of EB, the mild type affects the skin, with the worst killing children as the blisters grow into their heart and the suffer a horrific death.
"Isla was finally allowed home after six days, I discharged her myself as I was fed up of no one knowing anything about her condition.
"She was diagnosed with EB Simplex, a milder form of the condition, eight weeks later.
"Ever since then we have been battling every parent's worst nightmare, baffled doctors, no cure, no treatment and cruel taunts from disapproving strangers."
Latham is now sharing her story to raise awareness of EB and to increase funds for others with the condition.
"I am determined to give my daughter the best possible future so I have started fundraising for Irvine McLean and his lab of human sciences.
"Despite being in daily pain, Isla loves nothing more than playing with her toys, wearing fancy dress and having her friends over."
Latham now lances, cleans, creams and dresses Isla's blisters every morning and night to avoid infections.
"For months I asked myself 'why us' but then when I realised what an amazing inspirational child I have and it all changed, I became focused and regimental with her routine," said Latham.
"I am very OCD when it comes to Isla, some nights I wake up in the night to pop blisters while she is asleep.
"I am already worried about her starting school in two years' time but I'm confident she'll make friends and be able to explain her skin condition to those around her."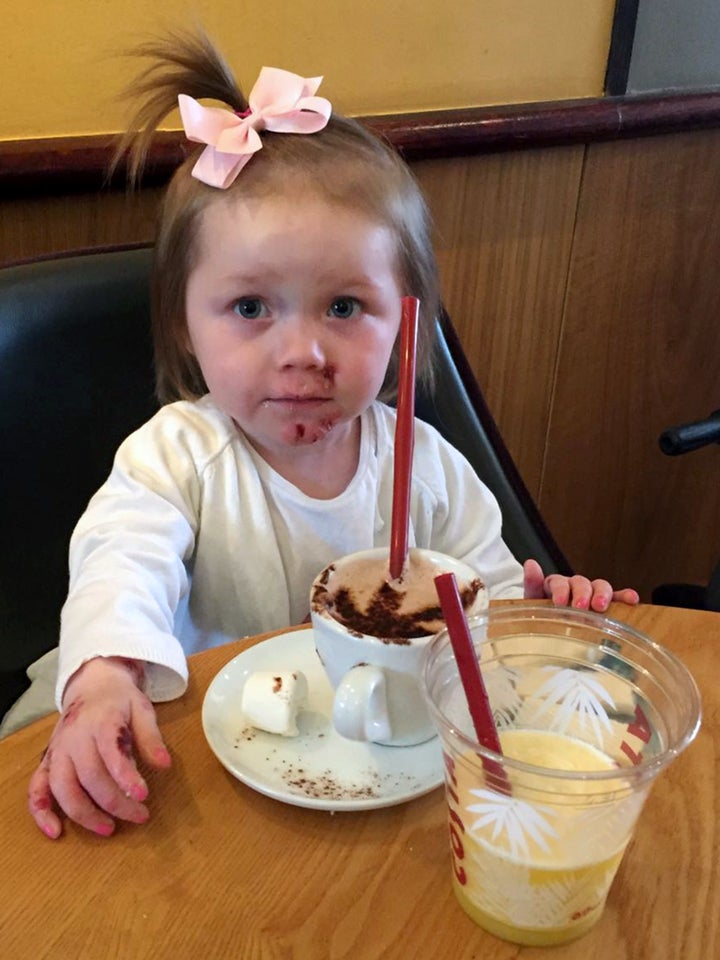 Isla is currently having tests to determine why she has Epidermolysis bullosa.
"I have travelled across the UK to seek private health care and visit leading specialists but in order for Isla to lead a normal life there needs to be a breakthrough in treatment for research EB," explained Latham.
"That's why I have set up my fundraising page as I want to help Irvine McLean and his lab in Scotland to try and find my girl and all the other innocent children something that may just help the day-to-day pain and nightmare of this condition that effects 1 in every 800 thousand people."
She added: "I will always do my best by Isla and although me and my family have had a tough few years, I won't allow it to get us down."