Politicians such as Nigel Farage have adamantly denied accusations of racism and scare-mongering but others have have made no attempt to hide what fuelled their zeal.
1) Marine Le Pen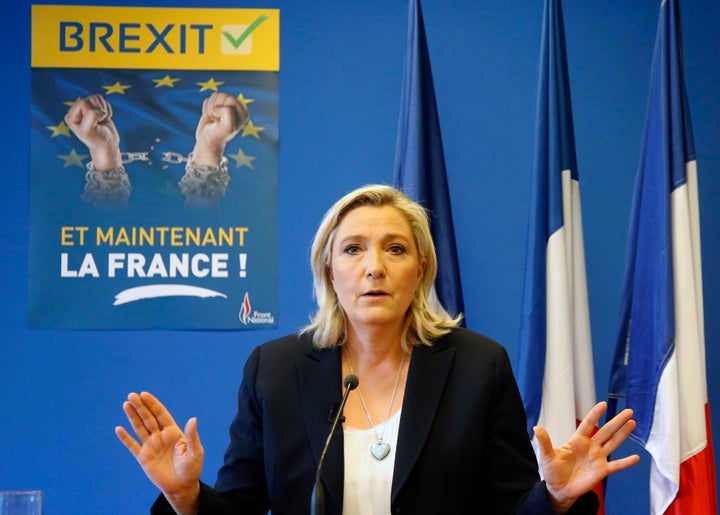 The leader of France's far-right National Front party said: "Victory of freedom! As I ask for years, it is now necessary that referendum in France and the countries of the EU MLP."
2) Geert Wilders
Wilders is the leader of the Dutch Party for Freedom that campaigns to stop the "Islamisation of the Netherlands", banning immigration from Muslim countries and halting the building of mosques.
Since the referendum result he has called for the Netherlands to do the same.
3) Britain First
Their reaction to the result was to ask their followers if should cut ties with Gibraltar and then helpfully pointed out this was just an opinion poll and would have no political ramifications.
4) The BNP
The largely irrelevant far-right party were quick to try and grab a share of the credit for today's result.
The group campaigns for the reintroduction of capital punishment, opposes multiculturalism and gay marriage and thinks the Islamifcation of the UK is underway.
They were forced to change their membership rules which only allowed for "indigenous British" people to join after they were threatened with an injunction.
In the 2015 general election they gained a pitiful 2000 votes.
5) Tommy Robinson
Robinson co-founded the English Defence League, a group opposed to the perceived spread of Islam and Sharia in the UK.
He quit the group citing concerns over "far-right extremism" and then went on to found UK branch of the far-right extremist Pegida.
6) Pegida
7) The English Defence League