More than eight in 10 people have experienced early signs of poor mental health in the past year, including anxiety, stress, low mood or sleep troubles, according to a new survey by Public Health England (PHE).
While these may be natural responses to life's challenges, they can become more serious if people don't take action – and many wait too long to do this.
This is why PHE has teamed up with the NHS and the royals – Harry, Meghan, William and Kate – to roll out a new digital mental health action plan: Every Mind Matters.
The platform, which shows people how to build simple changes into their daily lives, has been 18 months in the making. It was developed with clinical and academic experts, national mental health charities and input from people with experience of poor mental health.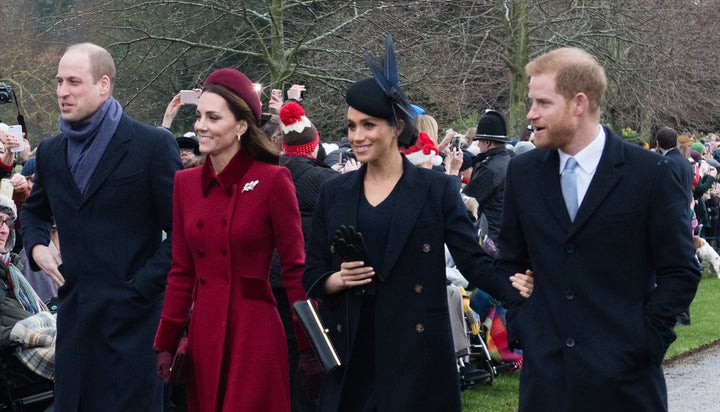 How does the platform work?
The 'Mind Plan' asks users five questions about their mental wellbeing, including their mood, how much they sleep, how anxious they feel on a daily basis, how stressed they are and their day-to-day worries.
Based on these answers, it produces a personalised list of actions to take. These may include changes to make, or daily habits to introduce. Examples include reframing negative thoughts, exercising more, making time to chat to friends, and breathing exercises.
These actions can be swapped out for other ideas, depending on how the individual feels about them. Once happy with the action plan, it can be emailed to the individual – and potentially printed out as a daily reminder of self-care.
If a person's answers suggest they are really struggling, the plan encourages them to sign up for therapy through IAPT (the free NHS therapy service) or to reach out for urgent support.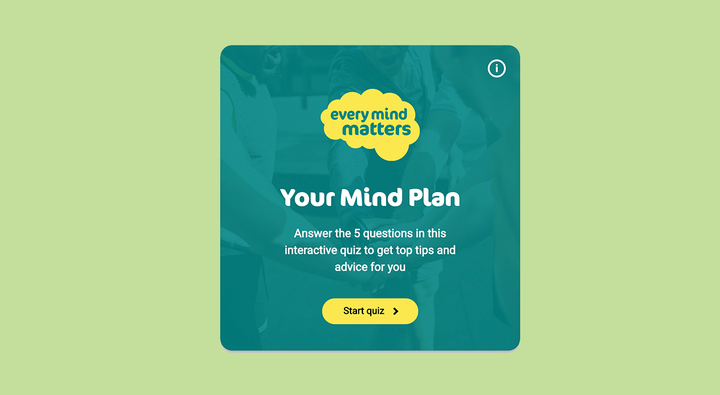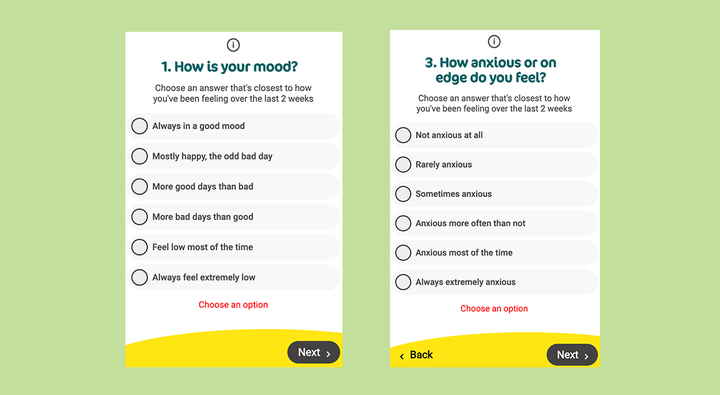 How are the royals involved?
The Duke and Duchess of Cambridge and The Duke and Duchess of Sussex have narrated a new advert for the platform, which airs on ITV, Channel 4 and Sky on Monday 7 October, in the evening.
The film, written by Richard Curtis and directed by photographer Rankin, features a range of people whose lives have been affected by poor mental health, including plenty of famous faces.
Gillian Anderson, Professor Green and Nadiya Hussain are just some of the stars who have opened up about their mental health to promote the new tool, alongside Glenn Close, Freddie Flintoff, Davina McCall, Jordan Stephens (from Rizzle Kicks), Will Young, Sir Bradley Wiggins, Katie Piper and Alastair Campbell.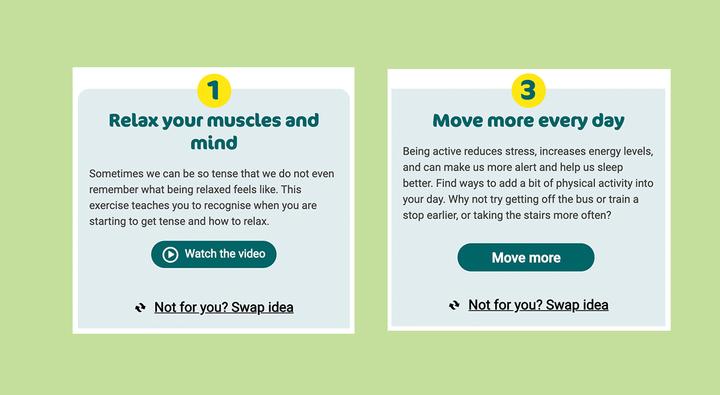 Why is this platform needed?
PHE's survey found more than a quarter of people who experienced signs of poor mental health waited at least six months before taking action to manage it. And almost three quarters of those who waited this long said they wished they had done so sooner.
"We're all aware of the benefits of looking after our physical health and the steps we can take to keep ourselves healthy, but many of us are not as proactive as we could be when it comes to our mental health," said Health Secretary Matt Hancock. "Every Mind Matters will benefit us all with an accessible tool to help manage our wellbeing at the click of a button."
The NHS is also increasingly focusing on ways to support people digitally – whether that's through online GP appointments or virtual reality-based therapies. This tool is another step in that direction.
Paul Farmer, chief executive of Mind, a charity that has also played a part in creating Every Mind Matters, said the platform is helpful for those who "don't know where to start" when it comes to looking after their mental health.
"Taking proactive steps like increasing physical activity and connecting with others can help prevent these issues developing into more serious mental health problems further down the line," said Farmer.
"We hope that this campaign will help increase public awareness of how we can all stay as mentally well as possible."
Useful websites and helplines:
Mind, open Monday to Friday, 9am-6pm on 0300 123 3393
Samaritans offers a listening service which is open 24 hours a day, on 116 123 (UK and ROI - this number is FREE to call and will not appear on your phone bill.)
The Mix is a free support service for people under 25. Call 0808 808 4994 or email: help@themix.org.uk
Rethink Mental Illness offers practical help through its advice line which can be reached on 0300 5000 927 (open Monday to Friday 10am-4pm). More info can be found on www.rethink.org.