Dozens of city councillors have joined renewed calls to remove the statue of imperialist Cecil Rhodes from a college at Oxford University, HuffPost UK can reveal.
The move comes as Black Lives Matter protests have been sweeping across the world calling for an end to anti-Black racism.
The 26 Labour Party councillors are calling on the university to work with Oxford City Council, residents and trade unions to "make Oxford a truly anti-racist city" by immediately removing the state and associated plaque.
"Cecil Rhodes was a white supremacist who believed in brutal colonial rule and subjugation across Africa and the world," an open letter by the local leaders read.
"A city's public art and monuments should reflect its values. The presence of this statue on our High Street is incompatible with our city's proud internationalist heritage and commitment to anti-racism."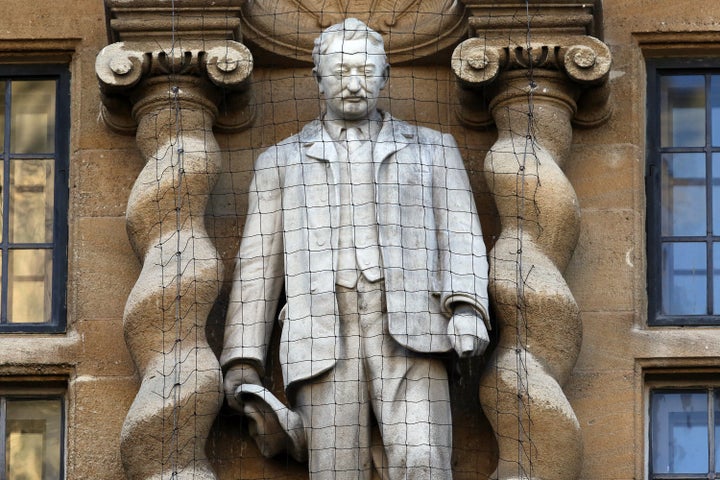 This comes as the Rhodes Must Fall Oxford campaign group, alongside other student groups, penned an open letter to the university's vice-chancellor arguing that the institution has only made "inconsequential inroads" into tackling the material legacy of imperialism, adding it "is not enough".
Thousands of people have signed two new petitions calling for the statue of colonialist Rhodes at Oriel College to be taken down, it emerged on Monday.
"We as city councillors support the Rhodes Must Fall campaign in its demands for the removal of the Cecil Rhodes statue from Oxford's High Street and endorse its wider campaign to decolonise Oxford University," the councillors said.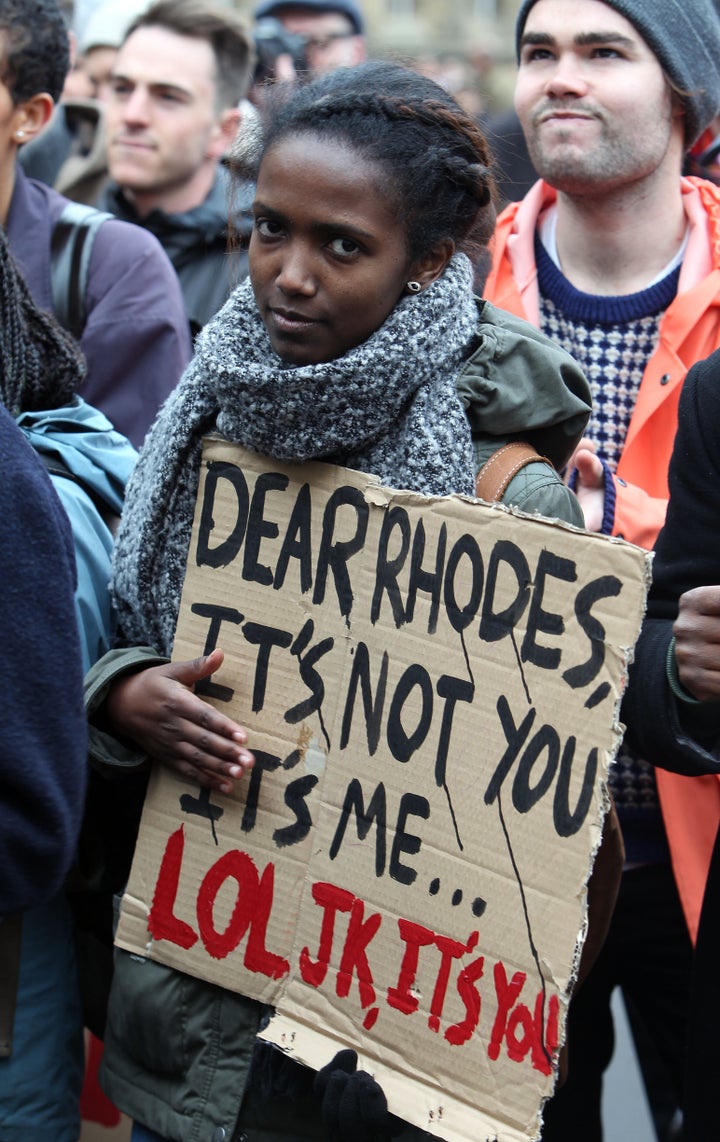 Demonstrators will protest in front of the Rhodes statue in Oxford on Tuesday as part of the Black Lives Matter movement.
They want iconography that "glorifies" Rhodes to be removed from the university.
It comes amid a wider "decolonise" movement sweeping universities across the world in recent years.
The educational institution has previously come under fire over the lack of diversity among its student body.
Letter co-signatory Shaista Aziz, councillor of Rose Hill and Iffley, told HuffPost UK: "I was born and raised in Oxford. The divide between the town and gown is along race, class and economic lines and it's as entrenched as it was when I was a kid.
"The statue of Rhodes represents the glorification of a white supremacist who built his riches on the backs of the brutal subjugation of Black people has no place in our city's High Street. This statue should be in a museum with a plaque providing accurate information about who this man was and what he represents.
"Oriel College and the university have so far refused to listen to Rhodes Must Fall campaigners, students, academics and the people of our city who have demanded Rhodes must go."
"Over the past week we have seen thousands of people from across our city joining Black Lives Matter protests against structural racism that impacts our lives. These protests have been organised and led by young Black people - and are not like protests we've seen before in Oxford," she added.
The Rhodes Must Fall movement was established in 2015 at Cape Town University, and later spread to Oxford, where students demanded that the statue of Rhodes was removed from Oriel College.
In 2016, Oriel College decided to keep the statue despite widespread student demands to remove it. Campaigners from the Rhodes Must Fall group argued that the row illustrated Britain's "imperial blind spot".
Femi Nylander, one of the original Rhodes Must Fall campaigners, said the university made "a series of promises" to Black students around the curriculum and access and representation following the movement in 2015.
But he said these never materialised and the statue was not removed.
The open letter to the university, signed by more than 6,600 individuals and organisations, outlines five steps that campaigners want the university to take to "make upholding anti-racist values a reality".
Liberal Democrat education spokesperson Layla Moran, who is MP for Oxford West and Abingdon, said: "The statues of white supremacists and slave merchants should not still be standing in our cities. That's why the statue of Cecil Rhodes must come down.
"I'm not endorsing vigilante action, but I would urge Oriel College in the strongest terms to think about what message this statue sends in 2020, and to remove it."
Rhodes was the founder of the southern African colony Rhodesia, modern day Zimbabwe, which was named after him in 1895. He was admired by Hitler and had a reputation for being racist.
The 19th century businessman was a student at Oxford university and a member of Oriel College in the 1870s. He left money to the college on his death in 1902.