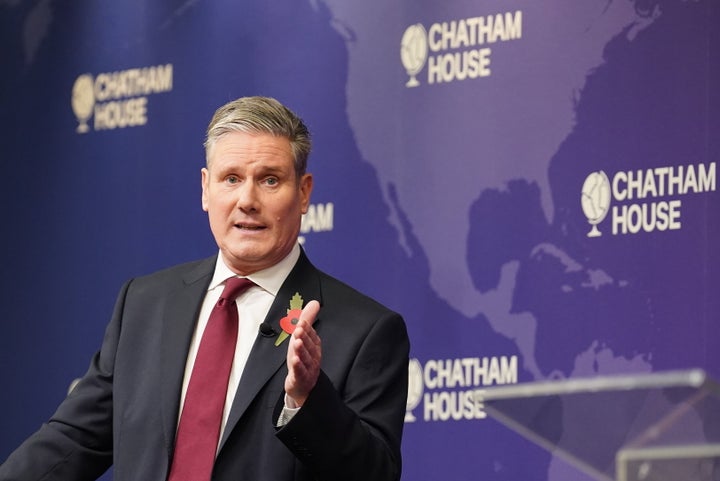 Keir Starmer will not back calls for an unconditional ceasefire in the Israel-Hamas war despite facing a growing Labour revolt over the issue.
A senior source close to the party leader said Starmer "is not going to move" on his current position of supporting "humanitarian pauses" to let aid get to Gaza.
In a speech earlier this week, the Labour leader said he understood the calls for an immediate ceasefire, but believes that would simply allow Hamas to regroup and mount more attacks on Israel.
He said he would only support a cessation once the Israeli hostages currently being held in Gaza are released and Hamas' military capabilities are degraded.
Since then, the calls for a ceasefire from within the Labour party have grown louder.
Two Labour council leaders today called on Starmer to resign over his refusal to back a ceasefire.
Burnley Council leader Afrasiab Anwar said the leader had "not stood up for Labour values".
Asjad Mahmood, who is the leader of Pendle Borough Council, said Starmer had "failed to listen" to calls for a ceasefire.
But the senior Labour source told HuffPost UK: "The position is not going to change.
"We want to see a situation where the hostages are returned and we want to get to a place where the violence is ended but that's not as simple of calling for a ceasefire
"Keir is not going to move on that."
The row is the biggest challenge Starmer has faced since he succeeded Jeremy Corbyn as Labour leader in 2020.
More than 30 Labour councillors have so far quit the party, while 15 shadow ministers at Westminster have also broken ranks to call for a ceasefire.
But despite speculation, none of them has yet resigned from the Labour frontbench and Starmer is reluctant to sack them amid fears it could make the situation even worse.