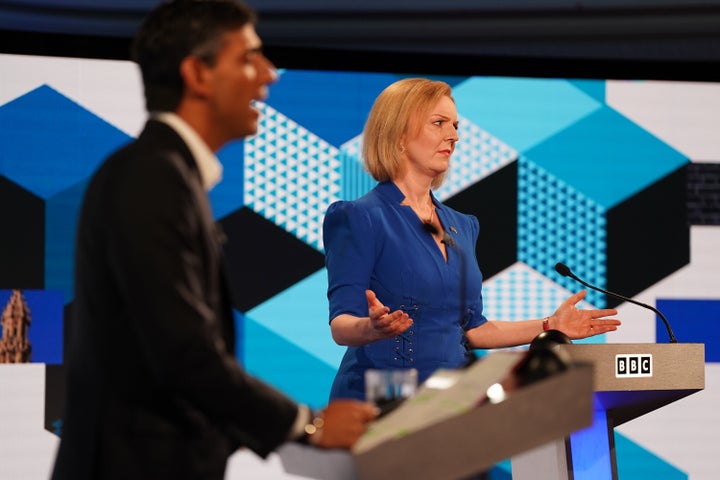 Liz Truss will make her big political comeback on Sunday, HuffPost UK understands.
The former prime minister has written an article for a Conservative-backing Sunday newspaper looking back on her time in Number 10 and setting out where she believes Rishi Sunak is going wrong.
It will be her first major intervention on the state of British politics since she was ousted as PM in October after just 49 days in the job.
A close ally said: "Liz has taken a few months to gather her thoughts and is now ready to speak about her time in office and the current state of play."
A further intervention from the ex-PM is also expected next week.
It is understood Truss will add her voice to growing Tory calls for Jeremy Hunt to cut taxes in the forthcoming Budget - despite the economic chaos caused by that same policy during her brief time in charge.
Sunak and his chancellor have both insisted that the government must bring down inflation and get debt under control before taxes can come down.
Speculation has been mounting in recent days about how Truss planned to make her re-entry into frontline politics following her humiliating demise as prime minister.
It was reported last night that a WhatsApp group of Truss-supporting Tory MPs has been fired up again.
The Conservative Growth Group of MPs "appears determined to turn up the pressure on the current prime minister", Sky News reported, adding Truss is "on manoeuvres with fellow like-minded MPs".
Truss's return comes as Sunak is already under mounting pressure from Boris Johnson, who used a visit to America this week to criticise the government's refusal to send fighter jets to Ukraine.
"From my time as prime minister I'm more convinced than ever that we need to be bold and confront the challenges we face," she said.
"We simply cannot afford to be a low growth country where the government takes up an increasing share of our national wealth and where there are huge divides between different parts of our country.
"We need to take advantage of our Brexit freedoms to do things differently."