You've survived nearly 12 months of parenting and your baby's first birthday is creeping up on you. So how do you celebrate? And who's the party really for?
It's a topic mums are currently debating on Mumsnet, where one parent said that a woman at her baby group is throwing an "overpriced soft play" for her nearly one-year-old. "She went as far to say I shouldn't have a party at all if it isn't focused fully on the baby," wrote the mum, who pondered if paying £15 per baby for soft play, as well as the cost of balloons and food, was really worth it.
"Is the first birthday for family, or mum and dad, or the baby?" she asked. "I thought we could go for food with our 20 close family members, and have some drinks so they can celebrate his birthday with us!"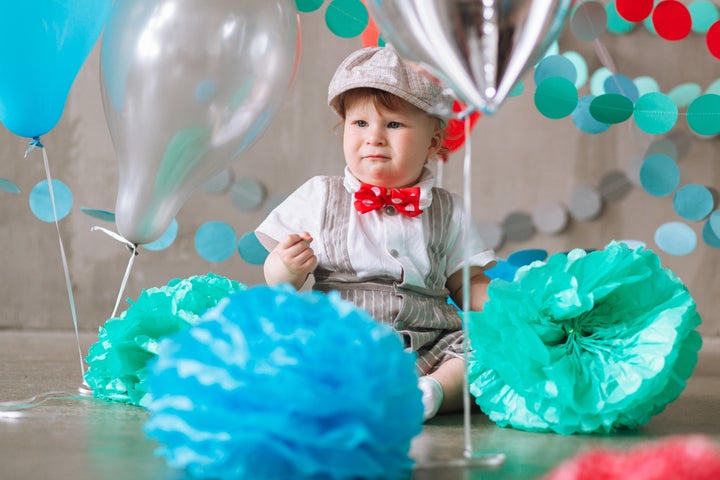 Responses seem to be divided. Many argued that a baby wouldn't notice (or care) what happens on their first birthday and advised the mum to put the money in a savings account rather than trying to keep up with the Joneses.
Another parent agreed: "I honestly don't get the idea of having a big birthday party for a one-year-old. They have no clue what's going on, and at one I went to, the kid was so overwhelmed by it all he clung to his mum the whole time!"
But another mum went the other way. Her family are having three celebrations for her son's first birthday: a bus to see Fenwick's Christmas window and an afternoon at Build-A-Bear; a family buffet; and a sensory room experience with eight of his "baby friends". This way, she said, everyone is happy.
When we asked parents on HuffPost UK, opinions were similarly split. Some parents said they had a small do, agreeing it was mainly for the grown-ups.
While others went all out for the kids...
And others said they've learned their lesson second time round...
"No question, the parties are for adults – not the children," says Chris McGuire, 39, from Devon, whose son is now two-and-a-half. "Although to be honest, they're not for the parents either. Parents are so knackered they'd rather just go and sleep somewhere if they had the chance."
He believes parents get leant on (mainly) by grandparents to put on a show. "The child has no idea what's going on – it's just another day for them," he adds. "Grandparents love it, mainly as an excuse to play oneupmanship with each other of who bought the biggest present."
Stuart Hood, 38, from London, whose son turns three in January, agrees that a first birthday party is about the grown-ups. His son's first birthday was attended almost solely by his friends, only some of whom happened to have kids. The food and drink was aimed at the parents, too.
However, the guest list (and catering) at his son's second birthday party was much more skewed to the under-twos, he reveals. Those friends of his? Not so many of them turned up and Hood predicts his third party will be even more so
So, to throw a first birthday party or not to throw one? Cathy Ranson, editor of ChannelMum.com, sums it up well: "Celebrating a child's birthday is never pointless but don't feel under pressure to lay on a bigger bash than you can afford. Instead, do what makes you happy. A baby's first birthday is about the memories you'll create and the photos you'll look back on in years to come."
She adds: "You made it, that first tough year of parenting. And whether you want to celebrate with family and friends or other babies is entirely your choice."
Advice on first birthdays, from those who've been there:

** Avoid them like the plague, says McGuire, they're a very stressful way of remembering what was probably the most stressful day of the parents' life so far.

** If you must have one, make it a small affair. And remember, don't over-stock on the salad. Nobody ever eats it.

** Pick a venue that your child has been to before and is unlikely to get freaked out by.

** Don't spend too much on his or her outfit (as there is a 50/50 chance of them pooping on it)

** Select a start time that fits with your child's routine – and naps. We all know how exhausting partying can be!