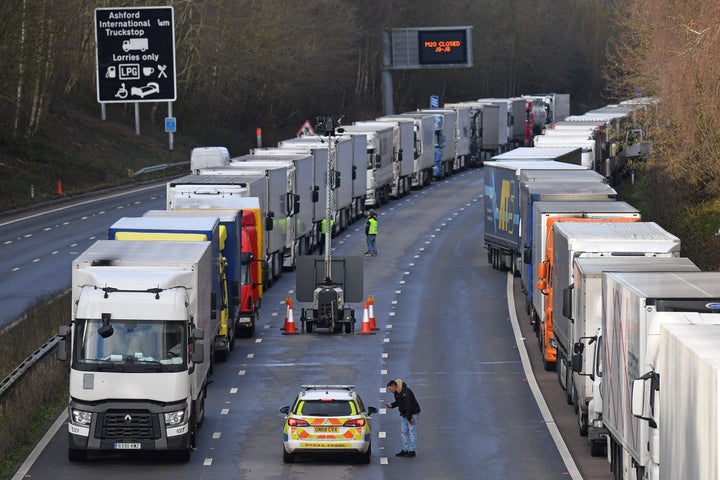 A chorus of beeping horns sounded at the Port of Dover on Christmas Eve as those at the front of the queue celebrated finally being able to leave – but many more are expected to be stuck there until at least Boxing Day.
As of 3.30pm on Thursday, the port said 700 lorries had been cleared for departure since reopening on Wednesday, leaving more than 5,000 still queueing.
Haulier Kevin Sweet is one of those to return a negative Covid-19 test having being stuck in Dover for three days. But it came too late for him to make it home to Bulgaria for Christmas Day.
"The last promise I made before I left was: 'I'll be back for Christmas'. I didn't say which one," he told HuffPost UK from the ferry.
Some 2,367 drivers had returned negative coronavirus tests by Thursday afternoon, while three tested positive, according to transport secretary Grant Shapps.
Shapps said the border at Dover, the Eurotunnel and Calais would remain open "throughout Christmas" to get hauliers cleared with the help of 10,000 more tests brought by 26 French firefighters drafted in on Thursday.
Traffic is moving more quickly at the Eurotunnel, where more than 1,000 vehicles left on Wednesday night, with around 2,000 more expected to depart by the end of Thursday, but many will remain there for Christmas Day, according to Duncan Buchanan of the Road Haulage Association (RHA).
He said: "The most reassuring thing is that food is getting through at Manston, and I have to say a big thank you to everyone who volunteered to help drivers stick it out in cold conditions in the days leading up to Christmas."
"I said if I broke down I'd fly back, that I'd do whatever it takes," he said. "But, she's accepted it. This is beyond my control."
Sweet said he knew as soon as the situation began to unfold that he wouldn't be home in time, but he is philosophical about the turn of events.
"I understand why they shut the border," he said. "But I don't know why it took so long to test us. The French fire brigade came over and tested us this morning. It was quick, it was done in 15 minutes, but why our government couldn't do that I don't know."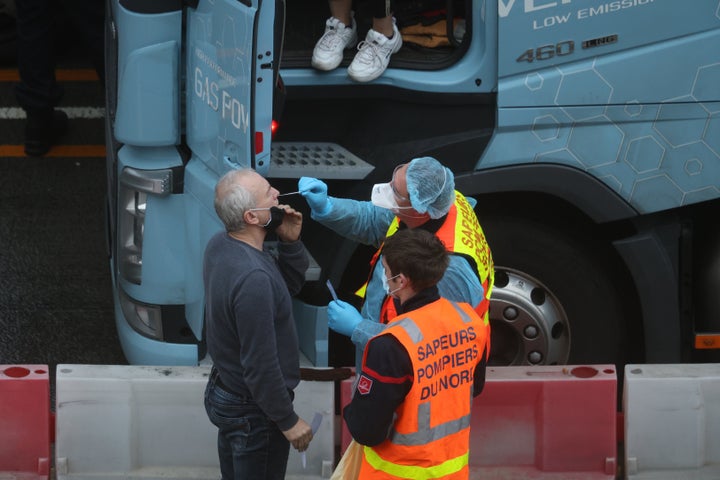 Sweet met up with another driver who lives in the same area, and they spent the last few days being moved around and parking up in supermarket car parks for as long as possible. He says the only people to offer any help to drivers were the locals. They even bought a week's worth of food just in case.
He says he is able to laugh about the situation now, as he will at least spend Christmas Day on the road home. And for Christmas dinner? "A bag of crisps – turkey flavour."