Greggs plans to encourage people to buy doughnuts with a hole in them – rather than the ball-shaped ones filled with jam – to encourage "healthier eating". And it's a move that is raising a few eyebrows.
Speaking at a childhood obesity conference, Greggs' chief executive Roger Whiteside said healthy eating is part of its "corporate social responsibility agenda", and the brand will be guiding people to eat smaller cakes in future, The Sunday Times reported.
The move – which reminds us of Pizza Express' ring-sized dough bases with salad in the middle – will see Greggs introduce a wider choice of ring doughnuts, ranging from 190 to 260 calories, compared to the traditional jam-filled doughnuts that range from 225 to 340 calories.
Whiteside said: "People like big cakes, not little cakes... we know that we shouldn't be encouraging people to eat large cakes... but the problem is you have to go with demand." A spokesperson for the company also confirmed it has reduced sugar by 20% across its sweet range.
The "diet doughnuts", as they've been dubbed, have been lambasted by some. Nutritionists, food policy experts and even Good Morning Britain host Piers Morgan are sceptical of the move. True to form, Morgan embarked on a rant live on air, telling viewers: "You're [still] going to get fat."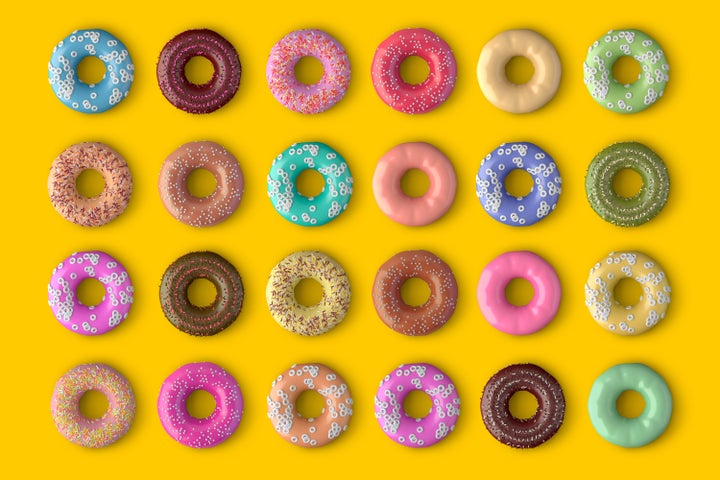 Meanwhile Professor Tim Lang, a food policy expert at University of London, said it was "a bit of a joke", telling The Times: "What's important is not the individual cakes purchased but the total calorie output of Greggs, which is growing."
"The difference is about 100 calories, which is a really minimal amount."
Rebecca Jennings, a Priory Group nutritionist, told HuffPost UK that while she appreciates the incentive behind the move, it's "bizarre" from a nutritional perspective. "The difference is about 100 calories, which is a really minimal amount in terms of one being healthier than the other," she said.
"With somewhere like Greggs, it's quite difficult because you wouldn't go in there thinking 'I'm going to eat something nutritious', you're going in to have a sausage roll or a doughnut, it's not necessarily the healthiest place.
"I guess they're trying to do everything that they can do, but I'm not sure what people are going to get from that message."
Instead, there needs to be more of a focus on educating people around what's healthy and what's not, she added.
Dr Samantha Gill, a BDA spokesperson and registered dietitian, agreed, and said we should be encouraging healthier snack options – such as dried fruit, mixed nuts and seeds, hummus with carrot sticks, and peanut butter with apple – above cakes, doughnuts and pastries.
"But we need to be realistic," she added. "Enjoying your favourite treats in moderation is fine and often more sustainable, whether that be a ringed doughnut or jam doughnut."