We're now officially into work Christmas party season. It's a chance to let loose, show off your dodgy dance moves and celebrate your achievements in the office over the past year. With free booze all night, what can start as merry festivities can quickly end up with the morning from hell the following day.
As most work Christmas parties take place on a school night, those of us not smart enough to book off the day after have to suffer through a regular work day while vowing never to drink again. For most, food will be your saviour, with an early morning, bleary-eyed wait in the queue at McDonald's for a hash-brown (or three) and every ounce of coffee you can find.
Having enjoyed our own annual celebration this week, the HuffPost Finds team have tried and tested our chosen eateries to find the best hangover cure. While there's no conclusive studies to back us up, read on to see what worked best for our blinding headaches, dry mouths and collective fatigue.
McDonald's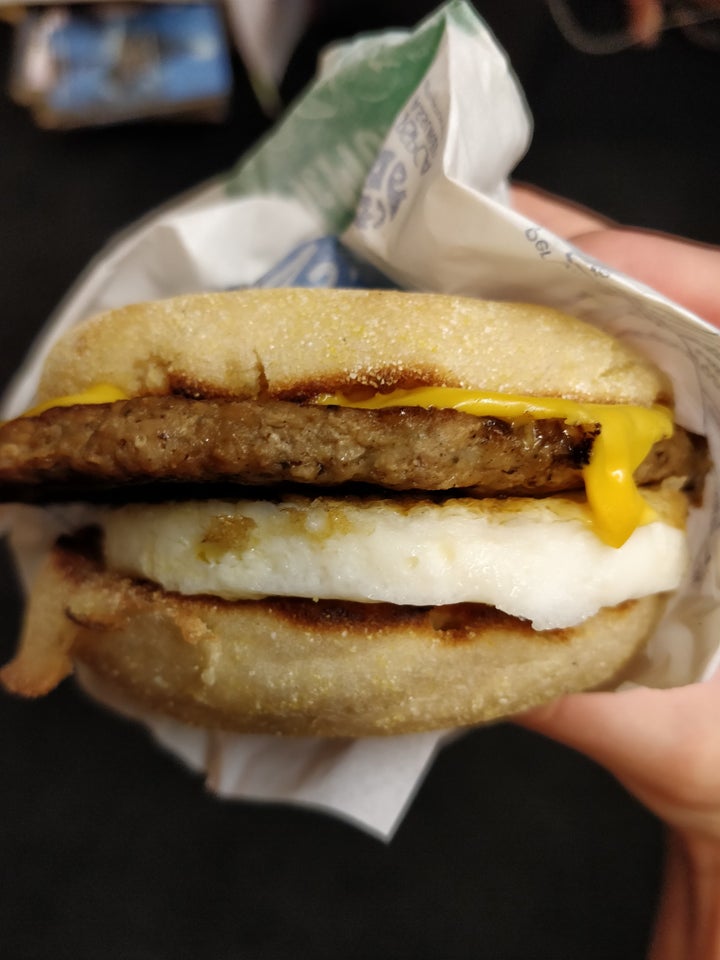 As eaten by Natasha, Lifestyle Writer
When I woke up this morning I wasn't met by a banging head or nausea (the usual for me after a night of drinking). Instead my mouth was dryer than dry. It felt like I'd munched on a packet of cotton wool balls throughout the night. En route to work, I stopped off at McDonald's for my hangover breakfast of choice: a sausage and egg McMuffin with a hash brown and coffee – totalling £3.99.
This was just what I needed for my cotton mouth – the McMuffin felt exceptionally unhealthy and there was plenty of grease thanks to the mixture of egg, sausage and cheese. But it was delicious and the only thing you need when you're a bit hungover. I looked sideways at my colleague eating a dry croissant and did not regret my choice one bit. The hash brown added a whole new level of moisture, however I'd say it was definitely too greasy. That didn't stop me polishing it off in seconds. All in all my choice didn't disappoint – it's the only time I'd want a Maccy Ds breakfast but it truly does the trick.
Subway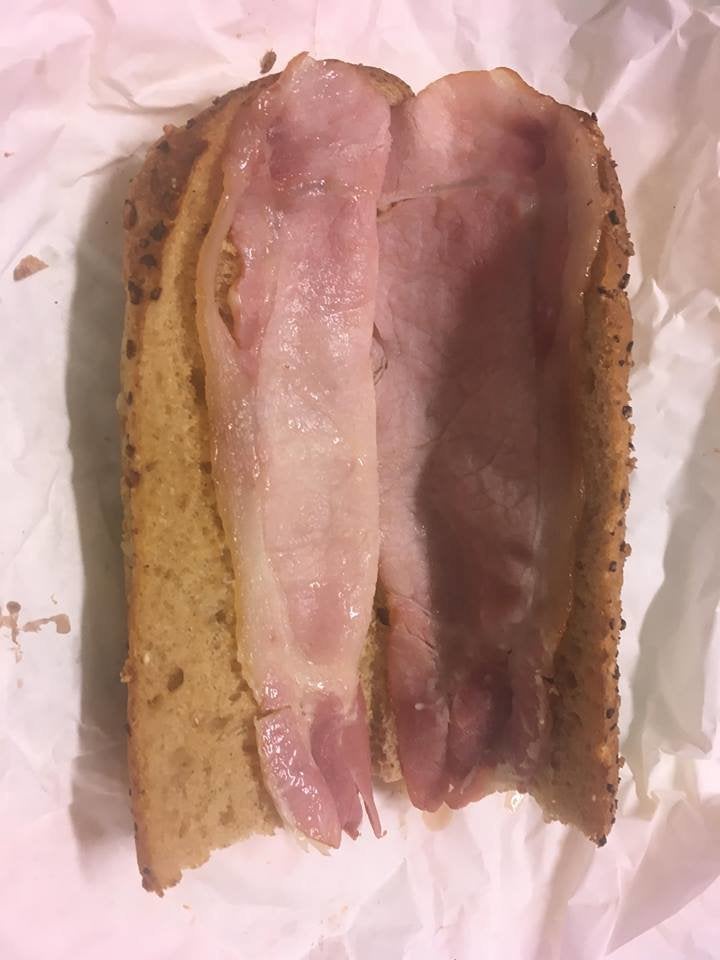 As eaten by Amy, Assistant Life Editor
That unmistakable smell while waiting in Subway for my bacon roll didn't do wonders for the hangover if I'm honest. Despite the person in front of me ordering lettuce, sweetcorn, jalapenos and everything else in his bacon sarnie, I went for a plain one with cheese, combined with the honey-topped bread which, on reflection, was a sweet mistake. It might not look pretty (see above). But when all you crave is salty carbs the day after the Christmas party, a wam, cheesy bacon roll for £1.90 does the trick.
Greggs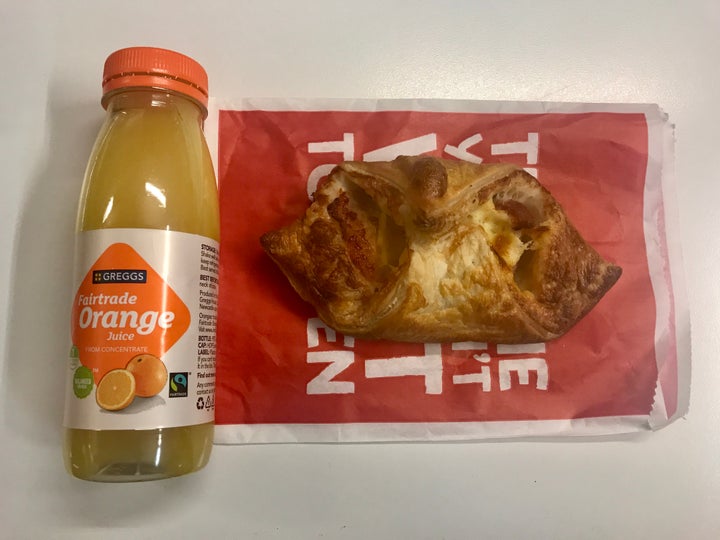 As eaten by Rachel, Lifestyle Writer
With its glorious counter of greasy, pastry goodness, Greggs is my absolute go-to on a hangover. And it's cheap, which is ideal considering I lost all my bank cards last night and had to borrow money from my boyfriend to even get to work today (side note: FML).
This morning I opted for a bacon and cheese wrap – a flakey pastry with toppings you know aren't good for you, and taste all the better for it. It wasn't the best Greggs snack I've ever bought and was a little dry around the edges, but at £1.80 washed down with a £1.10 orange juice, it hit the spot.
Leon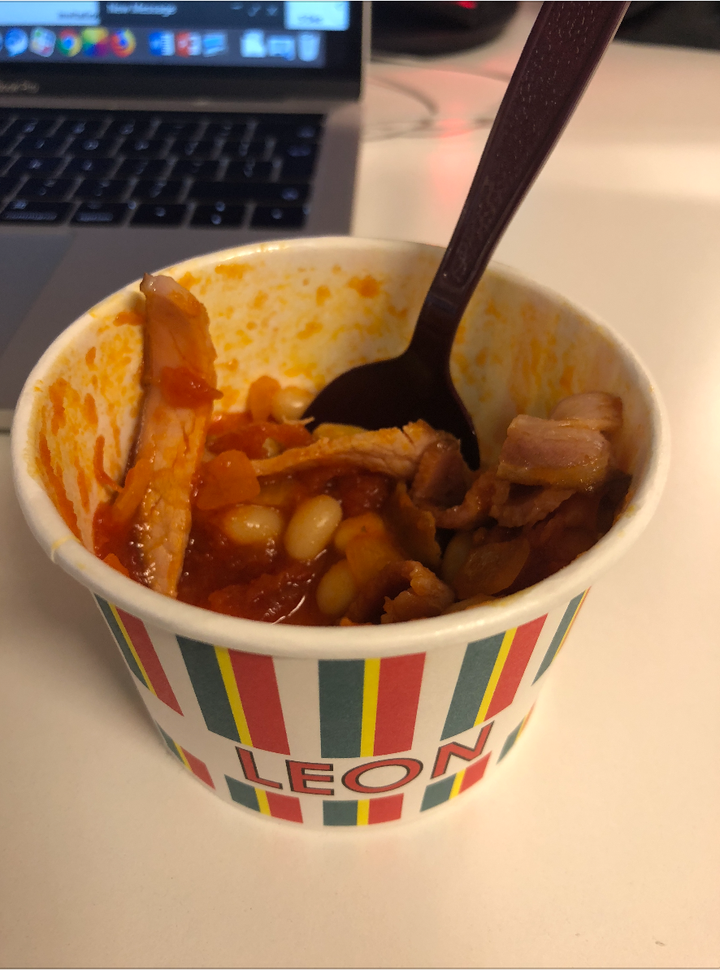 As eaten by Madeleine, Project Manager
Being a coeliac and hungover is a dangerous combo. I always want to eat everything, but have to be boringly careful or else I'm in for a day long ordeal. Leon loves a good allergy labelling, so it's my go to. I was initially dubious about the size of these pots – they're quite small for £3.75 and don't seem enough to soak up the champagne regrets. Normally I wait until 12 on the dot to scurry over for Leon chicken nuggies as I'm not really a breakfast food kind of gal.
However, the tasty sausages and nicely cooked bacon are teamed with beans that taste like they've made them in store rather than thrown them in from a tin – they're sweet and perfectly tomatoey. And then at the bottom, there's the perfectly cooked egg surprise. Delish, and I'm already thinking about going back for the halloumi and mushroom pot. The only issue? I would happily eat three of them, which would be a horrifying 1194 calories and £11.25. And then I'd prob go back at lunch for the nugs.
EAT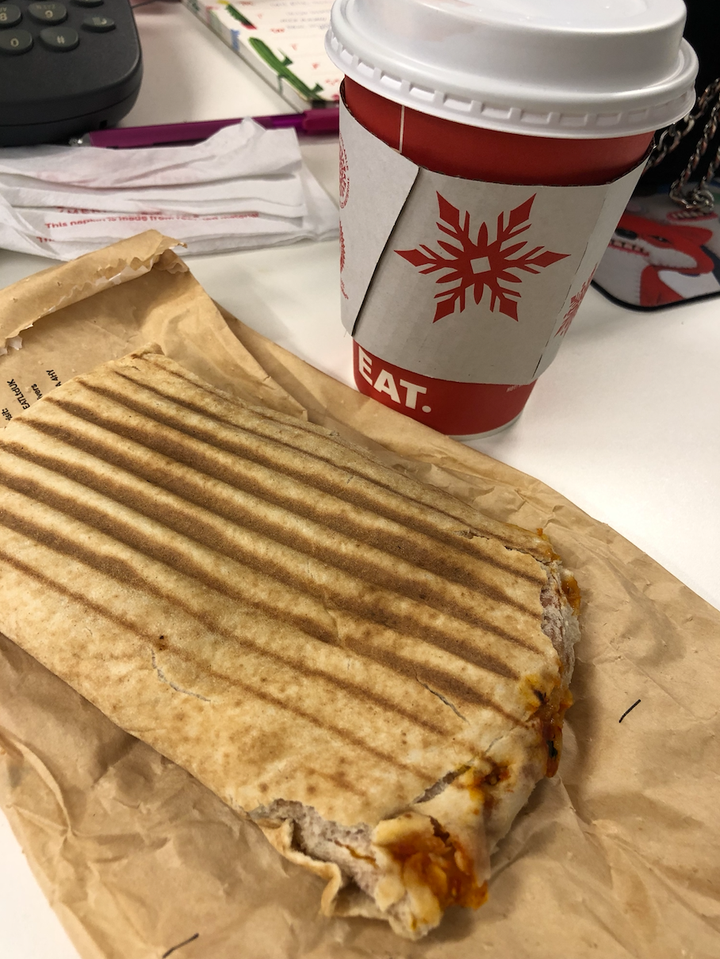 As eaten by Louise, Lifestyle Writer
My usual attempt at curing a hangover involves sipping a bucket of tea very, very slowly before inhaling a McDonald's and then feeling sick for about two hours. There's no logic or rationality in this process.
I went for the chicken pizza grill from EAT, washed down with a latte in the hope it would be taste similar to my Domino's from the night before, a hangover favourite of mine just after the McDonald's. Sadly, it made no difference and was a very meh experience all round, bland in flavour, a bit limp and not at all inviting. At £6.70, it's quite pricey for a sad, little panini.
3/10. I'll stick with Domino's.
And If All Else Fails...
As recommended by Nancy, Life Editor
Who can stomach food on a hangover? Certainly not me, not before 4pm. And I'm no breakfast regular at the best of times so the obvious choice the morning after a Christmas do is sticking to liquids (I'm not talking hair-of-the-dog).
An ex of mine used to swear by the Three Drink Cure: a very strong coffee, a can of fizzy drink (ideally caffeinated, too) and a gallon of water. I've found all I need is a Mango Rubicon juice box. Packed with sugar, it's a stealthy rather than healthy option, but super soothing for a dry mouth and throat with none of the stomach-churning tartness of orange juice.
If you need more of a wake-up, go for the Passionfruit variety. Feeling weak? Opt for Lychee. Available from most local cornerships for around 60p, these wonder cartons are best refrigerated and consumed on the commute. Pick up one (or three) on the way home from the party and you'll be thanking your alter-ego the morning after.
We all work hard to earn our money – so it shouldn't feel like hard work to spend it well. At HuffPost Finds we'll help you find the best stuff that deserves your cash, from the ultimate lipstick to a durable iron to replace the one that broke (RIP). All our choices are completely independent but we may earn a small commission if you click a link and make a purchase.