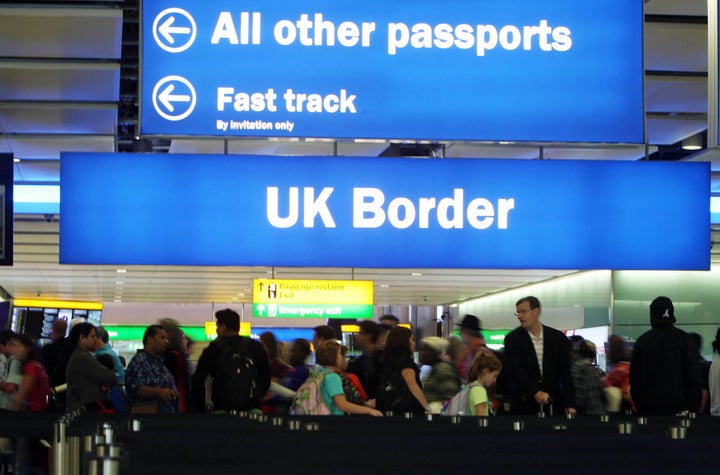 Passengers arriving at Heathrow airport have faced waits at passport control of more than two-and-a-half hours, as airlines say they are supplying food and drinks to those trapped in snaking queues.
An increase in the numbers of international arrivals at the west London hub has led to pressure on staff conducting visa and passport checks, Virgin Atlantic claimed.
In figures seen by the carrier, the Border Force – which runs immigration at Heathrow – met its target waiting time of up to 45 minutes for arrivals from the US and China just once in the whole of July.
Virgin said the longest delay, which totalled 156 minutes, came on 6 July.
The airline has seen a 20% increase in American passengers this year as visitors flock to celebrate the Royal wedding and take advantage of the dollar to pound exchange rate.
But Virgin's Craig Kreeger said that "significant queues" at the border left passengers "frustrated before they've even started their trip".
Kreeger said Virgin staff have resorted to handing out drinks and food to sustain passengers trapped in queues. He said only the Border Force can "resolve these unacceptable queue times and they must take action.
"We all agree that security and safety at our airports is vital and remains our top priority, but other countries are managing their borders more effectively.
"At a time when the UK needs to show the world it is open for business, the government and Border Force need to provide a great first impression, for every visitor, every time."
Pictures posted by travellers on Instagram showed long queues at passport control in Terminal 3 last month.
Heathrow has asked the government to take action over queues at immigration control at the airport, while British Airways boss Alex Cruz described the situation as a "border farce" in a letter to The Times newspaper.
BA said it has also distributed food to passengers queuing at immigration.
A Home Office spokesperson said: "The vast majority of people who arrive at Heathrow get through the border within our service standards.
"But we understand the frustration for those who have experienced longer waits and remain fully committed to working with our partners to reduce waiting times as far as is possible.
"At the same time, we will not compromise the essential checks we carry out at the border which keep our country safe.
"We are making sure Border Force has the resources it needs and are deploying 200 additional staff at Heathrow over the summer."