Heatstroke can be dangerous and come on more quickly that you realise. With temperatures on the up, it's important to know how to recognise the signs.
Spending too much time in the heat or overly exerting yourself in the sun can cause heatstroke. During the heatwaves that we experienced in recent years in the UK, NHS England's chief nurse, Ruth May, urged the public how important it is to stop children and older people falling victim to the high temperatures.
"Everyone can take simple steps to avoid fun in the sun turning into a holiday in hospital," she said at the time. "It's really important to take common sense precautions and follow our NHS top tips like drinking plenty of water, using high-factor sunscreen and taking allergy medicine where it's needed."
May also urged people to "talk before they walk" – asking them to use the NHS website and free 111 phone line for fast advice on how to get the right help if things do go wrong, rather than heading to hospital.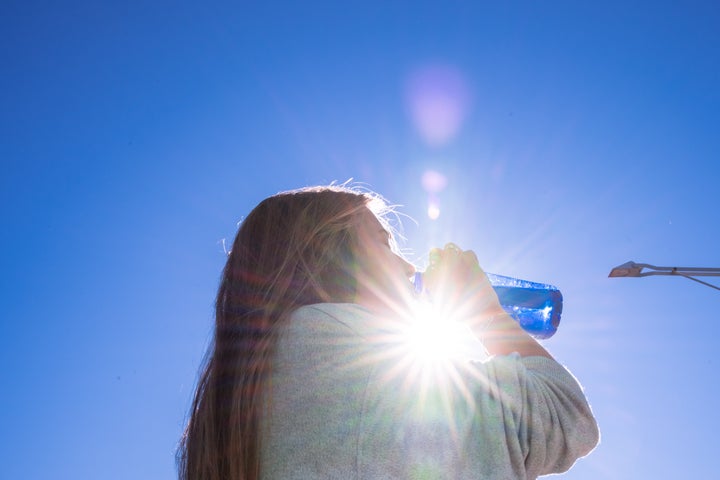 We spoke to Dr Luke Powles, associate clinical director at Bupa Health Clinics, about the symptoms to look out for, how to treat it and when to seek urgent medical help.
What Are The Symptoms Of Heatstroke?
Heatstroke, or sunstroke, can present a number of symptoms including paleness, sweating or clamminess, increased heart rate, dizziness, fainting, muscle cramps, intense thirst, nausea and vomiting, explains Dr Powles.
"Also look out for heat rash: a red cluster of pimples or small blisters that usually occur on the neck and upper chest, in the groin and in the elbow creases," he adds. Rashes are often harmless, he says, and people with one may benefit from over-the-counter remedies at their local pharmacy.
Symptoms are often the same in adults and children, according to NHS Choices, although children "may become floppy and sleepy".
How to treat heatstroke
Dr Powles says that first and foremost, people exhibiting symptoms should be cooled down. "Move them into a cool place, get them to lie down and put their feet up," he explains. "Give them plenty of water and cool their skin with a cold pack, or towel."
The person should start feeling better within 30 minutes – if not, it is very important to seek medical help. May is urging people to use the NHS website and free 111 phone line for fast advice on how to get the right help if things do go wrong.
How to prevent heatstroke
Stay hydrated by drinking plenty of cool drinks, but avoiding alcohol. It's also beneficial to keep cool by wearing light fabrics, avoiding the sun between 11am and 3pm, sprinkling water over your skin, and taking cool showers.
When to get urgent help
If heatstroke symptoms progress to the ones listed below – or the person is no better after 30 minutes – you should call 999.
They feel hot and dry.

They aren't sweating even though they are too hot.

They have a temperature that's risen to 40C or above.

They have rapid or shortness of breath.

They're confused.

They have a fit (seizure).

They lose consciousness.

They are unresponsive.